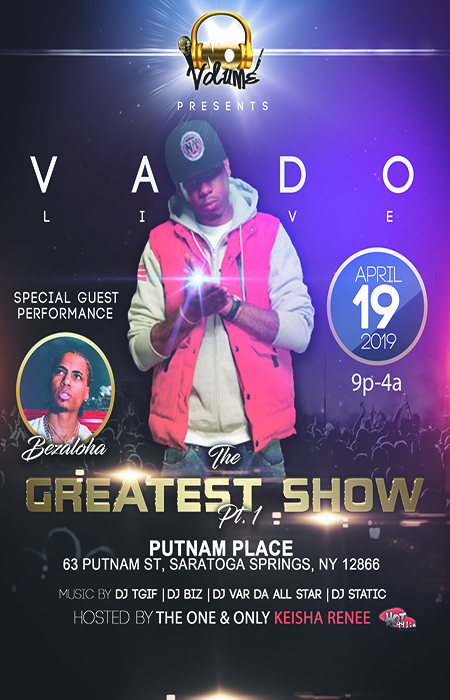 April 19, 2019 9:00 pm - 4:00 am
Putnam Place, 63a Putnam Street, Saratoga Springs, NY 12866
Doors: 9:00pm
Ages: 21+
Tickets: $30 at Door
Come join Vado at Putnam Place for a special mixtape release party with special guests: Bezahola, DJ TGIF, DJ Biz, DJ Var Da All Star, DJ Static and hostess Keisha Renee!
Following in the footsteps of rappers like Big L and frequent collaborator, Cam'ron, Vado has been rising through the Hip-Hop ranks with the help of his steely flow and his critically acclaimed mixtapes; starting with the release of Slime Flu.  Of course, his initial claim to fame involved his collaborations with Cam'ron and, indeed, they already have bagged two albums and a mixtape together, Heat in Here Vol. 1, Guzz N' Busta, and Boss of All Bosses, respectively. The two of them form Cam'ron's Harlem originated Hip-Hop crew, The U.N..  The Harlem-based rapper started out releasing tracks with his friend, Jae Millz, before a mutual friend introduced him to Cam and Dipset. 
Vado is featured on the DJ Khaled track "Future" with rappers Ace Hood, Wale, Meek Mill and Big Sean, produced by Boi-1da, from Khaled's fifth studio album We the Best Forever.  In 2010, Vado's mentor and friend Cam'ron introduced him to Roc-A-Fella Records co-founder Dame Dash, and Cam'ron and Dame were in talks of the U.N. signing to the newly re-launched Roc-A-Fella. Vado signed with Dame's subsidiary record label of Roc-A-Fella under DD172 named BluRoc. The U.N. would also sign to BluRoc instead of Roc-A-Fella.
After signing, Vado released the critically acclaimed mixtape Slime Flu and the Bosses of all Bosses mixtape with Cam'ron.  Next he released the album Gunz n' Butta with Cam'ron (April 2011), which reached #78 on the Billboard 200, followed by the release of the second Slime Flu mixtape later that year.  In 2012, after remaining quiet for a while Vado was granted a release from Interscope and on January 22, 2013, released his third installment of his Slime Flu mixtape series.  On January 30, 2013, Vado confirmed he signed with DJ Khaled's We the Best Music Grouplabel.   Vado has appeared on different VH1 shows, like Love & Hip Hop and Black Ink Crew.  After appearing on Lil Wayne's Dedication 5 and DJ Khaled's Suffering from Success, on December 13, 2013, Vado released a new single Look Me In My Eyes featuring Rick Ross and French Montana, followed by the release of Sinatra in 2014.
Vado has since releaes 6 more mixtapes, the most recent of which, V-Day 3, was released on March 5, 2019.