April 18, 2019 9:00 pm - 12:30 am
Putnam Place, 63a Putnam Street, Saratoga Springs, NY 12866
Doors: 8:00pm
Show: 9:00pm
Ages: 18+ (note: there is a $5 surcharge for attendees under 21)
Tickets: $12 Advance / $15 Day of Show
** The presale period for this show has ended.  Tickets will be available for purchase at the door.
On their LP Magic, jamband favorites The Werks transcend their roots while never losing their identity. Poignant songwriting and engaging melody come together on a record that showcases their maturation as a multidimensional group of uniquely creative musicians.
The virtuosic rhythm junkies of The Werks have released four highly acclaimed studio albums over the past ten years – Synapse (2009), The Werks (2012), Mr. Smalls Sessions EP (2014), and Inside a Dream (2015) – performed well over one thousand shows (including launching their own multi-day music festival The Werk Out), and released countless live recordings including last year's Live at The Werk Out live album. In that time they've earned a devoted fan base across the world and reputation as one of the most energetic, compelling, and downright entertaining live acts in the business. They've developed a hard won confidence, and a willingness to fearlessly chart new sonic territory on Magic.
"This is our first truly multi-genre album" says Chris Houser. "Each track has its own unique vibe and sound. We didn't write these songs to please people, we wrote them because this is what we hear when we turn off the outside and let the creativity flow."
Magic is muse put to tape, a direct download of the creative spark. "This is a recording of the music that's in our souls" explains Rob Chafin. "In a way, the past decade has been leading to this moment. We play and write together so seamlessly now, we're able to channel the inspiration in our hearts out into our instruments, and come at this from a pure place." Together, these visionaries have crafted a record where melodies take flight, dancing and twisting around the sonorous main of the tune itself. By fusing their spirited improvisation to a core of immediately engaging songwriting, The Werks have truly performed a feat of modern musical Magic.
Band Website: www.thewerksmusic.com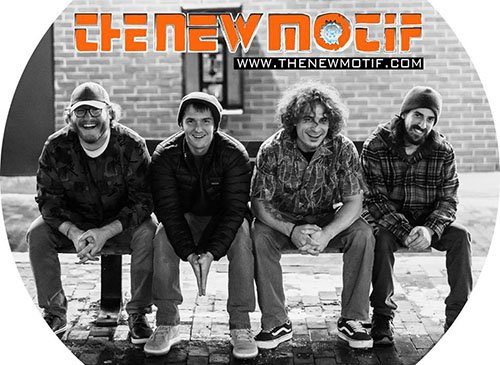 The New Motif is an eclectic jam/funk band that infuses deep psychedelic grooves with improvisational techniques. The ambitiously crafted keyboard mastery, expressive saxophone and immaculate guitar shredding meld into a dynamic fusion. Their intricate funky bass and drums render addictive grooves binding band and crowd creating the "reciprocal boogie." Live performances of their extensive original repertoire spawn multifaceted  jams and memorable moments.
Band Website: www.thenewmotif.com