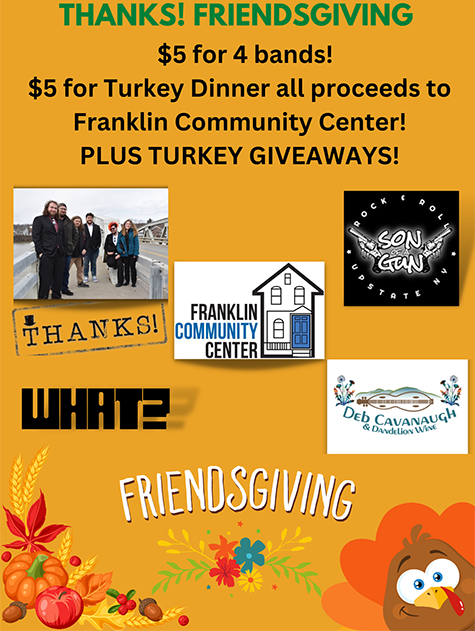 November 23, 2022 4:00 pm - 9:30 pm
Putnam Place, 63a Putnam Street, Saratoga Springs, NY 12866
Show: 4:00pm
Ages: 18+
Tickets: $5
** Click Here to Purchase Tickets **
Thanks!  will be throwing a Friendsgiving at Putnam Place with a full Thanksgiving Dinner (available for $5), the proceeds from which will be donated to the Franklin Community Center  Plus Turkey giveaways!   Everyone is welcome, especially anyone that doesn't have a family for the Thanksgiving holiday!  Let's all come together and support our community, family and friends for Thanksgiving Eve!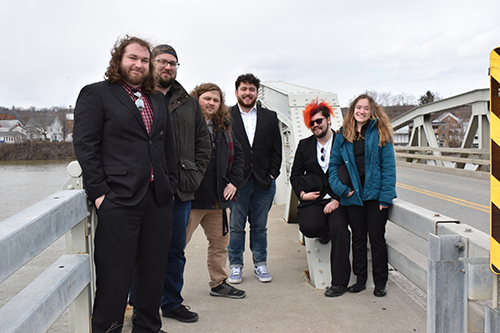 Thanks! is a blend of dirty blues, smooth jazz, plain old rock and roll and theatrical wonder! Their songs are an eclectic mix of many influences that center upon the bands unique sound. Born in humble Saratoga Springs, NY the band builds upon the sound of their trio. Jazz-infused percussion from Hartford-trained drummer Ben Martin and melodic bass lines from bassist Andrew DeWolf put together a tight rhythm section. While Andrew Grella completes the sound with rhythm piano, lead saxophone and vocals. That unique combo is complemented by a three-piece horn section that primes this act for the big stage.
Thanks! released their debut album "You're Welcome!" in July of 2022. The record boasts 14 original tracks from the band and really establishes their unique sound. Jackson Tollerton of Nippertown calls it a "jazzy jamboree" that is "lively and showcases varied and quality songwriting throughout." He called them an "exciting group that mixes elements of blues, alternative, rock and jazz into a truly fun and special blend." You can stream the LP on all streaming services or by visiting their website.
[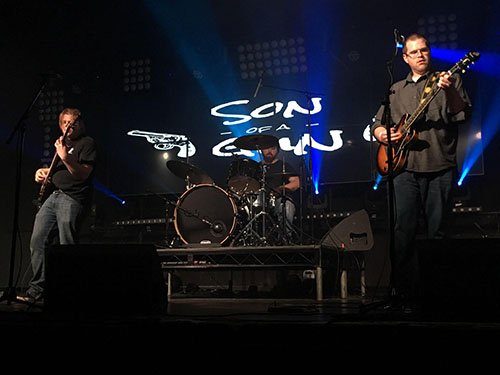 Late 2018, Ben , Rob and Tyler formed Son of a Gun. Bringing a jam sensibility to straight-ahead Rock & Roll. The power trio from the Capital Region has been bringing the fire on stage across NY state. With the Shutdowns in 2020, the band saw that as an opportunity to write and record. Ready and willin' to power on, keep an eye out for shows in your area.
Band Website: www.sonofagunband.com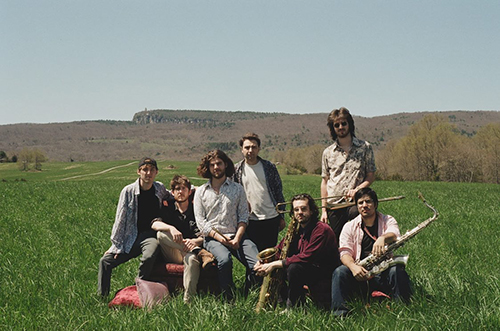 What? is a funk septet hailing out of the Hudson Valley of New York. Drawing influence from the serene landscape of the Catskills that inspired the likes of The Band and Donald Fagan, What? bridges the gap between R&B groove and improvisational jam. Compared to the likes of Stevie Wonder, Lawrence, Phish and Snarky Puppy, What?'s eclectic taste in music lays the framework for a night that spans multiple genres. With a constantly growing following, What? is known to bring high energy, infectious melodies and soulful grooves with their power-house horn trio each time they grace the stage.
Website:http://what.band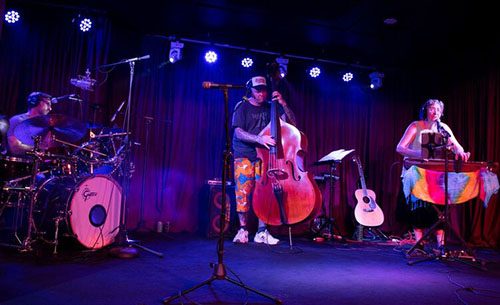 Deb Cavanaugh is an Americana singer-songwriter, multi-instrumentalist and roots musician who lives in the foothills of the Taconic Mountains, in upstate New York.  One of Deb's special talents, and believe me she has many, is she plays the heck out of the Mountain Dulcimer!  Deb's an amazing storyteller and just an all-around captivating performer.  Deb has recently been joined by Ben Hart & Jared Carrozza.
A unique blend of blues, rock & roll, folk and more, Dandelion Wine plays "psychedelic folk".
​Very much like Deb Cavanaugh's former band, General Eclectic, Dandelion Wine's line-up may vary depending on the venue and availability of musicians. Currently, Dandelion Wine is Jared Carrozza on bass and Ben Hart on drums. Ben also provides vocal backup and sometimes lead guitar.
Website: www.deb-cavanaugh.com