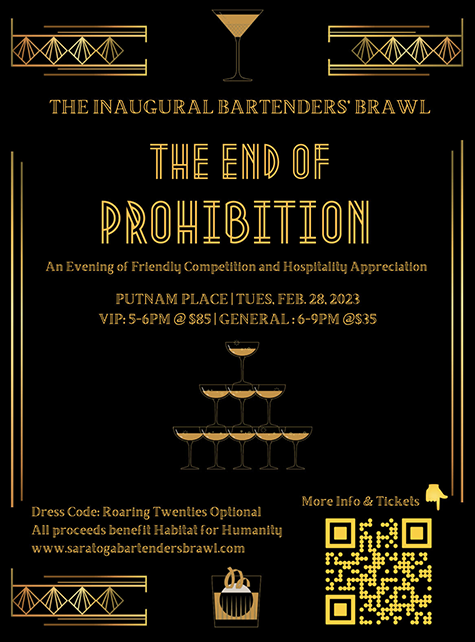 February 28, 2023 5:00 pm - 9:00 pm
Putnam Place, 63a Putnam Street, Saratoga Springs, NY 12866
VIP Doors: 5:00pm
GA Doors: 6:00pm
Ages: 21+
Tickets: $35 GA / $85 VIP
* All proceeds go to the NSWWC Habitat for Humanity
** Click Here to Purchase Tickets **
Anyone passing through Saratoga Springs, NY knows just how essential the hospitality industry is to the lifeblood of our town. We also know that the last couple of years since COVID have not been easy. And yet, Saratoga's Finest were always there for us.
In celebration of the wonderful front line workers of the hospitality industry, The Bartenders Brawl features an evening of friendly competition and hospitality appreciation, as well as a live performance by Hot Club of Saratoga (5pm-7pm), followed by beats by DJ Jason Irwin (7pm-9pm).
Bartenders from participating bars & restaurants will have individual booths in our venue. Each booth will feature a signature drink from that bartender's restaurant.  Each drink will be a $4-dollar pour of between 3-5 oz. You are invited to sample all the drinks and will then have the opportunity to vote on the BEST DRINK of the night.
Other Notes:
Cash tips are welcome and all go to the bartenders

Silent Auction

Dress Code: Roaring Twenties Optional  
Hot Club of Saratoga, upstate New York's premier gypsy swing collective, plays a repertoire that reflects the spirit and style originated by Django Reinhardt and Stephane Grappelli in The Quintet of the Hot Club of France most prominent in the 1930's and kept alive through a long line of gypsy jazz artists since that time. Most of the tunes we play were either written by, or recorded by, Django at some time in his all too brief musical life. 
Though Django is most closely associated with the quintet and with Stephane Grappelli on violin providing the other solo texture, he recorded in various other configurations. He often recorded with a clarinetist in place of Grappelli and his violin, as well as other instrumentals, with  big bands, and with on some occasions with small combos with drums as he began to explore amplification and more bebop stylings.
The instrumentation of the full quintet of the Hot Club of Saratoga, solo and rhythm guitars, string bass, violin, and clarinet/sax, allows them to explore this style throughout the range of its roots. Since forming in early 2013, Hot Club of Saratoga has brought the hot swing sound to coffee houses, restaurants, bars, clubs, swing dances, festivals, weddings, and numerous private parties. If you're looking for gypsy swing true to its origins while subtly expanding the genre, music that just makes you smile and move, give them a listen.
Website: www.hotclubofsaratoga.com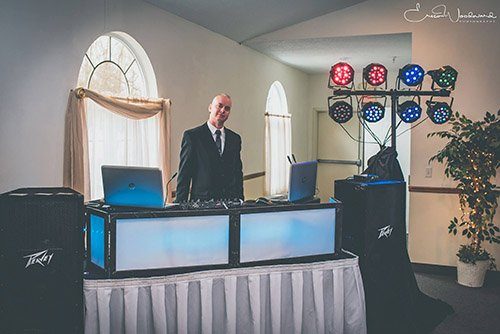 Jason Irwin is the host of the "Rise and Rock" morning radio show on The Legend, 93.1FM in Queensbury, part of the Regional Radio Group and a professional performing / recording musician and the owner of a mobile DJ business. In addition, Jason is a freelance reporter for The Glens Falls Chronicle.