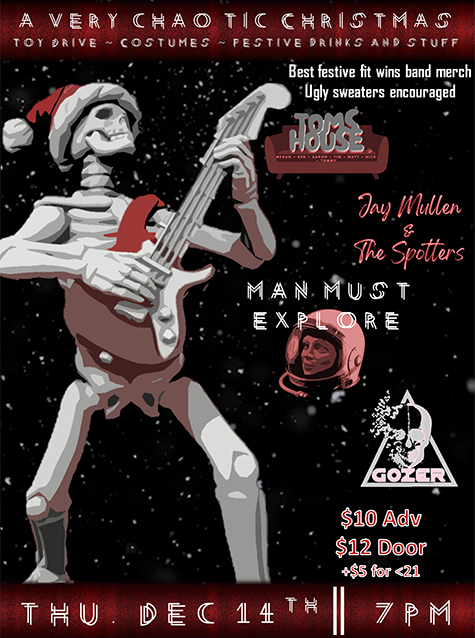 December 14, 2023 7:30 pm - 11:30 pm
Putnam Place, 63a Putnam Street, Saratoga Springs, NY 12866
Doors: 7:00pm
Show: 7:30pm
Ages: 18+ (note: there is a $5 surcharge at door if under 21)
Tickets: $10 Advance / $12 Day of Show
** Click Here to Purchase Tickets **
It's that time of year again, boys need Batman, girls need Barbie, kids need toys! We're asking everyone to bring in a toy to help out disadvantaged kids in Saratoga County.  Wear an ugly sweater, grab a Christmas themed drink at the bar, enjoy the show!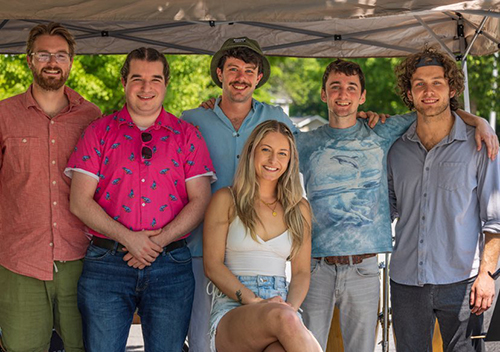 Tom's House is a group of 7 friends with very different musical backgrounds and styles from Upstate New York. Named as a homage to the space in which they grew together musically, they try to tap into the nostalgic feeling of "feel good" contemporary progressive rock, jazz and blues often associated with growing up as a kid in a musical household. Megan Goodwin (lead vocals), Tim Daley (guitar / vocals), Tommy Socolof (percussion / vocals), Ben Rowley (keys), Nick Willmart (drums), Aaron Cook (bass) and Matt Smith (horns) are your new family members.
Website: Tom's House Facebook Page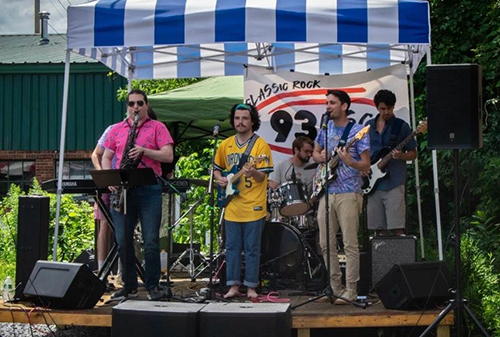 An indie-jam sound follows the soothing vocals, warm and crisp guitar playing, tickling keys, funky bass and silky percussion that Jay Mullen & The Spotters are known for. The group is based in Glens Falls, NY, providing good times and positive vibes to the 518 and beyond. The group, formerly known as The Spot, formed at the tail end of 2019 just before the emergence of the COVID pandemic. Jay started out as a solo singer-songwriter, who now with the help of The Spotters is able to breathe new life into his library of original music. Jay Mullen & The Spotters draw inspiration from bands including Twiddle, Pink Floyd and The Beatles, putting their spin on covers spanning all genres while showcasing original tunes.
Website: www.facebook.com/livefromthespot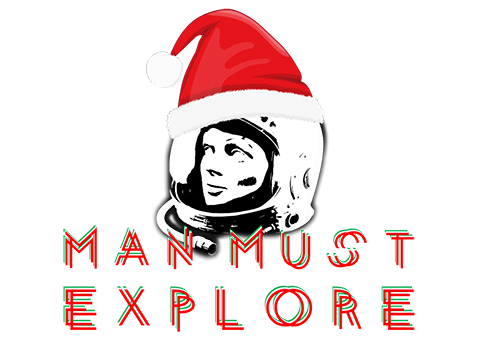 Man Must Explore is an explosive alt-rock group based out of Albany, NY, originally started to push musical boundaries through their signature cocktail of alt-rock and emo influences. With musical themes ranging from the infinite cosmos to shadowy depths of the human mind, they embody the words spoken by astronaut David Scott on the Apollo 15 mission; "I sort of realize there's a fundamental truth to our nature, Man must explore . . . and this is exploration at its greatest." MME is vocalist and guitarist Ryan Treen, bassist and guitarist Thomas Harrington, and drummer Ross Broady.
Website: www.manmustexplore.com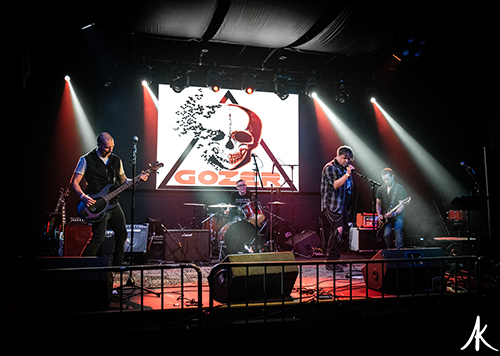 Formed in 2019, Gozer is a 4-piece rock band from Albany, NY fronted by vocalist Mykah Dillenger. Stylistically, Gozer combines classic Black Sabbath style riffs with contemporary rock vibes ala Queens of the Stone Age to offer a unique and accessible sound to listeners. In addition to writing original albums, Gozer spends their time writing original music for various podcasts including "Botched: A D&D Podcast", "FTH Beyond", and "Shadow Pack Squares". Two tracks off their debut EP were also featured in the Irish zombie film "Follow the Dead", which has won many awards on the international Indie film circuit. Gozer's 1st album "The Far Realm" ranked #29 out of over 300 submissions on the March '23 Doom Charts.
Website: Gozer Facebook Page