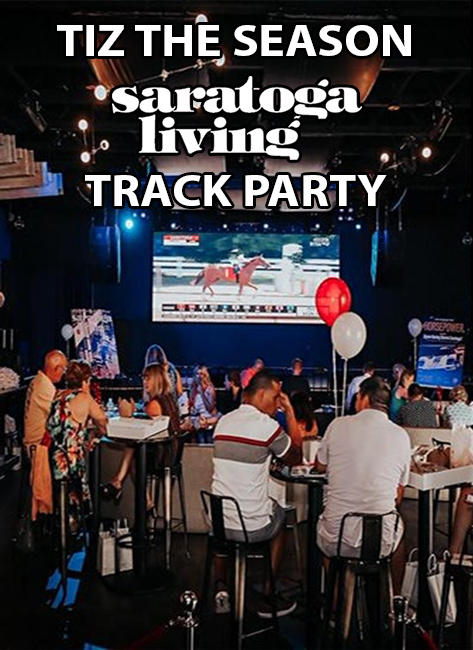 August 27, 2020 3:00 pm - 6:30 pm
Putnam Place, 63a Putnam Street, Saratoga Springs, NY 12866
Time: 3:00pm
Tickets: $100
** Click Here to Purchase Tickets **
We're getting pumped for Tiz's Triple Crown run – let's have one last BIG Saratoga track day before then! Watch the races with Saratoga Living on the largest TV in Upstate New York! (Plus there's AC!)
No squinting at far-away TVs or wilting in the heat – we're throwing a PARTY where everything has to do with TRACK!
Festive Day at the Races Attire – show off your best track outfits!
Each Ticket Includes:
Choose your meal: Lavish Tuscan fare provided by The Brook Tavern OR make your own Tacos & Donuts provided by Taquero (everyone at your table must choose the same option)
Complimentary Welcome Drink sponsored by Hiatus Tequila
Photo Op: a glass (or two!) of Whispering Angel rosé from the largest bottle you've ever seen!
Dedicated waitstaff for cocktail service at reserved tables
PLUS NYRA programs, track themed VIP swag bags (including a signed copy of our current Greg Montgomery issue for the first 30 tickets!) & MUCH MORE!
Guests are entered to win a signed Greg Montgomery Saratoga poster, at-home party essentials from Tailgate and Party, a house party serving set, & more!
LIMITED TO ONLY 50 TICKETS. We will be following all Covid-19 guidelines for NY Forward and Saratoga County. Putnam Place is generously donating venue space, so all additional cocktail purchases are appreciated!
***Both table and individual reservations available. If purchasing an individual ticket, email [email protected] with who you will be sitting with, and Saratoga Living will make sure you are assigned to that table. Everyone at your table must have the same food option. Email Abby with ANY questions!