February 28, 2020 8:30 pm - February 29, 2020 1:00 am
Putnam Place, 63a Putnam Street, Saratoga Springs, NY 12866
Doors: 7:30pm
Show: 8:30pm
Ages: 18+ (note: there is a $5 surcharge for attendees under 21)
Tickets: $12 Advance / $15 Day of Show
** Click Here to Purchase Tickets **
"Perhaps the mark of a great – and lasting – recording artist is the ability to continually reinvent itself with each new album, while simultaneously staying true to its identity-defining roots. With their latest release, ​Shady Grove​, the Figgs have proven themselves great with a capital G."
              — Jude Warne, The Vinyl District, & ​author of upcoming release America, the Band – an Authorized Biography
Be it known that on September 20, 2019 the Figgs released "Shady Grove," a six-sided behemoth of a triple album, featuring a slew of their trademark catchy riffs and drenched harmonies. Clocking in at 24 new songs (and a Kate Bush cover), ​"Shady Grove"​ finds the band sliding between up-tempo rockers, experimental numbers, and a handful of instrumentals. Although the 'tight as army buddies' and chugging flash of their earlier work is omnipresent, many of the tracks feature introspective lyrics of sadness and loss. You'll find that even some of the catchier pop songs like "Paolo the Alto," "Bad Decisions," and "Grab Your Pack" are full of this dichotomy.
But why the sadness? Since the Figgs began cutting the tracks that would become their 14th studio offering, losses would hit the band in profound ways. In early 2017, a few months into tracking the album, longtime musical associate and touring keyboardist, Ted Collins passed away. Ted had originally played in the band from which ​Mike Gent​ (guitar, vocals) and ​Pete Donnelly​ (bass, vocals) poached ​Pete Hayes​ (drums, vocals). Ted had been a dear friend to the band since the very early days. It was a heartbreaking loss.
Later in 2017, another longtime friend and roadie, Eric Harmon, also passed. The band met Eric on one of their first National tours when he was playing drums for Oklahoma's Chainsaw Kittens. Harmon would later join The Figgs on dozens of tours, working as road manager, drum tech, merchandise handler, and therapist. Other people close to the band left this plane in 2018 and 2019, making death a constant throughout the Shady Grove sessions. But the band soldiered on with some of the more experimental numbers on the new album becoming tributes to these lost comrades.
For fans of the band's weirder side…get psyched! Experimentalism runs rampant here, scattered throughout the six sides of brand new material. For those more into the group's classic brash pop…have no fears! There's a double album's worth of the trademark punch on this newest offering. The band have really hit their stride on this one, taking their time and stretching out; absorbing loss and retreating into their obvious love of making music.
Look for them in a town near you on the Shady Grove Tour 2019-2020.
Band Website: www.thefiggs.net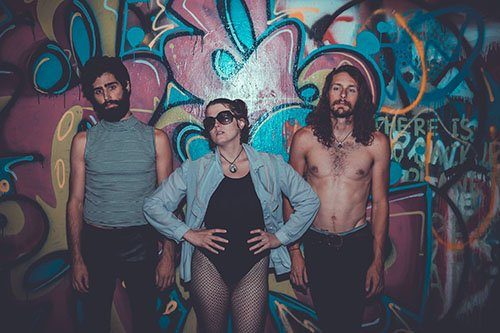 Troy, NY's Candy Ambulance are Jesse Bolduc (bass), Jon Cantiello (drums) and Caitlin Barker (guitar, vocals). Formed in 2014, the trio have been honing their songwriting and touring around in a Toyota Corolla these past 5 years. Their upcoming LP, Traumantic (recorded and produced by The Replacements' Tommy Stinson), boasts raw, emotive lyrics, poppy grunge hooks and slide guitar collaboration from the ever so talented Josh Marre (Pinegrove, Blue Ranger).
Barker says the album is about "the sum of my life's experiences with men, abusive power dynamics in relationships, therapy, and how I relate to people from those experiences. Its rough around the edges. So am I. I was blackout drunk for all the vocal tracking."
Band Website: www.candyambulance.com
​