May 5, 2022 9:00 pm - May 6, 2022 12:30 am
Putnam Place, 63a Putnam Street, Saratoga Springs, NY 12866
Doors: 8:00pm
Show: 9:00pm
Ages: 18+
Tickets: $22 Advance / $25 Day of Show
** Click Here to Purchase Tickets **
TAUK may be an instrumental band, but even without words, the group's extraordinary new album, Chaos Companion, manages to speak volumes about the ups and downs of a year that challenged—and transformed—us all."Everyone's got a chaos companion, something that keeps you grounded in the midst of all the madness," says bassist Charlie Dolan. "Maybe it's your spouse, maybe it's your kids, maybe it's your dog. For us, it was the music."
Recorded at the band's newly completed studio on their native Long Island, Chaos Companion is indeed a work of profound comfort and catharsis, but more than that, it's a testament to the kind of growth and evolution that can emerge in the face of struggle and uncertainty. Forced off the road for the first time in years by the COVID-19 pandemic, Dolan and his bandmates—guitarist Matt Jalbert, drummer Isaac Teel, and keyboardist Alric Carter—used the rare break from touring to stretch themselves as writers and instrumentalists, leaning into the sense of liberation and possibility that came with an empty calendar and letting it guide them toward uncharted musical territory. The resulting songs push TAUK's sound to bold new heights, fearlessly fusing elements of progressive rock, funk, soul, EDM, and hip-hop into a richly melodic, groove-driven blend, one that's complemented perfectly here by the equally adventurous production work of longtime collaborator Robert Carranza. Add it all up and you've got an evocative, cinematic collection that hints at everything from 70's film scores and 80's videogame soundtracks to 90's R&B and modern dance music, an immersive, transportive record that blurs the lines between the analog and the electronic as it balances old school grit and futuristic sheen in equal measure.
"Being in an instrumental band already comes with a lot of freedom," says Carter, "but having all that time away from the road really allowed each of us to experiment and explore in our own ways. It opened up whole new palettes for us to paint with."
TAUK has been painting with sound for nearly a decade now, pushing boundaries and reinventing themselves every chance they get. Founded by Dolan, Jalbert, and Carter, who began playing together as middle schoolers on Long Island, the band landed on its present incarnation in 2012, when college pal Teel joined full time. Since then, the quartet has gone on to tour with the likes of Umphrey's McGee, Widespread Panic, and Lettuce, landed festival slots everywhere from Bonnaroo to Electric Forest, racked up millions of streams across platforms, and garnered extensive critical praise with a series of widely lauded studio and live albums. The Washington Post hailed the band's music as "a hard-charging, often melodic fusion that—thanks to a penchant for improv—offers limitless possibilities," while Keyboard Magazine declared that their sound "doesn't adhere to a single genre but, instead, creates its own," and Relix dubbed them "an incredibly impressive ensemble of talent."
Thrilling as it was, TAUK's breakout success and relentless tour schedule left the band with little opportunity to catch their breath. That all changed in 2020, though, when the coronavirus pandemic brought the entire live music industry to a grinding halt.
"More than anything, being forced to take a break allowed us to reset and refocus," says Teel. "It was a chance get back to basics and put 100% of our energy into writing, a chance for each of us to dig deeper into our own personal influences."
When the band finally reunited in late 2020, they found themselves with such a glut of new ideas that they could afford to be more intentional than ever before, taking their time to craft a deliberate sonic and emotional arc with the material.
"Being able to work in our own studio every day and just live with the songs was a game changer, too" says Jalbert. "When you don't have a tour coming up, you have the freedom to move more slowly and experiment in ways that can wind up pushing the music in whole new directions."
In addition to having more time on their hands, TAUK was also able to hit the ground running in the studio thanks to the most fully realized set of demos they'd ever created.
"With the four of us all writing and working on ideas independently during the pandemic, we started exploring more of the possibilities that come with recording software like Logic and Ableton," says Carter. "For me as a keyboard player, it was like adding another four arms to my body in terms of what I could play."
"Writing on Ableton actually changed my whole approach," adds Jalbert. "Working with sampled drums and then recording bass and keys on top made it so that I could really flesh everything out, and a lot of those sounds from early in the writing process ended up making it onto the final record."
Using those more fleshed out demos as a jumping off point, TAUK cut much of what would become Chaos Companion live in the studio, embracing the energy of the moment and their undeniable chemistry as a quartet to deliver vibrant, arresting performances that ranged from the hypnotic to the explosive and back again, sometimes within the very same track. Meditative album opener "Chandara" sets the stage, with a spacious, dreamy soundscape that evokes the break of day on some serene and distant planet. Like much of the album, there's an air of science fiction to the track, a sense that the song itself may be an invitation to some alternate dimension where all of our earthly fears and anxieties are nothing more than a memory. The mesmerizing "Moon Dub" soars and swaggers its way through the stars, while the driving "Make Your Move" brims with the rousing confidence and determination of an action movie montage, and "The Let Out" offers an impossibly smooth blend of sensual R&B and heavy guitars that lands somewhere between Erykah Badu and Tom Morello. Elsewhere on the album, special guests—like The Shady Horns, who add some extra punch to the urgent "Dormammu," and celebrated film composer Tyler Bates (John Wick, Guardians of the Galaxy), who contributes additional production to the epic "Lonely Robot"—help the band break down even more sonic barriers.
"In the past, we've been pretty conscious about having our live show sound consistent with our albums," says Carter, " but this time around we wanted to ditch all the limitations and rethink what our live show could be. I think people are going to be blown away by what we're doing when we hit the road again."
In the end, that's what Chaos Companion is all about: defying expectations, transcending reality, reimagining what's possible. It's a dose of the familiar in the midst of the foreign, a wordless album that'll leave you speechless.
Website: www.taukband.com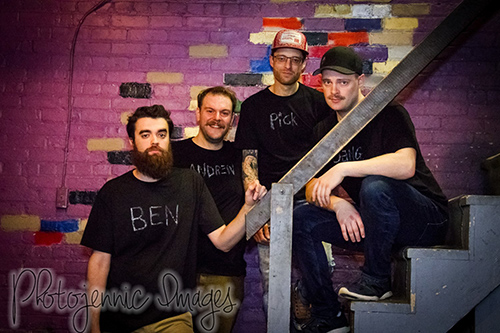 Formed in 2007, Timbre Coup is a progressive rock band hailing from Albany New York. The band is comprised of Dan Gerken (guitar/bass/vocals), Andrew Chamberlaine (guitar), Ben (guitar/bass) and brother Matt Pickering (drums).
In their time together as a band, the members of Timbre Coup have become a cohesive force to be reckoned with. Often compared to groups such as King Crimson and Umphrey's McGee, this prog (or "improg") band also has a very danceable side. "We want people to pay attention to the details and intricacies of our songs, but we love making people dance." says drummer Matt Pickering. "Our music was as accepted at Camp Bisco as it was at MoeDown.
Band Website: www.facebook.com/timbrecoup