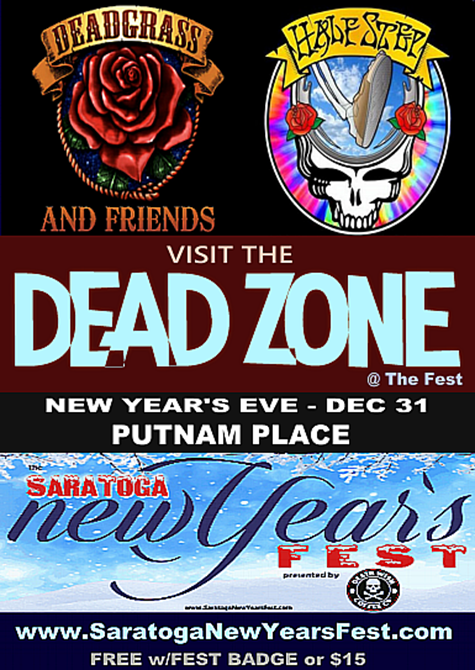 December 31, 2022 6:30 pm - 1:00 am
Putnam Place, 63a Putnam Street, Saratoga Springs, NY 12866
Doors: 6:00pm
Show: 6:30pm
Ages: 18+
Tickets: $15 at Door
** This show is included with the purchase of a Saratoga New Year's Fest badge.
** Click Here to Purchase Saratoga New Year's Fest badge **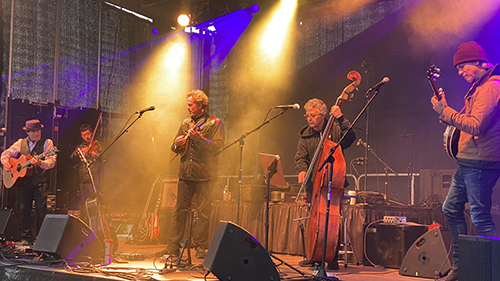 Matt Turk and C Lanzbom joined forces to form Deadgrass, a string band adventure through Jerry Garcia's musical world. Bassist Dave Richards, banjo player Boo Reiners and fiddler Jeremy Brown complete this fine group of seasoned pros exploring the life works of Jerry Garcia on the instruments that first inspired him. Deadgrass celebrates and interprets the music of Jerry Garcia, drawing from Old & in the Way, JGB, Jerry's Jug Band days and the Grateful Dead. 
A seasoned recording artist and multi-instrumentalist, Matt Turk is a veteran performer who has performed and recorded with Pete Seeger, opened for Judy Collins, The Doobie Brothers, Fiona Apple and the Grateful Dead's Mickey Hart. He has performed at the Clearwater Festival, Gathering of the Vibes, Atlanta's Music Midtown, Jazz at Lincoln Center and The Beacon Theatre. Matt has recorded for Warner Bros Records with Gaby Moreno & Matter Music. 
Grammy award winner C Lanzbom is a touring and studio guitarist with producing, performing, writing and engineering credits with Pete Seeger, Bruce Springsteen, Crystal Bowersox, Shlomo Carlebach and Soulfarm. C's studio, Sherwood Ridge, is a state of the art recording facility just north of New York City. C has numerous television and film song placements. 
Bassist Dave Richards performs in Hamilton on Broadway and has recorded and performed with The Indigo Girls, Rosanne Cash, Buster Poindexter, Madeline Peyroux, Jewel and Richie Havens. He has toured throughout Europe, Canada and the USA, appearing at Ottawa Jazz, Toronto Blues festival, The Hollywood Bowl and Austin City Limits. At the age of 17 Dave was playing jazz five nights a week in Orlando, Florida with Billy Peebles, the drummer for Ray Charles on many classic Atlantic recordings. 
Banjo player Boo Reiners is a multi-instrumentalist who has performed, recorded, filmed and toured with Dispatch, Phil Lesh, Al Kooper, Pete Seeger, Charlie Louvin, Steve Martin, Tony Trischka, Michael Moore, Amy Poehler, Natalie Merchant, Martin Sexton, and many others. In the studio and on tour with world music pioneers The Klezmatics, he helped the group to win their 2007 Grammy Award for "Wonder Wheel: Lyrics By Woody Guthrie."
Jazz violinist Kensuke Shoji was born in Gifu, Japan. He joined his father's bluegrass band as a teenager. As a young adult he moved to the U.S.A. to study jazz violin with Berklee String Department chair Matt Glaser, and world renowned violinist Christian Howes.  Dedicated to improvisation, Kensuke moved to New York City in 2013 to play with Alex Hargreaves, Barry Harris, Jacob Jolliff, Maria Muldaur and more. 
Website: www.deadgrassband.com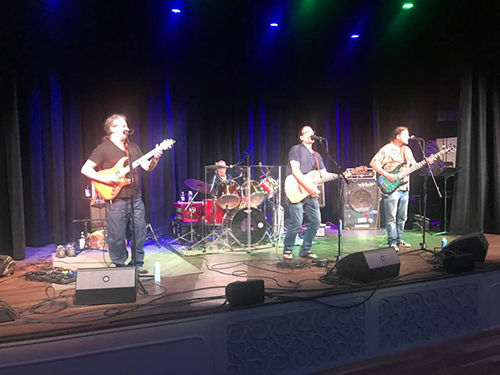 Formed in 1991 by Juan and Michelle Calzada, Half Step has evolved into Juan Calzada on lead vocals and acoustic guitar, Bob Peck on vocals and bass, David Lawson on vocals and lead guitar, and Robin Barkenhagen on drums. The group, drawing on musical influences from the Allman Bros., Bob Dylan, Santana, Pink Floyd, and The Grateful Dead, is an ever growing presence on the East Coast with a strong and loyal following.
In January 1996, Half Step released its debut CD with the help of Sweetfish Studios in Argyle, NY. The self-titled, ten song recording captures the very essence of the musical group's influences of Rock, Folk, Reggae, and Latin. "This is a very rewarding album from a group that is not only musically proficient, but versatile." Relix Vol. 23, No 5. The CD has been distrubuted to all parts of the world. Their second CD "Harvest Pickins" is a collection of live performances through 1999.
Half Step has performed at various night spots in The Adirondack region, The Capital Region, Vermont, New York City, and Key West, Florida. Half Step also plays private parties. The group has appeared in several festivals, including: Save The Rain Forest, Theta Chi House Springfest, The Adirondack New Music Fest, Fossomelinfest, Earth Day Fest, Bands & Beans, Key West Fantasy Fest, Rye Breads Annual Island Fest, The Great Mugwai, New York State Harvest Fest, Millenium Jam at The Glens Falls Civic Center, and Half Step's Annual Log Bay Jam.
Band Website: www.facebook.com/halfthefun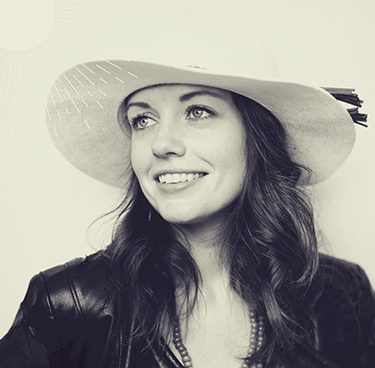 New York's Clare Maloney is one of the most distinctive, powerful and emotive voices in rock & roll today.  The internationally renowned singer, songwriter and multi-instrumentalist has shared the stage with members of The Grateful Dead, Jefferson Starship, Allman Brothers Band, Hall & Oates, Bruce Springsteen's E Street Band and more. 
Before transitioning to rock and roll full-time, Clare trained extensively and toured as an opera singer, appearing multiple times at Carnegie Hall, Lincoln Center, Town Hall, Symphony Space, 92ndY, National Sawdust and at concert halls throughout Europe and Asia.  
Since 2018, she has been the vocalist for The Englishtown Project, and more recently has toured nationally as a vocalist and guitarist with The Airplane Family and Deadgrass.  When the music industry shut down in 2020, Clare and her music partner, Nate DeBrine, started a weekly livestream from home that garnered over 100k views and an enthusiastic fan base around the world.  Clare further used that time to break through a decade-long period of writer's block, writing over 100 songs in 2021, and together with DeBrine she began forming the sound and the band that would become The Great Adventure. 
Clare Maloney & The Great Adventure played their first show in June 2021 to a sold out crowd at The Bitter End NYC. The band features a rotating cast of adventurers including DeBrine, Nathan Graham (Midnight North, Phil Lesh), Larry Cook (Tony Trischka, Joshua Hedley), Caleb Estey (Steve Forbert), Russ Gottlieb (Brummy Brothers, Deadgrass), C Lanzbom (Soulfarm, Deadgrass) and Damian Calcagne (Andy Falco, Railroad Earth). After the success of their debut show, monthly appearances at The Bitter End followed, as well as opening slots for Phil Lesh & Friends, Donna the Buffalo, Twiddle and Scars on 45.  
The band released a series of singles in the spring of 2022 to rave reviews. Relix magazine called their first single, "Legend Lives On," a "stunning debut." Their momentum continued through the summer of '22 with a string of dates along the East Coast and Midwest in support of their new music, including a rocking set on the main stage at The Pleasantville Music Festival and an appearance at 107.1 The Peak's Beach House series. Their debut full-length album, "Daybreaker," was released on December 9, 2022, coinciding with a year-end run of shows along the East Coast and a sold out album release party at The Bitter End. The self-produced album features nine original songs and was recorded live at The PineBox in Boonton, NJ.
Website: www.claremaloney.com