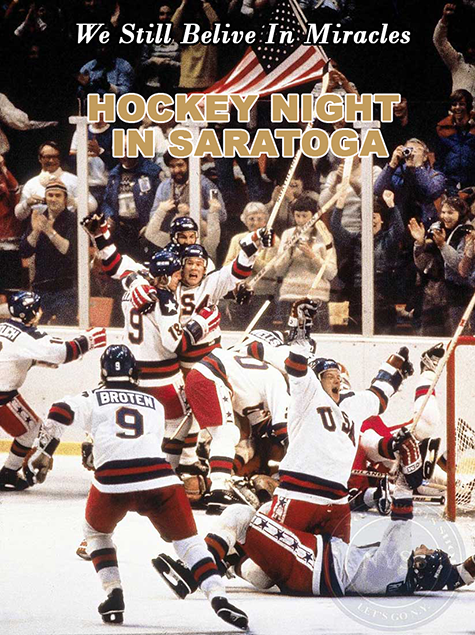 February 26, 2020 6:30 pm - 9:00 pm
Putnam Place, 63a Putnam Street, Saratoga Springs, NY 12866
Time: 6:30pm – 9:00pm (VIP Pre-Party @ 6:00pm)
Tickets: $19.80 – $150
** Click Here to Purchase Tickets **
Saratoga Living Celebrates: 40th Anniversary of Team USA's Miracle on Ice VICTORY!
Saratoga Living magazine presents a once-in-a-lifetime event – a party celebrating the 40th anniversary of Team USA's historic "Miracle on Ice" Olympic WIN over the Soviet Union in Lake Placid!
• National anthem by Saratoga's own Kelsey Dodd
• Airing of the 1980 game on Putnam's HUGE 17′ LED screen!
• Raising money for Friends of Saratoga Rec Fundraiser (ticket prices explained below, plus a carnival game- like competition with Morning Skate podcast; 100% of that money goes to buying new shelving for the locker room and adorable skating aids for budding players!)
• Engage with VIP guests, including ex-NHL players and members of the current Adirondack Thunder team!
• DJ Vinny Vin, hockey-themed raffle items, food, patriotic desserts and more!
GO TEAM USA!!
So, hockey fans – what kind of winner are YOU?
Gold Medal VIP Hour (5:30-6:30): $150*
Ticket includes:
1980 Team USA jersey hoodie (pic below!) by Hockey Innovations (Order by 2/14 to have it CUSTOMIZED before you arrive at the party!)
Meet and Greet with ex-NHL Players, including Brad Chartrand, Glenn Merkowsy, Molly Morgoslepov, Paul Traynor, active Adirondack Thunder players – and stay tuned for more announcements coming soon!
Exclusive Q&A session hosted by a local celebrity sports star
Hockey-themed gift bag (including a Thunder ticket, Morning Skate swag and more!)
Specialty open bar (details coming soon!)
Five complimentary raffle tickets
Entry into the main event
PLUS: First 25 tickets get a commemorative issue of Saratoga Living SIGNED by Jim Craig, the goalie from that historic game!
*$25 of the ticket price goes to Friends of Saratoga Rec Fundraiser
Silver Medal: $40*
Entry into the main event
Hockey-themed gift bag (including a Thunder ticket, Morning Skate swag and more!)
One complimentary drink (details coming soon!)
Two complimentary raffle tickets
*$5 of the ticket price goes to Friends of Saratoga Rec Fundraiser
Bronze Medal: $19.80
Entry into the main event
One complimentary drink (details coming soon!)
One complimentary raffle ticket