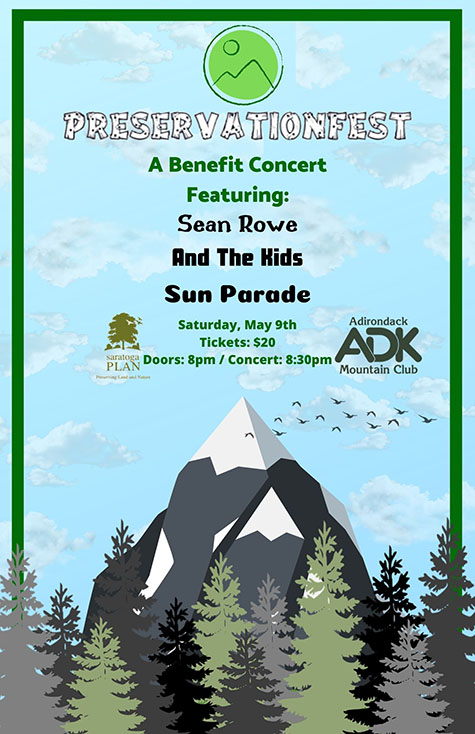 May 9, 2020 8:30 pm - May 10, 2020 1:00 am
Putnam Place, 63a Putnam Street, Saratoga Springs, NY 12866
Doors: 8:00pm
Show: 8:30pm
Ages: 18+ (note: there is a $5 surcharge for attendees under 21)
Tickets: $20
** Click Here to Purchase Tickets **
Preservationfest is a benefit concert raising funds for Adirondack Mountain Club and Saratoga PLAN.  Join us for a night of great music, including performances by Sean Rowe, And The Kids and Sun Parade, as well as a late night set with an artist to be announced.  There will also be a raffle for items donated from local businesses ($1 for 1 raffle ticket or $5 for 10 tickets).  
ADK is the only nonprofit organization dedicated to protecting and advocating for New York State's wild lands and waters while also teaching people how to enjoy natural places responsibly. Since 1922, the organization has offered people opportunities to stay and play in as well as protect, discover, and explore the outdoors. Today, ADK has 30,000 members in 27 chapters statewide and is served by a professional, year-round staff. The organization is recognized as a vital voice in the commitment to environmental stewardship and ethical outdoor recreation in New York State. For more information on membership or making a difference, head to www.adk.org or follow ADK on Instagram, YouTube, Facebook or Twitter.
Saratoga PLAN's mission is to preserve the rural character, natural habitats and scenic beauty of Saratoga County so that these irreplaceable assets are accessible to all and survive for future generations. PLAN has conserved over 7,000 acres to date.
https://www.saratogaplan.org/  
PERFORMERS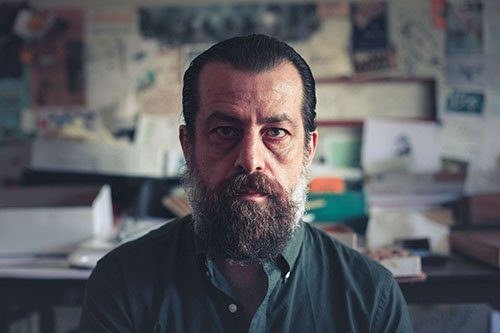 Though he grew up in the generally frozen landscape of Troy, New York, Sean Rowe spent many of his formative summers in DeLand, Florida —a small town between Orlando and Daytona Beach —where his father was a residential caretaker at a home for troubled youths. It was there, in a mercifully air-conditioned, mostly unused building filled with donated musical instruments, that Sean taught himself to play drums and then bass. For those who have wondered where his distinctly low and percussive approach to guitar playing comes from, I believe you now have your answer.
During those same years, when he wasn't listening to heavy metal or building his early musical chops, Sean was in the woods exploring, foraging, and obsessively learning all that he could about the natural world around him. Since then, his fascination with the subject has only grown and through his web-series, Can I Eat This?, he's found a means of indulging two of his great passions: music and nature. In each of the forthcoming episodes of Can I Eat This?, Sean will guide a fellow musician on a foraging mission for all manner of wild foods. The two will use their harvest to prepare some tasty creation and end their adventure by performing a cover song together.
For Sean's next full-length album, he teamed up with longtime producer and friend Troy Pohl, who helmed production on the albums Magic, Madman, Her Songs, and various other EPs. The two traveled to Eau Claire, Wisconsin to team up with producer and multi-instrumentalist Shane Leonard and engineer Brian Joseph at Joseph's famed Hive Studio. All involved have described the experience as something quite remarkable and Sean is eager to release the finished work later this year.
Over the course of his career, Sean Rowe has recorded five full-length albums and several EPs. His music has been used widely throughout film and television, with notable examples including NBC's hit dramas The Blacklistand Parenthood. Rowe's song "To Leave Something Behind" was one of two non-score tracks to be featured in Ben Affleck's hit 2016 feature film, The Accountant. The song accompanied the film's final sceneand has since received nearly 4.5 million streams on Spotify alone.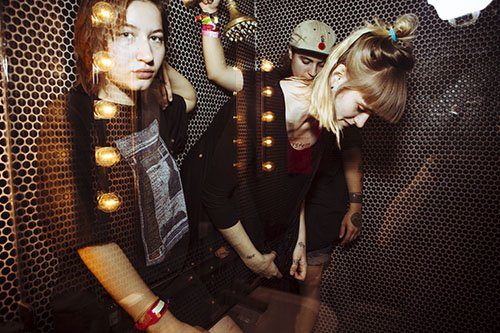 Growing up, often the safest haven to plot your dreams and get a handle on your identity is within the confines of trusted friendships. For the musicians in the critically acclaimed band And The Kids, these bonds have been a life raft.
But as friendships evolve from adolescence to young adulthood, sometimes the lines between friends, lovers and all that comes in between can grow murky. On the Northampton, MA-based band's latest, Friends Share Lovers, And The Kids examines blurred boundaries in close-knit relationships.
"The friends we grew up with were troublemakers, lost souls, dropouts, and mother figures," says And The Kids guitarist and vocalist Hannah Mohan. "The title references the incestuousness of friend groups and how things get messy."
And The Kids channel existential crises into pop euphoria. With this sleight of hand, the quartet manages to conjure chunky indie rock, blissful new wave, chamber folk, jarring avant-garde, and brawny classic rock. Mohan navigates this expansive creativity with aplomb. Effortlessly she swoops heavenly for high tones, digs deep for swaggering rock n' roll low tones, and manages to mash up sweet sass with new wave bliss for a vocal feel that masks sage wisdom beneath sweet innocence. In addition to Mohan, And The Kids is Rebecca Lasaponaro on drums, Megan Miller on synthesizers and percussion, and bassist Taliana Katz.
The quartet's beginnings couldn't be better scripted: Mohan and Lasaponaro met in band class in seventh grade. A few years later, the duo dropped out of school and found themselves at a learning center that provided them with a free rehearsal space. There they practiced everyday, inspired by such diverse artists as Modest Mouse, Rilo Kiley, The Doors, and The Police, among others. 
Band Website: www.andthekidsmusic.com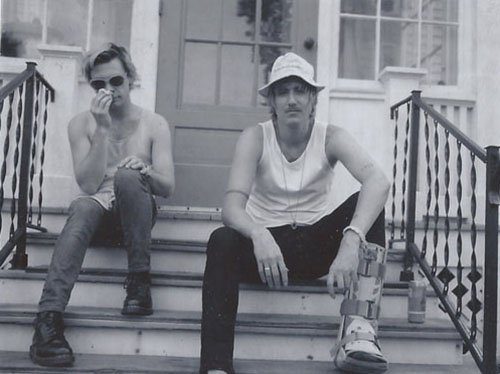 The Sun Parade is a rock and roll band from Northampton, Massachusetts. 
"The guys can harmonize like the Beach Boys on acid… They sound like the psychedelic '60s, the indie '80s, and the electro-pop boom of the aughts.  If you like, well, rock 'n' roll, you'll like Sun Parade."  – Boston Herald
Band Website: www.thesunparade.com