April 9, 2022 8:30 pm - April 10, 2022 12:00 am
Putnam Place, 63a Putnam Street, Saratoga Springs, NY 12866
Doors: 7:30pm 
Show: 8:30pm
Ages: 18+
Tickets: $20 Advance / $25 Day of Show
(on sale Friday, February 25 @ 10am)
** Click Here to Purchase Tickets **
For as long as he can remember, Ryan Montbleau's been a seeker. From the jungles of Peru to the volcanoes of Hawaii, from the beaches of Costa Rica to the streets of Brooklyn, from the backseat of a 16-passenger van to backstage at Carnegie Hall, the acclaimed singer/songwriter has spent much of his life crisscrossing the globe on a perpetual search for meaning, purpose, and understanding. It's a quest that's guided him both personally and professionally over the years, one that's come to define not only his music, but his very sense of self. And yet, listening to Montbleau's ambitious new multi-part album, Wood, Fire, Water, and Air, there is a profound sense of satisfaction in sitting still, a recognition that perhaps all those spiritual treasures he's been chasing for so long were closer than he thought.
"My whole adult life has been this journey of trying to figure out where home is," Montbleau reflects. "I think I've finally found it."
Set to roll out across four distinct EPs, Wood, Fire, Water, and Air marks Montbleau's first studio release since putting down permanent roots in Burlington, Vermont, where he recently purchased a house after more than two decades of living on the road. While much of the material here was written in fits and starts over the past several years, it's clear that the desire for stability was very much on Montbleau's mind even before he settled on the banks of Lake Champlain, and the songs reflect a maturity and self-awareness that can only come from the difficult work of rigorous self-examination. Montbleau is quick to credit therapy for his growth of late, but he sings about more than just himself here, mixing sly humor and deep revelations as he meditates on the ties that bind all of us perfectly imperfect humans together. Taken as a whole, it's a broad, insightful collection balancing boisterous rock and roll energy with intimate folk introspection, a sprawling, magnetic record all about listening, letting go, and living life.
"I've been through a lot over these past few years," says Montbleau, "and I've experienced some monumental shifts in my perspective. The only way for me to write about it was to just get as honest and vulnerable as I could."
Honesty and vulnerability have been hallmarks of Montbleau's career since the early 2000's, when he first began performing around his native Massachusetts. In the years to come, he'd go on to collaborate with artists as diverse as Martin Sexton, Trombone Shorty, Tall Heights, and Galactic, and rack up more than 100 million streams on Spotify alone. Along the way, Montbleau would share bills with stars like Tedeschi Trucks Band, Ani DiFranco, The Wood Brothers, Rodrigo y Gabriela, and Mavis Staples, but it was his ecstatic headline shows—often more than 200 of them a year—that solidified his reputation as a roots rock powerhouse and an inexorable road warrior. NPR's Mountain Stage compared his "eloquent, soulful songwriting" to Bill Withers and James Taylor, while Relix celebrated his "poetic Americana," and The Boston Herald raved that "he's made a career of confident, danceable positivity."
That positivity would serve Montbleau well on the long and winding road to Wood, Fire, Water, and Air. Work on the record first began in the summer of 2019 at the gorgeous Guilford Sound studio in southern Vermont, where Montbleau and producer Adam Landry (Deer Tick, Rayland Baxter) laid down basic tracks with a rotating cast of players. At the time, Montbleau had little idea what he was getting himself into.
"I honestly didn't know what this project was going to be for a very long time," he explains. "All I knew was that I had a bunch of songs I was really excited about, and that I wanted to take a new approach to recording them."
For much of his career, Montbleau had worked fast and loose in the studio, capturing music as raw and organically as possible. This time around, though, he found himself craving a bolder, more fully realized sound, and by the time he finished basic tracking in Guilford, it was clear that his work had only just begun. What followed was a yearlong odyssey of adding, subtracting, revising, and reimagining, as Montbleau and mixer/engineer James Bridges fleshed out the sessions with a broad array of instruments, textures, and colors.
"It took a long time for me to get to a place where I could trust myself enough to stretch out like this," says Montbleau, who experimented with synthesizers and drum machines and added piano and mandolin to his repertoire for the project. "I'd always kind of deferred to other people's expertise in the studio, but learning to trust my ears and get my hands dirty with the music was a totally empowering experience."
As the songs took shape, it became clear to Montbleau that there were discrete themes at work within the larger collection, both sonically and emotionally. Rather than release the entire 15-track record all at once, then, he decided he would unveil the album more deliberately over the course of four separate EPs, each inspired by an element of the natural world. First up: Wood, a rustic, earthy trio of tracks taking stock of just what it means to be human in these bewildering times. Songs like the playful "Perfect" and soulful "Ankles" wrap weighty ruminations inside deceptively lighthearted packages, and the spare, stripped-down arrangements make for an ideal bridge between Montbleau's earlier work and the more adventurous sounds to come on the album's second installment, Fire. Infused with an infectious energy and feel-good pop optimism, Fire showcases the rock and roll side of Montbleau's personality, celebrating the joy and liberation that comes with learning to live in the moment.
"The songs on Fire were a chance for me to just let loose and have fun," says Montbleau. "They were an opportunity to not overthink things for a change, to trust my gut and follow what felt good."
The arrival of Water quickly cools things down, though, bringing the music back to Earth with a more sober, meditative quality. Montbleau wrote several of the tracks while doing medicine work in Peru, and the healing, regenerative nature of that trip is obvious on songs like the dreamy "Forgiveness," which features extensive keyboard contributions from avant-garde icon John Medeski. By the time we reach the album's final chapter, Air, Montbleau seems to have found peace within himself, coming to terms with the transient, fleeting nature of our existence. "Just know that you are not alone," he sings on "The Dust," "and that's all you get to know now."
"Even though COVID kind of upended everything with my career, this past year has been a rare chance for me to stay put for a while and focus on what really matters," says Montbleau, who recently invited his girlfriend and her daughter to move in with him in Burlington. "I feel like I finally have a real family life now, and I'm living on stable ground for the first time."
That doesn't mean the hunt for purpose and meaning is over. Ryan Montbleau will always be a seeker, and that's alright. As Wood, Fire, Water, and Air so beautifully demonstrates, sometimes the search is its own reward.
Website: www.ryanmontbleau.com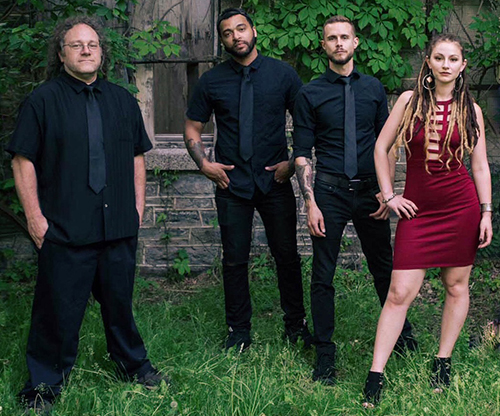 Conscious, soulful, uplifting, even healing—that's how many fans of Root Shock have described the band's infectious sound and energy. With a reputation like that, it's unsurprising that this group is indebted to reggae, a class of music forever married to love, humanity, social change, and an almost tangible sense of sunlight. But Root Shock didn't form on a beach. Instead, they came up in snowy Syracuse, New York in 2012, and since then, they've developed a voice that transcends genre.
Spearheaded by the acrobatic, powerhouse vocals of Jessica Brown, the Root Shock sound is at once commanding and cathartic, but never at the expense of a velvety, carefully placed jazz or neo-soul lick. When he isn't complementing Brown's pipes with his own earthy vocal turns, Phil Grajko gets weird on the guitar, seamlessly moving from chop chords to girthy riffs and spellbinding solos colored by Latin, prog, and psychedelic rock textures—often in tandem with mad keyboard genius Brian Lauri. Rounding out the band, bassist Bill Eppel and drummer Tyre Outerbridge make for a formidable rhythm section fluent in patterns ranging from dancehall to ska to heavy dub style and funk.
In 2016, Root Shock released a self-titled album, produced by Jason "Jocko" Randall at More Sound Studio, and followed that up with the "Many Paths" EP in 2018 & the Waves single in 2019. These recordings are proof of the band's democratic songwriting process, with thoughtful lyrics from Brown and Grajko that invoke hope in dark times, warn against injustice, and imagine a future in which all are free and equal and united by music.
Today, Root Shock is bringing their renowned live show to clubs, festivals, and concert halls across the Northeast and beyond, delighting audiences from all walks of life with a positive message and danceable tunes.
Band Website: www.rootshockmusic.com