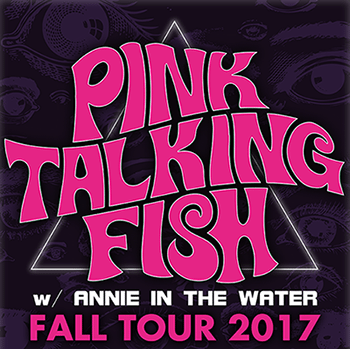 December 15, 2017 8:00 pm - December 16, 2017 2:00 am
Putnam Place 63a Putnam Street, Saratoga Springs, NY 12866
Doors: 8:30pm
Show: 9:30pm
Ages: 18+ (note: there is a $5 surcharge for attendees under 21)
Tickets: $20
Pink Talking Fish returns to Putnam Den for what promises to be another barn-burner of a performance. Those of you who have made it to their previous shows here, know that this is a show not to be missed and those of you who missed them, most likely heard all about them. Check out the video below to get an idea of what you are in for.
Pink Talking Fish is a Hybrid Tribute Fusion Act that takes the music from three of the world's most beloved bands and creates a special treat for fans of the music.
Pink Floyd, The Talking Heads and Phish are all more than just bands… they are Phenomenons. Their creations have artistically inspired people and their mindblowing live performances have brought people together to form a special sense of community around the love for their favorite band.
Although the music from each act is different, Pink Talking Fish has discovered that fusing the material together creates an amazing story. The epic emotion of Pink Floyd…. The funky, danceable layerings of The Talking Heads…. The multitude of styles, unique compositional structures and pure fun of Phish…. to merge these three into one gives music lovers a special experience.
Pink Talking Fish features Eric Gould, founding bassist of Particle, and a revolving cast of established players in the national music scene. This is a band created by musicians who love the music of these acts. It's purpose is to heighten people's passion for this music by creating something fresh and exciting for fans.
Discovering connections is part of the fun: Pink Floyd's "On The Run" seamlessly fitting in the middle of the composition of Phish's "You Enjoy Myself". Perfectly placing Phish's "Sand" into the groove of The Talking Head's "Slippery People". Segued collections from all three acts such as Run Like Hell > Making Flippy Floppy > Piper > Run Like Hell or Mike's Song > Have A Cigar > Once In A Lifetime > Weekapaug Groove. These ideas are the spirit behind Pink Talking Fish.
The story is ever evolving. The experience is always exciting. Come join Pink Talking Fish for the ultimate fusion tribute and celebrate the love of this music in unique fashion.
Band Website: www.pinktalkingfish.com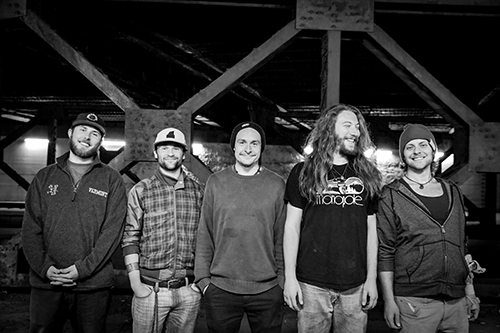 Annie in the Water's music is a groove-infused combination of rock, reggae and funk, woven together in a jam-style, and layered with unique melodies and conscious lyrics. After more than 10 years, performing 700+ shows in over 13 states, the founding members Brad Hester (Lead Vocals/Acoustic Guitar) and Michael Lashomb (Lead Guitar/Vocals) lead a full band, who's vibe will satiate your soul; core members include Josh West (Drums/Vocals), JD Tolstoi (Keyboard/Organ/Vocals) and Billy Comstock (Bass/Vocals), occasionally the lineup also features percussionist, Bill Bentz, and/or various other guests.
Fans continuously return to indulge in the band's heartfelt original music; an infections experience that drives their bodies to move. Annie in the Water takes the listener on a musical adventure, creating paths of its own into unknown musical worlds within their songs.
Expect to see a healthy dose of improvisation within well-structured original grooves, and 5-part harmonies create a depth and personality that complements the musical abilities of each member. The band can fill an entire night with original music, yet can also render well-known covers into a signature style, allowing fans to share extraordinary experiences that can't be seen anywhere else.
Annie in the Water creates a blend of music and entertainment that is inspired by the audience and the moment, delivering a solid performance every time. We humbly intend to grow, evolve, raise consciousness and create unique experiences all over the world while connecting people of all kinds, ages and origins.
Band Website: www.annieinthewater.com
Ticket Type
Price
Cart
Pink Talking Fish w/Annie In The Water (18-21)

$

25.00
Pink Talking Fish w/Annie In The Water

$

20.00