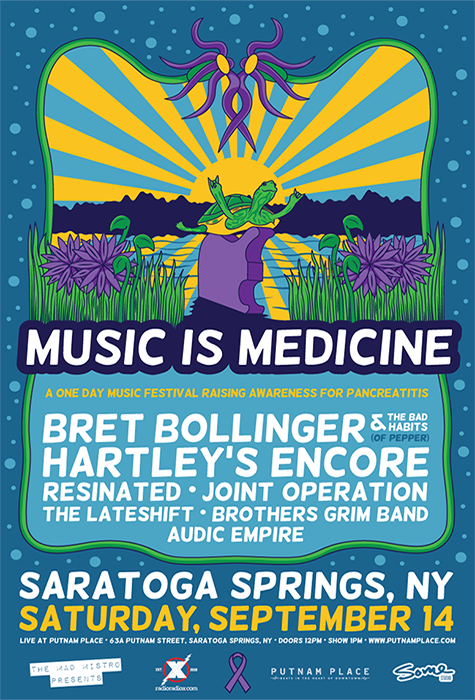 September 14, 2019 1:00 pm - 9:30 pm
Putnam Place, 63a Putnam Street, Saratoga Springs, NY 12866
Doors: 12:00pm
Show: 1:00pm
Ages: 18+ (note: there is a $5 surcharge for attendees under 21)
Tickets: $30
** Click Here to Purchase Tickets **
The Music is Medicine Festival is about raising awareness for the horrible disease, Pancreatitis.
Over the past several years the Founder of this Festival, Jetta Intelisano's wife Kate, has been battling this disease and nearly lost her life 3 times This year. There has been countless trips to NYC to see a specialist to have dangerous and life-threatening procedures performed to save her life.
Out of this tragic situation Jetta has endeavored to raise awareness of this disease through our common love of music. Join us in this celebration as we embark to find better treatment and ultimately, a cure.
Through our common love of music we can make it happen. and kick Pancreatitis in the butt!!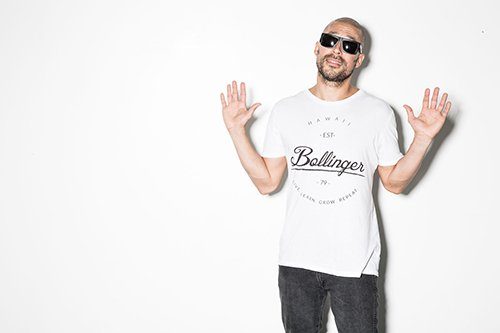 Bret Bollinger in an American musician who is best known as the lead singer and bassist for the rock band, Pepper. Bollinger was born in Kailua-Kona on the Big Island of Hawaii, and started Pepper his senior year of high school in 1997 with his childhood friends. Over the past two decades the band has sold over a million albums worldwide and toured extensively across the globe, including all of the United States and over 50 other countries.
Bollinger is currently launching a solo career having just released his debut LP, "LO-FI", in November of 2018. LO-FI showcases a vintage reggae/rock sound, while also providing a fresh take on the genre.
Website: www.brettbollinger.com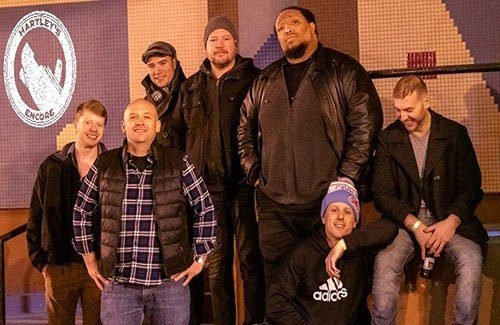 Hartley's Encore is a funk/soul band from Albany, NY. Their mission: making music that's equal parts soundtrack to your Saturday night and bacon for your Sunday brunch. Frequently FUNKY—and always soulful—H.E. is the house band at your dance party for the apocalypse. They have shared the stage with such greats as Eric Krasno (of Soulive/Lettuce), were recently selected as a "[Band] You Should Know," by NYSMusic.com in its 2017 year-in-review, and on April 20, 2018, released their self-titled debut record (EP), recorded and mixed by iconic drummer/producer Alan Evans (of Soulive) at (his) Iron Wax Recording Studio. The record is now available on Spotify, iTunes, and all major digital platforms, as well as in CD format at the next Hartley's Encore show near you.
Band Website: www.hartleysencore.com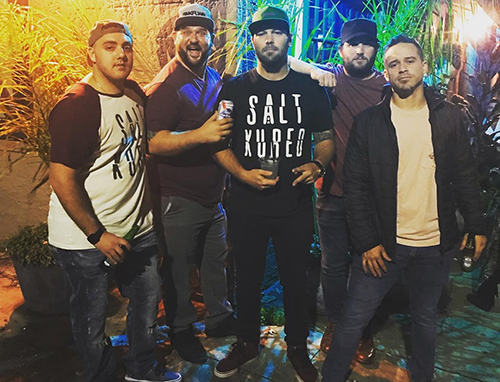 Resinated is a pop/reggae band from St. Petersburg, Florida, who also incorporates elements of funk, soul, alternative and jam. 
Created in 2011 by songwriter/producer Kenny Mullins, the b
and consist of Mullins (Vocals/Guitar) Jeff Applefield (Keys/Vocals), Danny Bub (Keys/Sax), John Gray (Bass/Vocals) and Bruno Ufret (Percussion). 

St. Pete has become a home for Resinated and they have gained radio, festival and social media exposure, building a large fanbase of "Resinators".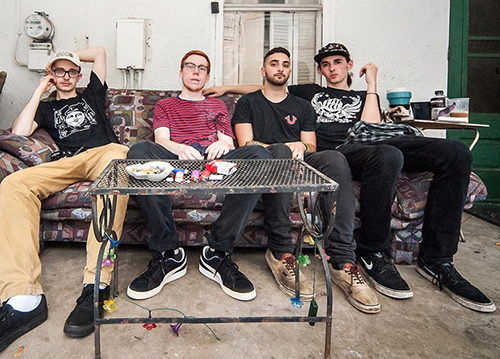 Joint Operation is a powerful funky reggae-rock band from Baltimore, MD. This explosive four-piece has made quite a presence for themselves in the Mid-Atlantic with dozens of shows with the biggest names in the genre. Life-long friends, Josh Lewis, Jacob Nadeau, Ben O'Brien, and Fabrizio Scotto, have managed to integrate all the genres they grew to love as children into this power group. Whether it be reggae, punk rock or funk, this group rocks the house and shows fans how to party. Influences include Beck, Nirvana, Sublime, and many more!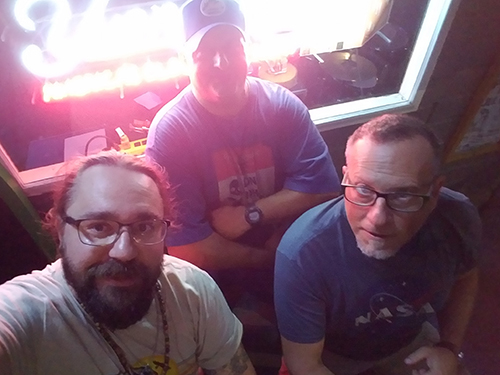 All the musicians of BGB come from various back grounds and other bands. They are all trained, and seasoned artists whos experience, repertoire, and resumes span over three decades!
Being familiar with the Upstate music scene they decided to do something different when they put together this band. The goal is to bring all the fun, laughs, and Mojo on stage that you love to see from live bands, and big concerts and bring all that to a smaller venue without loosing the vibe. At the same time being a cut above what you would see and expect from most bar room and small club performances.
Band Website: www.brothersgrimband.net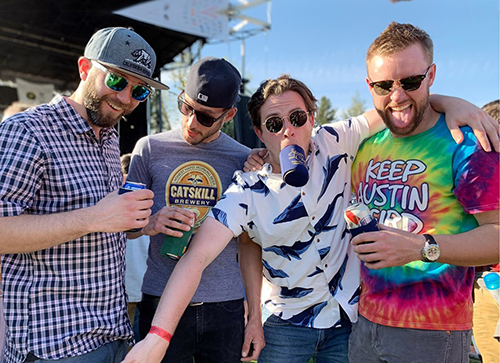 Based out of Albany, NY, The Late Shift is a band rooted in rock and blooming in melodious consonance.
Band Website: www.facebook.com/wearethelateshift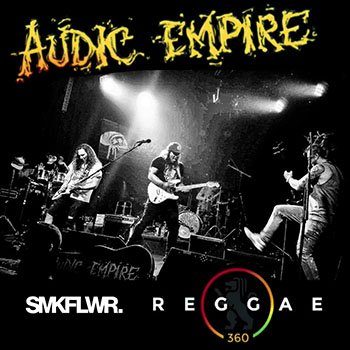 Audic Empire first started out as an idea between Ronnie Bowen and James Tobias in late 2010, the idea and dreams of a Reggae/Rock band started becoming a reality in late 2012 when they began recording their EP in the spare bedroom of their home. Since then they have been turning heads in the Austin music scene with their psychedelic, Reggae/Rock and feel good tunes. They have a high intensity performance and an astonishing sound with the contrast of two singers (Ronnie Bowen & James Tobias), their Red Hot solo Guitarist (Travis Brown), and rock solid rhythm section (Jess Leonard) that includes feel good psychedelic keys (Carver Ripley). Audic is on the rise with a newly added Sax player (David Mcknight*) and rapper (Collin Gee) who has also joined the Empire and is featured at shows and on the upcoming album and singles.
Band Website: www.audicempire.com