October 8, 2022 9:00 pm - 12:30 am
Putnam Place, 63a Putnam Street, Saratoga Springs, NY 12866
Doors: 8:00pm
Show: 9:00pm
Ages: 18+
Tickets: $10
** Unfortunately Muddy Ruckus has had to cancel their tour due to a band member testing positive for COVID. We will keep you posted of the rescheduled date once we have it confirmed.
Muddy Ruckus is wrapping up their fourth album in Portland, ME. The new album includes twelve new songs that resonate deeply with the grit and intensity of Muddy Ruckus previous music, but with more focus on the electric rock sound heard live at MR shows. The album was recorded over several months at home while drummer Erika Stahl was recovering from a Kidney Transplant during the Covid Pandemic.
"Using the striking, heavy language of romanticism, the emotional impact of the words is not so much overwhelming as it is effective. Rare that a song can accomplish what classic literature sought to." – Gas Mask Magazine
"Legit dance hall crashers" – Glide Magazine
"Their music is down and dirty, steeped in the mud of the Mississippi delta and the Louisiana swamps, but also in the mud and grime of Woodstock and the mosh pit at an outdoor punk show." – Maine Today
"Infectious, foot-stomping Americana tunes. Similar to the White Stripes in duo power, Muddy Ruckus delivers a full-bodied sound with nothing but a guitar and suitcase drums." -The Sound
"The White Stripes of Delta Blues" – James Montgomery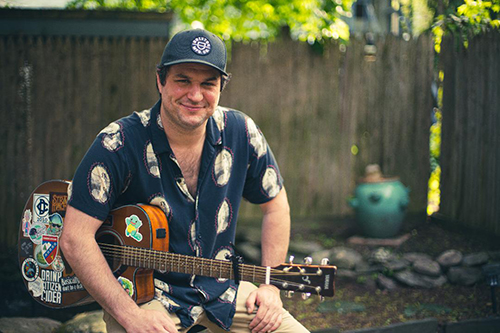 Sam Luke has been performing as a solo artist throughout New England since 2015. He has shared the stage with national touring artists/bands such as Mihali Savoulidis (Twiddle), Ryan Dempsey (Twiddle), Strange Machines, The Funky Dawgz Brass Band, Bob Wagner (Kat Wright & The Indomitable Soul Band), Hayley Jane, Craig Brodhead (Turkuaz), Luke Bemand (lespecial), and Rob Compa (Dopapod). His use of a looper creates a full-band sound in an intimate solo setting, and his blend of folk/rock/funk music offers a diverse and dynamic musical palate that caters to an array of listeners. You will hear both original music as well as covers from artists such as Tyler Childers, Billy Strings, The Wood Brothers, and many others.