June 16, 2023 9:00 pm - 12:00 am
Putnam Place, 63a Putnam Street, Saratoga Springs, NY 12866
Doors: 8:00pm
Show: 9:00pm
Ages: 18+
Tickets: $20 Advance / $22 Day of Show
** Click Here to Purchase Tickets **
Five years since her debut album Delivery, Mikaela Davis has moved away from her hometown of Rochester, shared the stage with the likes of Bob Weir, Phil Lesh, Christian McBride, Bon Iver, Lake Street Dive and Circles Around the Sun and entered a new decade. But it's the ever-evolving relationships between her closest friends and bandmates that has propelled the Hudson Valley-based artist onto her new album And Southern Star––a truly collaborative effort that ruminates on the choices we make, and the people we always come back to.
Davis earned her degree in harp performance at the Crane School of Music, and has molded her classical music training to create an original and genre-bending catalog that weaves together 60s pop-soaked melodies, psychedelia and driving folk rock. She met her bandmates at pivotal moments in her life––drummer Alex Coté in childhood, guitarist Cian McCarthy and bassist Shane McCarthy in college, and steel guitarist Kurt Johnson in her early twenties. It's the band's collective step into adulthood that has informed much of And Southern Star's thematic landscape. 
Navigating the periphery of past selves, the coexistence of isolation and excitement in a new environment and the tension of growing away from what we thought we wanted is tackled with a luscious, kaleidoscopic grace. And Southern Star picks apart the reflection we used to recognise, while trying to build a new one. "I finally feel like this album is more me than anything else that's been released," Davis says, adding that producing the album along with her four bandmates allowed them to carve out their own ideas, rather than someone else's. Despite playing together for over a decade, it's the first time the five-piece have appeared on a full length album together. 
The bones of And Southern Star was recorded at Old Soul Studios with Kenny Siegal, a person who was an integral part of Davis' move to the area. The rest was recorded by Cian McCarthy at Horehound Mansion, adding to the album's intimate nature. The album was mixed by Mike Fridmann at Tarbox Road Studios, who is lovingly nicknamed as the 'silent sixth member of the band.' 
Davis describes the band's bond as "meditative and telepathic," adding that although many of the songs were written individually across the past few years, something instantly clicked once they were together. Opener "Cinderella," written by Coté and Davis, begins with Davis' distinctive harp plucks and ethereal vocals. It's a sonic choice that directly points to Davis' solo beginnings, before blossoming into the textural patchwork of the band's contributions. The fairytale wanderings of the song peel back in the album's dream-like canopy, where tracks offer an otherworldly escape from the constraints of reality. 
The album, however, doesn't shy away from the very real, lingering fog of solitude and uncertainty that comes with entering new chapters. "Far From You," written by brothers Cian and Shane McCarthy, introduces a stark spotlight, with ghostly vocals and gentle piano accompanying the weight of loss. "Oh but if I was to meet you in the moonlight," Davis laments before the song offers a tentative optimism through a stirring, psychedelic instrumental outro, written by Davis, that's full of bright percussion and driving harp and guitar. This optimism lingers on "Home in the Country," also written by Cian McCarthy, where rousing harmonies and honky-tonk frills encourage us to seek out the blue skies beyond the heavy clouds. 
"Promise" was crafted by Davis and Coté years ago as she was illustrating the pains of a close friend, but soon found herself relating it to her own life. Like the evolutionary tint of the album's scenery, And Southern Star reckons with the changes that creep into a hairpin bend. "The Pearl" is there to anchor these dizzying shifts, as steel guitar and glittering harp creates a frame around the core-memories that shaped us. "You will always feel like that inner child," Davis explains. "Sometimes you'll forget about them but then it hits you."
And Southern Star is an album that toes the liminal space of growing into ourselves, while tugging at parts of the past that we're desperate to keep. Moving forward, and accepting change, is one of the most painful parts of renewal and we can often find ourselves stuck in the difficulty of it all. Davis, along with her band, understands that while these bumps may hurt at first, they're not forever and just like the message of album track "Saturday Morning": sometimes "the illusion of darkness breaks its spell."
Website: www.mikaeladavis.com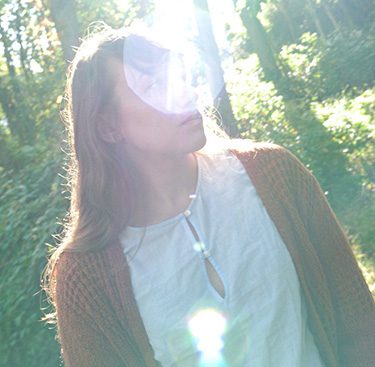 Katie Jones currently resides in the Hudson Valley. Core members of the band include multi-instrumentalist Braden Bodensteiner, drummer Adam Netsky (Maybird) and Jon Hudack on bass. Her recent project under the name "ongoing" represents a series of journeys, navigating subconscious images. It aims to continue a tradition of storytelling, which is vital for growth and attributing meaning.
Website: https://katiejones.bandcamp.com/album/ongoing