November 15, 2019 9:30 pm - 1:00 am
Putnam Place, 63a Putnam Street, Saratoga Springs, NY 12866
Doors: 8:30pm 
Show: 9:30pm
Ages: 18+ (note: there is a $5 surcharge for attendees under 21)
Tickets: $12 Advance / $15 Day of Show
** Click Here to Purchase Tickets **
Proud to be firmly installed in the new-funk movement, KUNG FU is quickly popularizing their unique sonic contribution, blurring the line between intense electro-fusion, and blistering dance arrangements. Making fusion music "cool" again, the band draws on influences such as early Headhunters and Weather Report, and merges those ideas with a contemporary EDM informed sensibility. Imagine 70's funk-fusion meets a modern dance party!
Although the ensemble cast enjoys a seasoned pedigree that reads like a late-night summer festival all-star jam, this fledgling "nu-sion" project is growing a unique and rabid following by commanding audiences at theaters, clubs, and major national festivals since 2012.
The powerhouse quintet's live show has been described by critics and fans alike as "lethal funk", "explosive", "jaw dropping", and "musically mesmerizing". For the uninitiated, the experience is typically shocking yet the focus is simple: just sit back and enjoy the ride!
Kung Fu Features:
Tim Palmieri (guitar & vocals)
Robert Somerville (tenor sax & vocals)
Beau Sasser (keyboards & vocals)
Chris DeAngelis (bass guitar & vocals)
Adrian Tramontano (drums/percussion)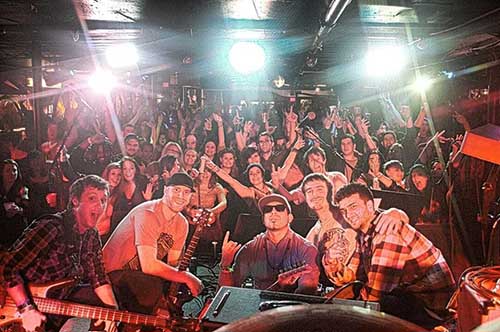 Boston-born, New England based quartet Strange Machines have been steadily making a name for themselves in the East Coast jam scene. What started as a band focused on rock and reggae has slowly melded into a true melting pot of musical fusion, with sounds catering to funk, livetronica, heavy rock and a multitude of other genre's, all while stringing them together seamlessly to create a fluid and captivating live performance. Their original songs are nuanced by creative composition, practiced precision, and a looseness that allows them to truly explore the music they create.
They have shared the stage with national-touring acts such as The Disco Biscuits, Twiddle, Dopapod, EOTO, The Motet, Pigeons Playing Ping Pong, Turkuaz, Kung Fu, TAUK, Deep Banana Blackout and more. Strange Machines have carved out their own niche in the east coast music scene and show no signs of slowing down.
Strange Machines released their latest studio album October 7, 2017. Founding member Mike MacDonald and long time keyboardist Christian Perron, with the additions of Craig Holland on bass and Isaac Civitello on drums, have honed in their sound and hit their stride as a four piece. "Voice of Color", the bands first full length release, is a representation of what the band has developed into, diving further into progressive experimental rock and funk more than ever before. Striving to consistently deliver a high energy and engaging live performance, the band has continued to gain momentum in the Northeast and beyond. This album aims to capture the diversity and big sound you will experience at a Strange show.
"Strange Machines is known for powerful, high-energy live performances that explore the depths of their music and cater to a breadth of listeners. None of the band's beloved characteristics are lost on the album—rather, Voice of Color offers precisely executed arrangements of Strange Machines originals while still embodying the looseness and exploration you'd find at a live performance." – Live For Live Music 
Band Website: www.strangemachinesband.com