August 13, 2022 9:00 pm - 11:45 pm
Putnam Place, 63a Putnam Street, Saratoga Springs, NY 12866
Doors: 8:00pm
Show: 9:00pm
Ages: 18+
Tickets: $20 Advance / $25 Day of Show
** The online presale period for this show has ended. Tickets will be available at the door.
Think rock is dead? Meet Jocelyn & Chris. Two analog souls hell-bent on inciting a new rock revival.
Jocelyn & Chris and their band have charted four consecutive commercial radio singles in the Billboard AAA Top 40, taken two records to #1 on the Relix Jambands Top 30 Album Chart, and appeared nationally on NBC's Today Show. The siblings, both recent graduates of Harvard University, have balanced college with performances coast to coast and recording seven records featuring special guests including Cory Wong (Vulfpeck), G. Love, Byron Isaacs (Lumineers), and Gov't Mule's Danny Louis. Jocelyn & Chris's new single "Sugar and Spice," released in July 2021, was lauded by American Songwriter as "pure American rock goodness" and was a Most Added US Radio Single for three consecutive weeks. The video for the track was also added to rotation on MTV. On August 9, 2021 "Sugar and Spice" debuted on Billboard AAA Top 40. Additional media coverage for Jocelyn & Chris includes Baeble, Huffington Post, NowThis, Paste, Daily Mail, Sirius XM, The Daily Beast, Cheddar TV, People, Jam in the Van, Hollywood Reporter, and numerous others.
Website: www.jocelynandchrismusic.com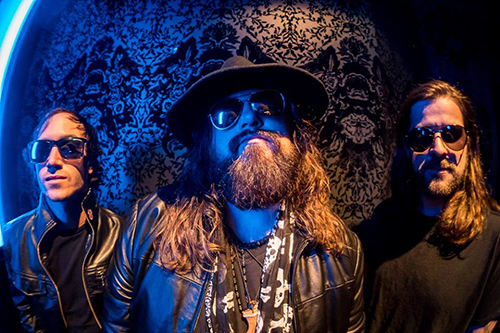 John Popper of Blues Traveler called Sly Fox and the Hustlers, "one of the best bands I've seen in a long time!" The band has shared stages with Popper's Blues Traveler, SmashMouth, Robin Trower and Kenny Wayne Shepherd, (on multiple tours with a recent stop playing to a sold out crowd in their hometown of Albany, NY at The Egg Performing Arts Center) among others. The Hustlers have also been a mainstay at festivals and music events across the Northeast, including Alive @ 5, the Americade Bike Fest, Movefest and the CMJ Music Marathon in New York City, to name a few. They have been named best Original Blues Rock band multiple times by Albany's Metroland magazine. The band has released two full-length albums, a live EP: "Live at the Egg," and is scheduled to release their third full-length album on 2-2-22.
The NY based band was formed in 2010 when Sly Fox's longtime friend and musical partner, the Anti- Records recording artist Sean Rowe took a leave from rock and roll to focus on performing solo. At the same time, Sly had been writing songs to help work through a difficult time in his life, and was becoming an engaging singer.
"Sean and I had been playing guitars together and writing songs since we were twelve years old and Sean had always been the singer," says Sly. "Shortly after Sean went solo, I had been going through some tough times which had inspired me to write several new songs and they were just so personal that I felt I had to sing them to get the feeling and emotion across. So I became a singer out of necessity, and those songs became my first album, 'The Low Life.'" Meanwhile, Sly was jamming with former Epic recording artist Dylan Storm, who had been frontman for the successful pop-punk band Graystar.
"Dylan is a great singer, songwriter, and guitarist. But when we started jamming and he picked up the bass, I was blown away by the way he attacked the instrument and how it fit with my songs and carried them to another level." says Sly Fox
The mix of Sly's powerful lead vocals and fuzzy blues-soaked guitar with Dylan's throbbing, funky bass-playing and high energy stage presence provided the unique edge that defines the band's sound and live shows. The search was then on for a great drummer to fill out the sound. After having played with a few over the years, the band landed its most recent addition: drummer Sean Ireland, who spiced up the mix with his powerful John Bonham-style playing.
Sly says "Once we had Sean, he fit like the missing puzzle piece and we knew we had a very unique blend of rock and roll stew to share with the world: Equal parts raw blues, funk, and soul, with a dash of punk, served on a hot plate with a rough edge that you don't usually find in bluesy or roots-based music."
Wherever they travel, Sly says that a connection with the audience is paramount:
"We want to get on the road and travel, see new faces and share our music with people that feel our vibe. We just love playing live, putting all of our heart and soul into every performance. So many people come up after the shows and say 'we felt it man' and we know exactly what they mean. When hard working people get together, celebrate with their friends and forget their problems for a little while and just enjoy the moment of being alive, that's what living is all about – being in the moment. It's the universal, timeless spirit of music that makes you 'feel it' – true magic… Live music can be like a ritual when it's pure and real, it has a spiritual healing power. We just want to keep making the people 'feel it' and be here with us as we do our part to carry the torch of rock n roll into the 21st Century."
Website: www.slyfoxandthehustlers.com