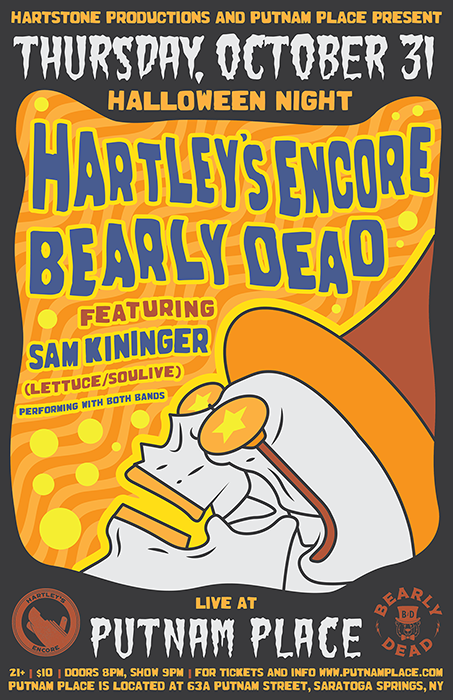 October 31, 2019 9:00 pm - November 1, 2019 1:00 am
Putnam Place, 63a Putnam Street, Saratoga Springs, NY 12866
Doors: 8:00pm
Show: 9:00pm
Ages: 18+ (note: there is a $5 surcharge for attendees under 21)
Tickets: $10 Advance / $12 Day of Show
** Click Here to Purchase Tickets **
Come join us for a special Halloween party featuring: Hartley's Encore and Bearly Dead with special guests Sam Kininger (Lettuce / Soulive) and Hayley Jane, who will each be sitting in throughout the evening!  The night will feature a set by each band followed by a special 3rd Halloween set featuring Sam Kininger, Hayley Jane, members of both bands and other special guests.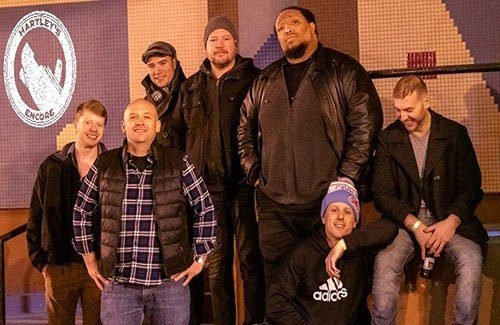 Hartley's Encore is a funk/soul band from Albany, NY. Their mission: making music that's equal parts soundtrack to your Saturday night and bacon for your Sunday brunch. Frequently FUNKY—and always soulful—H.E. is the house band at your dance party for the apocalypse. Their sound: (1) smart melodies & hooks; (2) funk/R&B grooves; (3) earworm horn lines; (4) electrifying solos. Think: Bill Withers + The Meters + Jamiroquai + Tower of Power + Lettuce.
They have shared the stage with established icons, and stars of today's scene, such as Los Lobos, Eric Krasno (Soulive/Lettuce), (Lettuce/Scofield/Break Science/AWB), Erick "Jesus" Coomes (Lettuce/Dr. Dre/Snoop Dogg/Talib Kweli) and the Nth Power, as well as future stars, and artists on the rise, like Brandon "TAZ" Niederauer, and Kat Wright.
Hartley's Encore is proud to share "All to You'" with the world on 7/19/19. It is their third single release of 2019, coming on the heels of "Feels So Good," and "Burnin'," which have steadily racked up streams/plays, and continue to earn the band a growing fan-base (in new markets) since they dropped on 3/1/19, and 4/19/19 (respectively). The band was (again) blessed to have iconic drummer/producer Alan Evans (of Soulive) record and mix the single at his Iron Wax Recording Studios in Erving, MA. Evans previously worked with the band on Feels So Good and Burnin', as well as the Hartley's Encore EP (released 4/20/18).
Hartley's Encore was selected as a "[Band] You Should Know," by NYSMusic.com in its 2017 year-in-review, and both their recorded material and high-energy live shows have received positive reviews. Stay tuned for more fresh material to be released in Fall of 2019/Winter 2020, and make sure to catch them live in the near future at a show near you!
Website: hartleysencore.com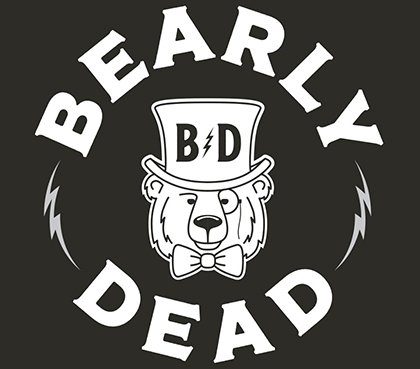 Bearly Dead offers a unique, high energy take on Grateful Dead classics (and much more). Catch Bearly Dead every Wednesday @ Thunder Road in Somerville, MA!!!
Born out of the love and inspiration of our favorite Band, Bearly Dead is a collective of serious players looking to express their affection and respect for the music of The Grateful Dead, Ratdog, Jerry Garcia and Phil & Friends.
Bearly Dead is:
Tyler Brooks – drums/vocals
Brian Sayers – drums
Brendan Tommaney – percussion
David Becker – bass
Jeff Vetstein – guitar/vocals
Nick Swift – guitar/vocals
Milt Reder – guitar/vocals
Michael Butler – vocals
Justin Lopes – Hammond organ/keyboards
Website: www.bearlydeadmusic.com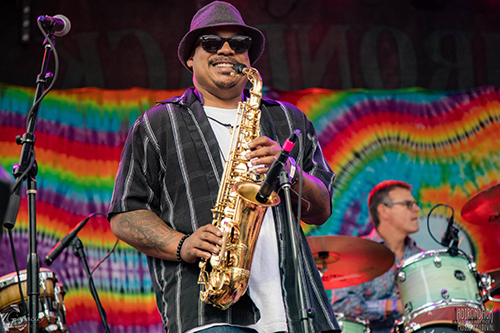 A saxophone legend, Berklee alum, and all-around funk genius, Sam Kininger has been in legendary funk/soul groups since the beginning, including, but not limited to Lettuce, Soulive and the Brotherhood of Groove.  He has also performed with the likes of Dave Matthews, Wyclef Jean and DJ Quick.
As a solo artist Sam Kininger has developed a distinctive, organic sound on the saxophone that is strongly expressive. He consistently demonstrates his technical dexterity and rhythmic precision while maintaining an honest and innovative exploration of musical improvisation.
His debut album includes completely original instrumental funk/jazz compositions. The grooves are intense and the solos are aggressively rhythmic and deeply soulful. Loaded with guest musicians, Sam Kininger's album features some of the most talented musicians on the scene, including Eric Krasno and Neal Evans (Soulive), the legendary Fred Wesley (George Clinton's Parliament and James Brown's JB's), Adam Deitch, Adam Smirnoff and Ryan Zoidis (Lettuce), Joe Russo and Marco Benevento (JRAD), Nikki Glaspie (Beyonce / Nth Power) and more!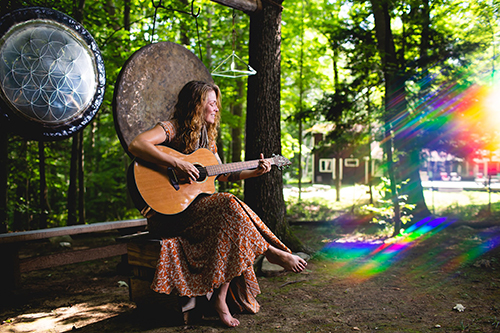 Hayley Jane's performance is layered with raw intensity + linguistic prowess. She has a deeply emotive + highly magnetizing presence that's generating a serious buzz in the industry.
Hayley Jane pulls inspiration from a variety of styles, including 60s/70s rock + pop, musical theater, folk, blues, soul, reggae, psychedelic, funk, bluegrass + country. Her music has been praised by a wide range of musicians, producers, music lovers + the like, for successfully combining a diverse sound with clever lyrics + Vaudevillian-style storytelling.
Hayley's on-stage energy + theatrics draw her crowds into a vivid landscape of emotion. She reawakens her audiences to the wild parts of the soul – medicine so needed in these modern times.