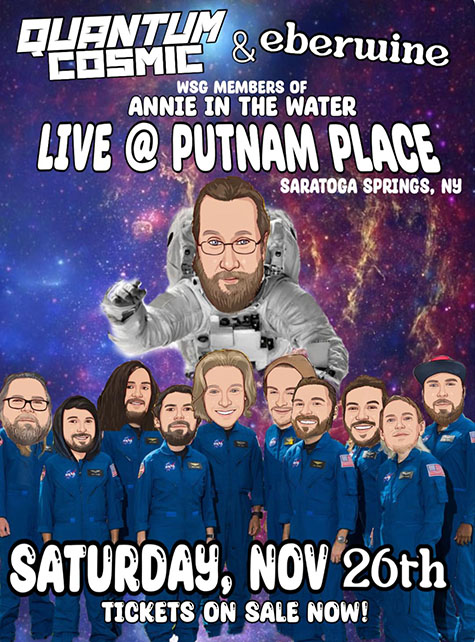 November 26, 2022 9:03 pm - November 27, 2022 1:00 am
Putnam Place, 63a Putnam Street, Saratoga Springs, NY 12866
Doors: 8:00pm
Show: 9:03pm
Ages: 18+
Tickets: $12 Advance / $15 Day of Show
** Click Here to Purchase Tickets **
Come join us for a 3-set performance featuring a set each by Quantum Cosmic and eberwine, as well as a special "eberwine in the Water" set featuring members of eberwine, Quantum Cosmic and Annie in the Water!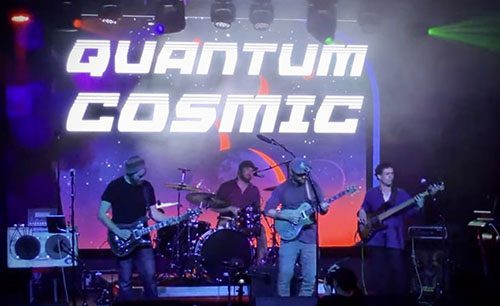 In the beginning… The Lords of the Seven Rays made a pact to send their most unique star children to descend upon this planet during the Era of The Great Transformation. And upon that time, these 5 earth bound messengers would discover musical modalities and unite in human form as a result of great adventures and synchronicities, building multi dimensional harmonies being channeled thru their integrated chakra systems. And finally in the year of the Fire Rooster (2018), lead singer/fire keeper Theodore Grey (of Raisinhead) and Lead guitarist/celestial shaman Michael Lashomb (of Annie in the Water) initiated the new phase of the 5D Crystalline Melody Program of Improvised jamming and harmonically channeled funk Melodie's. The galactic team grew upon conception the following year, with the fellowship consisting of The Aquarian Sultan/ Drummer Joshua West (of AITW & The Reflexions), The Bird Tribe Messenger/ piano player Chief Matthew Richards (of AITW) and Elemental Medicine Man/ Bass Guitar, Sir Mowgli (of Satrydagg and The Reflexions).
Now the time has come and with their Celestial powers combined comes The Heady Jammy Juggernauts musical ensemble, Quantum Cosmic! Quantum Cosmic is an all improvised supergroup that invites their audience to transcend the energy of low consciousness to transport listeners to a musical experience of joy, love, freedom of expression, and Dance! With the assistance of ancient herbal medicine, pure intention and syncopation, Quantum Cosmic will have you indulging in the best parts of yourself at any venue that sets the most mystical container. You will be treated to an increase in your personal vibration when you see them live in the flesh and blood. Your monetary contribution to tickets will help build the energy of the music which shall resonate thru the multiverse to infinity. Come see for yourself at a venue near you.
Website: www.facebook.com/quantumcosmic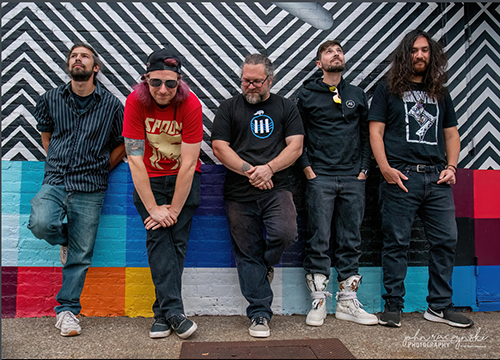 Buffalo-based fusion rock/jam quintet eberwine (sic) is not a jam band. eberwine is a rock band that jams. Known for innovative improvisation, soulful lyrics, and high-energy shows eberwine is the brainchild of frontman and guitarist Todd Eberwine (Dive House Union, Soul Roach, Todd Eberwine Band). The five-piece pulls musicians from the Buffalo music scene into a Western New York supergroup featuring Donny Frauenhofer (Intrepid Travelers), Aaron Ziolkowski (Little Mountain Band), Jay Race (Dead Alliance Buffalo), and Paul Zabrycki (Dead Buffalo Alliance).
Website: www.eberwineband.com