April 19, 2023 8:00 pm - April 20, 2023 12:00 am
Putnam Place, 63a Putnam Street, Saratoga Springs, NY 12866
Doors: 7:00pm
Show: 8:00pm
Ages: 18+
Tickets: $20 Advance / $23 Day of Show
** Click Here to Purchase Tickets **
Dopapod access a heightened level of cosmic harmony in their music. The quartet—Eli Winderman [keys, vocals], Rob Compa [guitar, vocals], Chuck Jones [bass], and Neal "Fro" Evans [drums]—present albums as experiences meant to be shared out of your speakers and on stage. After generating millions of streams, packing shows coast-to-coast, and earning acclaim from Rolling Stone, Guitar World, Glide Magazine, and more, the group architect an immersive and expansive vision on their self-titled seventh full-length offering, Dopapod.
The group's hypnotic hybrid of funk, rock, jazz, bluegrass, and electronica bloomed brilliantly on2009's Radar, and it continued to blossom on the likes of Never Odd Or Even [2014] and Megagem [2017]. Along the way, fan favorites such as "Present Ghosts" reeled in 2.4 million Spotify streams and counting. 2019's Emit Time arrived to acclaim from Guitar World, Relix, Glide, Jambase, and more. Simultaneously, they sold out headline gigs and graced the bills of Electric Forest, Summer Camp, High Sierra, and Bonaroo where Rolling Stone named them among the festival's "best kept secrets." After a marathon near-decade run, they enjoyed an almost year-long hiatus to realign and reenergize before reuniting with a new fire during 2019and partaking in something of a "soft return."
After a brief hiatus to regroup and recharge their creative efforts, Dopapod assembled what would become their next album, the self-titled Dopapod, and looked at the loose threads of their catalog to conceptually tie their journey together. They chose to self-title their seventh offering as a totem to the fact they've realized their full potential in terms of music and vision. Tackling time travel, balance and symmetry, binary pairs and more, Dopapod's palindromic existence continues to conjure alchemy nearly fifteen years into their journey.
Website: www.dopapod.com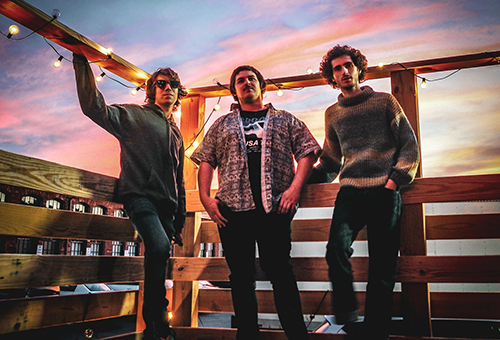 Since forming in 2017, the high-octane power funk trio Baked Shrimp has become a top up-and-coming artist in the festival circuit. The energetic and improvisational young talents of Jared Cowen (Guitar/Vocals), Scott Reill (Bass/Vocals), and Jager Soss (Drums/Vocals) from Long Island, NY have built a catalog of over 150 original songs which they cycle through night after night, making every performance unique from the last. The band is coming off a groundbreaking 2022 in which they performed over 120 concerts covering nearly half the United States, as well as a debut performance in Canada. Baked Shrimp has provided direct support for artists such as the Disco Biscuits, Pink Talking Fish, Aqueous, Mihali (from Twiddle), Kung Fu, Consider the Source, and more. They have welcomed on stage special guests featuring members of Goose, Dopapod, Twiddle, Big Something, Brandon Niederauer Band, and Slightly Stoopid. Baked Shrimp is also quickly climbing higher on major festival lineups including Peach Music Festival, Summer Camp Music Festival, Great South Bay Music Festival, Adirondack Independence Music Festival, Catskill Mountain Jubilee, and even host their own festival in Upstate New York called LonCon.
Baked Shrimp founded LonCon in 2021 following the passing of their most loyal supporter and ambassador, Lon "Conscious" Gellman. The inaugural festival featuring live music, art, and two nights of camping took place in August of 2021 at legendary Arrowhead Ranch in Parksville, NY. After a year off in 2022, the band looks forward to the return of LonCon in 2023.
Despite Baked Shrimp's very intense touring schedule, the trio has managed to find time to consistently release new music. The band's 2021 release of Conscious received high praise by media outlets such as LiveForLiveMusic, Grateful Web, The Sound Podcast with Ira Haberman, and more. After a quick release of a three-disc live album The Prawno Tapes, Vol. 1, Baked Shrimp went back into the studio to finish their early-2022 release Pork Etiquette. Pork Etiquette was featured on JamBase's Release Day Picks which highlighted five other albums, four of which were by Vulfpeck, The Weeknd, Lotus, and Cory Wong. Baked Shrimp celebrated the release of Pork Etiquette with a virtual release party in New York City at Relix Studio. The performance was live streamed on Relix's Twitch Channel to their 40k followers, and featured The Horn Section (members of Turkuaz). The trio is scheduled to head into the studio once again in early 2023 to lay the groundwork for their fourth studio album.
Baked Shrimp launches into 2023 more prepared than ever to show the music world what they are capable of. Baked Shrimp is constantly turning heads and has moved from "Long Island's best kept secret" to the hardest working band in the business, a secret impossible to keep.
Website: www.bakedshrimpmusic.com