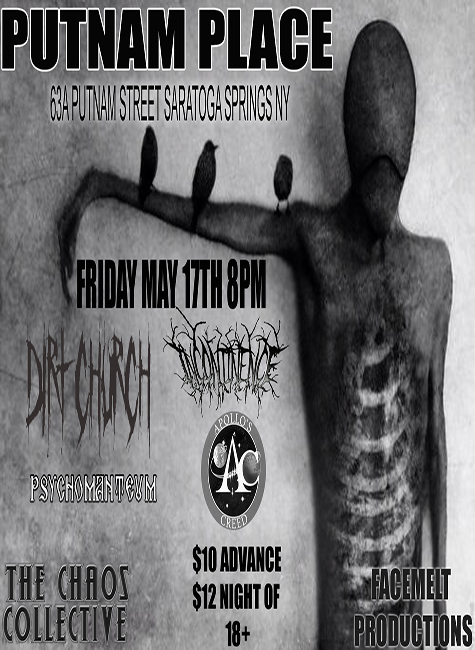 May 17, 2019 9:00 pm - May 18, 2019 1:00 am
Putnam Place, 63a Putnam Street, Saratoga Springs, NY 12866
Doors: 8:00pm
Show: 9:00pm
Ages: 18+ (note: there is a $5 surcharge for attendees under 21)
Tickets: $10 Advance (physical tickets sold by each act) / $12 at Door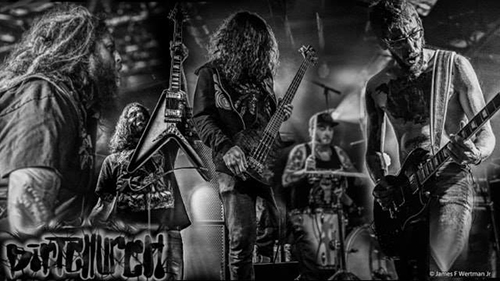 Formed in the desolate slums of Waterford NY, five ninja assassins decided to hang up their swords for axes and unleash their fury through playing a dying planet's death march.
Band Website: www.facebook.com/Dirtchurch666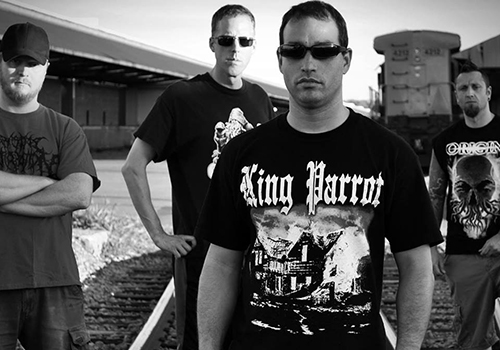 Incontinence are a four-piece death metal band hailing from the Capital Region of Upstate New York, formed in 2013. They play a punishing yet very catchy form of death metal loosely in the vein of classic Morbid Angel, Suffocation and Dying Fetus. Their sound is augmented with other influences including (but not limited to) Voivod, Death, "big4" thrash bands (especially Slayer), Danish "chunky" death metal bands such as Dawn of Demise, and "hypnotic" death metal bands such as Vengeful. The goal is to bring plenty of brutality to the metal-minded masses, but within a package of strong songs that hook the listener in and don't let go. With their debut full-length album entitled Prey For Us, Incontinence hopes to make good on that promise.
Incontinence boasts a vitriolic twin-vocal attack in addition to a classic twin guitar approach with dueling guitar lines and tasteful, melodic trade off solos. The rhythm guitar attack also provides plenty of chunk–the main guitars deployed within their arsenal of weaponry on Prey For Us are custom built 8-string axes hand-built by Dave Matthews himself (the METAL Dave Matthews, that is). Elsewhere, John Glassbrenner on drums provides Incontinence with a variety of blasts, grooves, propulsive double kicks and unique fills throughout, while Eric brings up the low end with solid, traditional basswork. None of the playing ability would matter without decent songwriting, however, and Incontinence are set to prove they have what it takes to write death metal songs that will stick with the listener and stand the test of time.
Band Website: www.facebook.com/Incontinence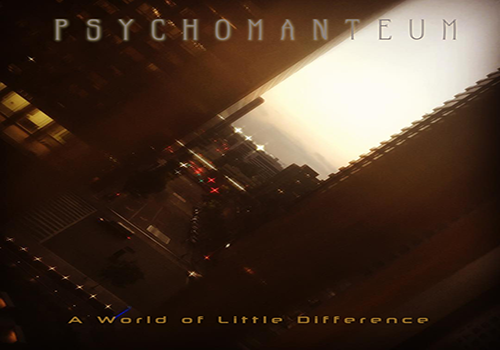 Psychomanteum is an 8-string dual vocal thrash/prog/metal/industrial by way of Albany NY.
Band Website: www.facebook.com/Psychomanteum-443857976105614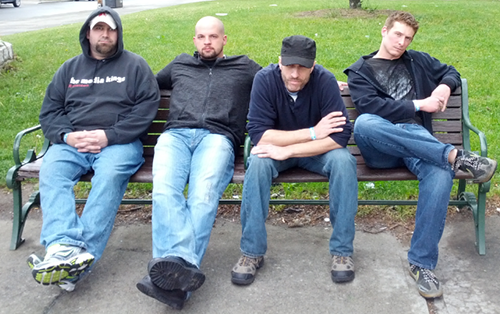 And so the god Apollo declared one day: "I shall send forth four muses to represent me on planet earth and spread my philosophy through the vessel of music. I shall bring together Shocka Khan, bassist from the planet Rock, Steve Russ, guitarist from planet 7, Mike Westin, Drummer brought from the gods and Nate Hoffman guitarist from the village of Riff!!!! . Together they will spread my message, my philosophy, my creed and shall aptly be named Apollo's Creed….And upon their mission, they should not be confused with (or misspelled as) big haired egomaniacs with flashy gym shorts who throw hail Mary punches without the common cognitive wherewithal to follow with a block….
Band Website: www.facebook.com/ApollosCreed