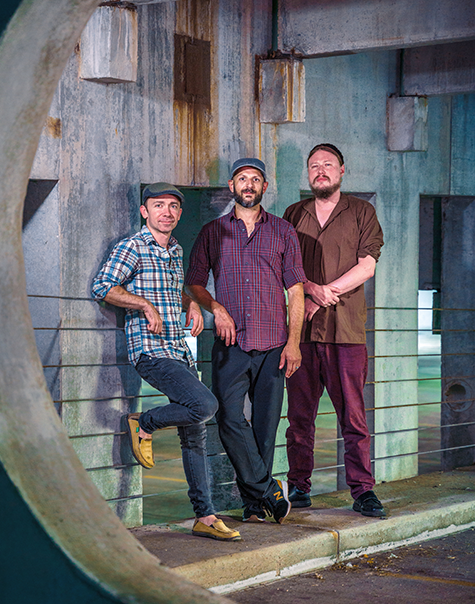 November 10, 2022 8:00 pm - 11:30 pm
Putnam Place, 63a Putnam Street, Saratoga Springs, NY 12866
Doors: 7:00pm
Show: 8:00pm
Ages: 18+
Tickets: $15 Advance / $18 Day of Show
** Click Here to Purchase Tickets **
Sci-fi fusion trio Consider the Source defy easy categorization. If intergalactic energy beings, upon their initiation into an order of whirling dervishes, built a pan-dimensional booty-shaking engine powered by psychedelic math…it would sound like a cut-rate CTS cover band. With their blend of progressive rock and improvisatory jazz, soaked in Indian and Middle Eastern styles, CTS blends disparate elements into an utterly original whole. A relentless touring schedule has earned them a fervent following around the world, with fans ranging from jam-band hippies to corpse-painted headbangers.
Their latest electric album, You Are Literally a Metaphor, is the culmination of a fifteen-year musical journey. Packed with the same fury and dazzling virtuosity of their previous work, Metaphor is also a portrait of three musicians reaching new levels of maturity.
From the bluesy swing of "When You've Loved and Lost Like Frankie Has" to the ethereal electro-synths of "Sketches From a Blind Man", CTS's minimalist pop instincts stand shoulder-to-shoulder with progressive metal and freewheeling improvisation in a true expression of their omnivorous musicality. Three of Metaphor's nine songs are Eastern European traditionals, but could easily be mistaken for the band's original tunes, so singular has their sound become. CTS retain their signature fiery maximalism while pushing the hooky, anthemic songwriting to the forefront. Bassist John Ferrara's new Taurus bass pedals and guitarist Gabriel Marin's new custom Vigier double-neck guitar add new dimensions to the band's already diverse sound.
This is an album born of comfort and growth. In the five years since World War Trio, the band has toured extensively, Marin and Ferrara have released side projects, and drummer/percussionist Jeff Mann has gone from a relative newcomer to a road-hardened veteran. After all this time, CTS knows how to create space for each other, how to finish each other's musical thoughts and sentences, how to think as three individuals but speak with one voice. You Are Literally a Metaphor is a statement of confidence, an assertion of identity from a band with no reservations and nothing to prove.
CTS have performed in a half-dozen countries across three continents. They have shared the stage with a wide variety of artists, including: Victor Wooten, King Crimson Projekt, Wyclef Jean, Ozric Tentacles, Soulive, The Disco Biscuits, Papadosio, Turkuaz, Pigeons Playing Ping Pong, Wayne Krantz and many others. They have performed at festivals and events including: Electric Forest, Peach Fest, Gathering of the Vibes, Resonance, Summercamp, Shakori Hills, ProgDay, and Progtober.
Website: www.considerthesourcemusic.com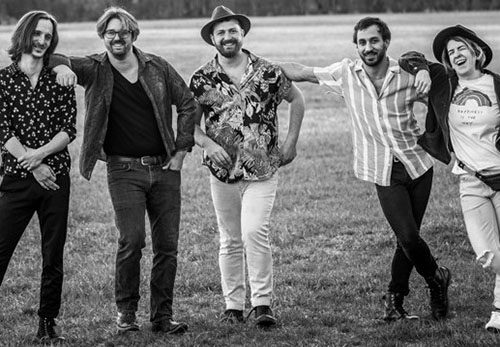 Rock 'n' roll band Chestnut Grove formed in 2011 when members Dee, James Daniels, John Tyler, Gary Geers & Zach Winkler were just graduating high school. After four years of playing local bars, coffee shops, theaters, and festivals, the band debuted their first self-produced full-length album "Perkiomenville" in front of a sold-out crowd at World Cafe Live in Philadelphia, PA. In 2016, the band recorded the EP "Let it Down" with critically acclaimed producer Bill Moriarty, who has worked with notable artists like Modest Mouse and Philly's own Dr. Dog. This EP featured a collection of songs including "Whiskey Hand" and "Let it Down," two of the band's first hits.
The band released the EP "Black Champagne" with Mad Dragon Records in 2018, signed a deal with Nimbleslick Entertainment, and began touring the East Coast and Midwest. Chestnut Grove has headlined venues including the Trocadero, World Cafe Live, and Ardmore Music Hall, while continuing to gain popularity in their home city of Philadelphia and beyond.
In 2019, Chestnut Grove began recording their first full-length studio album when home from touring. In 2020, they released the single "Golden Age," which received praise from American Songwriter Magazine. The band's ambitions for 2020 had also included completing and releasing the new album and embarking on a US tour–goals ultimately derailed by the global pandemic.
Undeterred, Chestnut Grove went back to the studio with producer Derek Chafin (AKA "Chestnut Grove's sixth man") and finished "The Album" featuring singles "Golden Age," "Ain't Got Nobody," "Newspaper Hats," and fan favorite "I Know Somebody." This album was released in 2021 at Ardmore Music Hall and virtually streamed via Nugs.net, followed by appearances on Radio 104.5 and 88.5 XPN.
Chestnut Grove is back to touring in 2022 with appearances at XPoNential Music Festival, Mile of Music, and more. Stay tuned to hear some of their most ambitious music yet, planned for release in fall 2022.
Website: www.chestnutgrove.band