August 26, 2021 8:00 pm - 11:00 pm
Putnam Place, 63a Putnam Street, Saratoga Springs, NY 12866
Doors: 7:00pm
Show: 8:00pm
Ages: 21+
Tickets: $15 Advance / $18 Day of Show
** Click Here to Purchase Tickets **
The trajectory of Bumpin Uglies started over a decade ago, making music with friends, playing backyard parties and anywhere else they could get a gig. For Brandon Hardesty, lead vocals and guitar, it was a simple time, but one that taught him lessons that stay with him today as he leads the band into the 2020s. One was that he would do whatever it took for him and his band to be successful. Another was in discovering that doing it his way was the only way, which still applies today. Bumpin Uglies do things their way, free to play, think, and write however they feel, critics and the mainstream music industry be damned.
In the early days, Hardesty was hustling waiting tables while stoking his musical fire with every minute of free time he had. A point came years ago when he knew it was time to put up or shut up if he was going to make a career as a musician, so he dug into doing all of the things it takes to grow Bumpin Uglies from a grassroots local band into a nationally touring act. It took a tireless DIY ethic; and it still does, but if Brandon did not have the singular focus on breaking through and achieving his musical dreams, the story of Bumpin Uglies wouldn't be what it is today.
Bumpin Uglies are a band that have hoisted themselves up and forged their own path, but even as they look around at where they are, how far they have come, it is clear to them that there is so much more work to do and they continue to do it every day. With the help of bassist Dave "Wolfie" Wolf and drummer TJ Haslett, they are doing just that.
Bumpin Uglies recently came off the road, having to cancel their spring tour due to COVID-19. Brandon and the boys have been keeping their rabid fan group "Uglies Nation" entertained with full band live streams, hosting socially distant concerts and even a few Drive-In concerts until the world slowly gets back to a place where Bumpin Uglies can tour once again.
Fresh off the successful release of full length, "Keep your suitcase packed.", they are in the midst of a new project called "The Never Ending Drop." The concept is simple, yet groundbreaking..
"For the last ten years, we've been on what feels like the never-ending tour. So in a year where the tour is forced to stop, we decided to double down on the music making portion of our job description," Hardesty explains. The band released their first single, "Fear," in October and plans to release a single per month indefinitely on the second Friday of each month. Be sure to check out the new material on Spotify or wherever you stream music.
Band Website: www.bumpinugliesmusic.com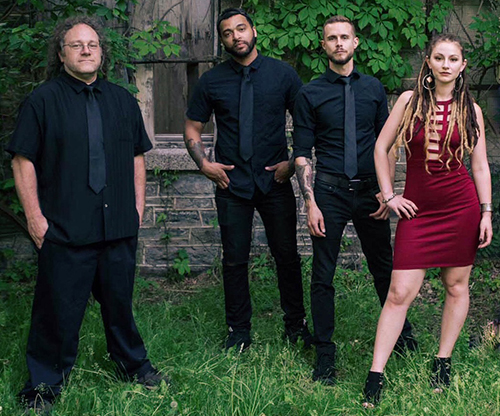 Conscious, soulful, uplifting, even healing—that's how many fans of Root Shock have described the band's infectious sound and energy. With a reputation like that, it's unsurprising that this group is indebted to reggae, a class of music forever married to love, humanity, social change, and an almost tangible sense of sunlight. But Root Shock didn't form on a beach. Instead, they came up in snowy Syracuse, New York in 2012, and since then, they've developed a voice that transcends genre.
Spearheaded by the acrobatic, powerhouse vocals of Jessica Brown, the Root Shock sound is at once commanding and cathartic, but never at the expense of a velvety, carefully placed jazz or neo-soul lick. When he isn't complementing Brown's pipes with his own earthy vocal turns, Phil Grajko gets weird on the guitar, seamlessly moving from chop chords to girthy riffs and spellbinding solos colored by Latin, prog, and psychedelic rock textures—often in tandem with mad keyboard genius Brian Lauri. Rounding out the band, bassist Bill Eppel and drummer Tyre Outerbridge make for a formidable rhythm section fluent in patterns ranging from dancehall to ska to heavy dub style and funk.
In 2016, Root Shock released a self-titled album, produced by Jason "Jocko" Randall at More Sound Studio, and followed that up with the "Many Paths" EP in 2018 & the Waves single in 2019. These recordings are proof of the band's democratic songwriting process, with thoughtful lyrics from Brown and Grajko that invoke hope in dark times, warn against injustice, and imagine a future in which all are free and equal and united by music.
Today, Root Shock is bringing their renowned live show to clubs, festivals, and concert halls across the Northeast and beyond, delighting audiences from all walks of life with a positive message and danceable tunes.
Band Website: www.rootshockmusic.com