May 20, 2022 9:00 pm - May 21, 2022 12:00 am
Putnam Place, 63a Putnam Street, Saratoga Springs, NY 12866
Doors: 8:00pm
Show: 9:00pm
Ages: 18+
Tickets: $17 Advance / $20 Day of Show
** Click Here to Purchase Tickets **
*On Sale Friday, 4/8 @ 12:00pm
The trajectory of Bumpin Uglies started over a decade ago, making music with friends, playing backyard parties and anywhere else they could get a gig. For Brandon Hardesty, lead vocals and guitar, it was a simple time, but one that taught him lessons that stay with him today as he leads the band into the 2020s. One was that he would do whatever it took for him and his band to be successful. Another was in discovering that doing it his way was the only way, which still applies today. Bumpin Uglies do things their way, free to play, think, and write however they feel, critics and the mainstream music industry be damned.
In the early days, Hardesty was hustling waiting tables while stoking his musical fire with every minute of free time he had. A point came years ago when he knew it was time to put up or shut up if he was going to make a career as a musician, so he dug into doing all of the things it takes to grow Bumpin Uglies from a grassroots local band into a nationally touring act. It took a tireless DIY ethic; and it still does, but if Brandon did not have the singular focus on breaking through and achieving his musical dreams, the story of Bumpin Uglies wouldn't be what it is today.
Bumpin Uglies are a band that have hoisted themselves up and forged their own path, but even as they look around at where they are, how far they have come, it is clear to them that there is so much more work to do and they continue to do it every day. With the help of bassist Dave "Wolfie" Wolf and drummer TJ Haslett, they are doing just that.
Band Website: www.bumpinugliesmusic.com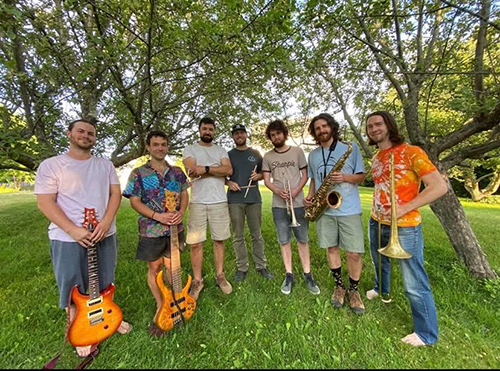 The Reflexions are a Burlington, VT based Reggae/Funk band blending world music grooves with conscious lyrics focused on love, equality and justice. The band features a deep groove-based foundation of drums, percussion and bass that are complimented by beautiful textures and hard hitting melodies provided by keys, guitar and a powerhouse horn section. The Reflexions bring a big energy to every stage they play and will have you on your feet dancing from the first note to the last drum hit!