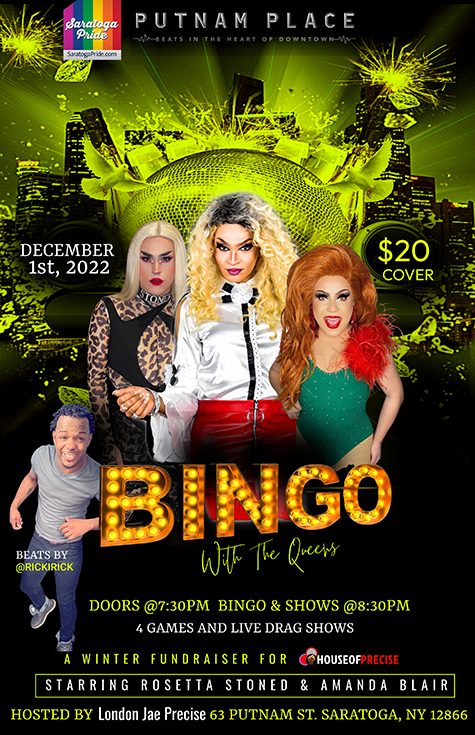 December 1, 2022 8:30 pm - 12:30 am
Putnam Place, 63a Putnam Street, Saratoga Springs, NY 12866
Doors: 7:30pm
Bingo: 8:30pm (4 games with drag shows in between)
Ages: 18+
Tickets: $20
** Click Here to Purchase Tickets **
Join Saratoga Pride, Putnam Place and House of Precise for a night of Drag Shows and Bingo featuring London Jae Precise, Amanda Blair and Rosetta Stoned, plus beats by DJ Ricki Rick. This event is a fundraiser for the House of Precise and, as such, we will also be collecting items from the donation list down below.
London Jae Precise, CEO and Mother of The House of Precise Inc., a non-profit building shelters for homeless youth in the Hudson Valley. Originally from Brooklyn, growing up in both the NYC Ballroom scene & Albany Social scene, On her own at a young age, London built up the courage to follow her dreams of becoming an entertainer, a world leader and community servant..
With several pageant titles, a N.Y. headlining status and 3 weekly shows including the Legendary Stonewall Inn (NYC) & Rocks (Albany,NY), London continues to create a meaningful impact on the lives of many. Her #1 goal is to help build equity in black and brown communities, to implement structures of unity, love, acceptance leading to success. Enjoy her Beyoncé impersonation or her heartfelt live vocals! London is a mother of many, a trustworthy individual with the willingness to help those in need & a powerhouse on the stage.
Website: www.facebook.com/londonjprecise
At House of Precise, their focal point is addressing the needs of the homeless, infected and affected population, with the mission of reducing the percentage of at-risk homeless & HIV-exposed youth in the 518/Hudson Valley areas. This is achieved by providing a safe place of refuge during unforeseen circumstances, homelessness and rejection, including but not limited to rental assistance, utility emergencies, etc.. With partnerships such as Albany Medical Center, Mercy House, Equinox, and Job Corps, to name a few, House of Precise receives weekly phone calls and updates regarding urgent housing requests specifically for TNGC individuals. The need for short- term and long-term assistance has grown immensely over the last 5 years, including individuals impacted by the pandemic.
If you thought Kristen Chenoweth was the tiny, blonde, queen of broadway meet Amanda Blair! She's here to give you theatrics and killer kicks all while looking stunning, what more could you ask for? As we speak she is waiting for her spot on the real housewives; But for now She stays turning the party in her home town of the 518! She's is proof that "natural blondes" do have more fun! So grab a chair and come and stare at THE Amanda Blair!
Website: www.facebook.com/TheOfficialAmandaBlair
Rosetta Stoned is the hairy bimbo of Albany. She might not be able to do math but she can sure shake that ass. Hope you're hungry because this vegan icon is serving plant based pussy, and there's plenty to go around. Hope y'all brought your lighters because we're getting stoned.
Website  – Click Here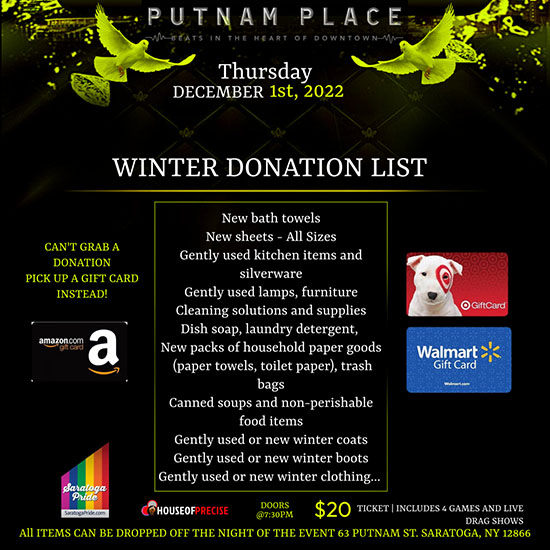 Saratoga Pride is a network of LGBTQ community members and allies dedicated to:
Fostering connections among Saratoga area LGBTQ community members and visitors.
Enhancing the visibility of the LGBTQ community in Saratoga and the surrounding region.
Recognizing local businesses and organizations that welcome the LGBTQ community.
Increasing awareness of LGBTQ-owned and inclusive businesses and services in the region.