November 16, 2019 9:30 pm - November 17, 2019 1:00 am
Putnam Place, 63a Putnam Street, Saratoga Springs, NY 12866
Doors: 8:30pm
Show: 9:30pm
Ages: 18+ (note: venue charges $5 surcharge for attendees under 21)
Tickets: $17 Advance / $20 Day of Show
* The online presale period for this show has ended.  Ticket will be available at the Door.
In his 1942 essay The Myth of Sisyphus, Camus wrote that "All great deeds and all great thoughts have a ridiculous beginning. Great works are often born on a street corner or in a restaurant's revolving door." 15 years later Richard Wayne Penniman wrote "Wop bop a loo bop a wop bam boom", an undeniably powerful vocalization that on any given Wednesday in any given situation, civilized or otherwise, is still fully capable of setting somebody's stuff aflame. Over ten years and seven long players into their career, White Denim are still in the relentless pursuit of a thread – in other words, a wick.
The Austin,Texas band have carefully and continuously studied the greatest records ever made, but they write songs just dumb enough to drink, dance, and fight to. Theirs is a music that aims for the whole body, while equally satisfying the mind. While it has morphed, expanded, and even burst apart, White Denim's sincere and human drive and ability to spark true rock & roll exhilaration have been unerring constants of the band's 10-year existence.  
"White Denim are one of the best live bands you will ever see if you live to be a million. That's not excitable hyperbole, merely a bald statement of undeniable fact…" — Time Out
"The last great rock & roll band!" — The Guardian
Band Website: www.whitedenimmusic.com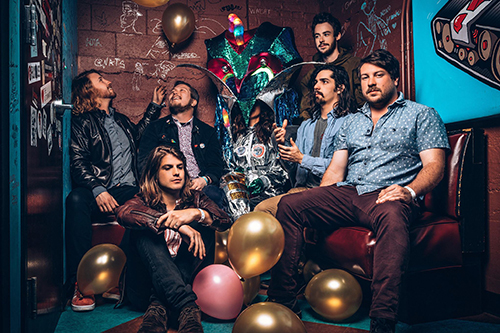 Spaceface is led by Jake Ingalls who also plays guitar and synthesizer in The Flaming Lips. The experience reflects that influence, as it works to bring the concert grade experience to a club level.  Spaceface's music offers a refreshing approach on psychedelic rock, with transparent '70s references but also strikingly modern elements that make this trick something to behold.  Their new record, "Sun Kids" is hazy, psychedelic pop music, elegantly composed.The album features artists Mikaela Davis, as well as Julien Baker. Engineered by Calvin Lauber of Ardent Studios in Memphis, TN, and mixed at Blatchwatch Studios in Norman, Oklahoma by Jarod Evans.
Band Website: www.spacefacemusic.com