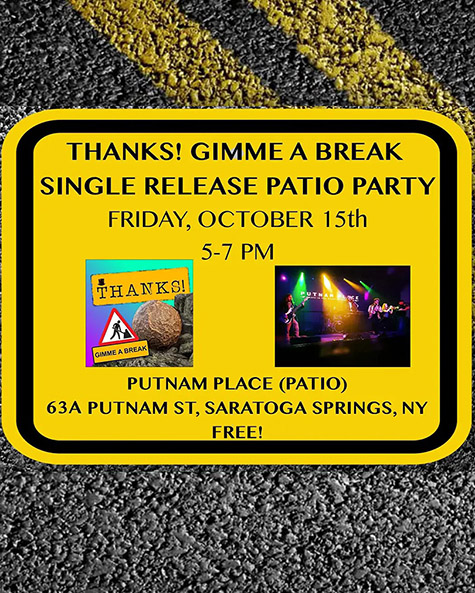 October 15, 2021 5:00 pm - 7:00 pm
Putnam Place, 63a Putnam Street, Saratoga Springs, NY 12866
Doors: 5:00pm
Ages: 21+
Tickets: FREE!
* Unfortunately this event has been postponed.  We will keep you posted once it has been rescheduled.
Thanks! is dropping Gimme A Break on 10/15 so they wanted to get together and have a little party to celebrate. FREE Show! Everyone is welcome. Bar will be open with happy hour specials!
Live music by the band, plus a special streaming of the single! Come hang with Thanks!
"You sound like Tom Waits beat up Billy Joel" – Fan at Desperate Annies
The suits. The suave. The sax. Thanks! leaves audiences with a show to remember whenever they hit the stage. What started out as three guys in a basement, has continuously built into a theatrical, reflective and dramatic performance that moves fans of all ages.
The six-piece rock outfit features rhythmic piano, melodic bass lines, jazz-influenced drums and a tight three-piece horn line laced with a deep, soulful vocal and rocking lead saxophone. Dressed to impress, Thanks brings a touch of class each and every night, embracing the art of performance to create a show-stopping atmosphere. Fronted by multi-instrumentalist (piano, keys, saxophone) Andrew Grella and woven together by bassist Andrew DeWolf and drummer Ben "Chunk" Martin, the group
embodies the collaboration of all three artists talents. The band has recently added a three-piece horn section to fill out their sound. Playing in venues up and down the state of New York, the bands reach has gone as far north as Glens Falls, NY and as far south as New York City. From dive bars to full stages, Thanks brings a palpable energy to the stage that is sure to leave an impression and entertain.
Band Website: www.thankstheband.us