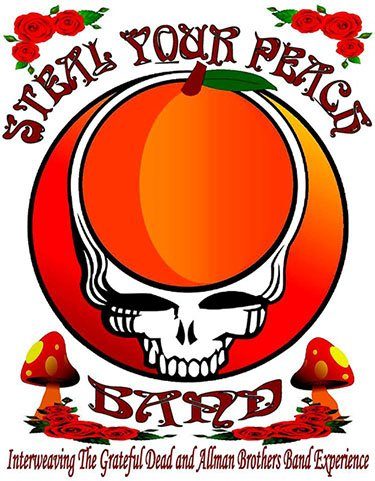 April 18, 2021 5:00 pm - 8:30 pm
Putnam Place, 63a Putnam Street, Saratoga Springs, NY 12866
Doors: 4:00pm
Show: 5:00pm
Ages: 21+
Admission: A limited number of socially distanced tables will be available for groups of 2, 4, 6 & 8.  Table prices are based on $20/person.
(Note: the person who purchases the ticket for the table, will need to be present for the table to be seated, so please plant to arrive accordingly)
** Click Here to Purchase Tickets **
* Masks will be required upon entry (and any time you are standing) in accordance with NYS guidelines, but you may remove your mask while you are seated at your table. 
Interweaving the classic jams of the Grateful Dead and the Allman Brothers, the Steal Your Peach Band is the newest crossover tribute on the scene. The all-star collective is a cross-section of the best of the Northeast jamband world, featuring top-notch musicianship and a refreshing twist on the jam scene's two favorite bands.
While staying true to the spirit of the music, the band members put their own dynamic spin on the vast discography of these two iconic bands, giving fans a new take on the familiar.
At its core, SYPB is a celebration of the jamband tradition. The project was started in homage to the long standing tradition of crossovers between the Dead and the Allmans, starting with the legendary Filmore shows, the Watkin's Glenn festival, and culminating with the 1999 tour of Phil and friends featuring Phil Lesh (The Grateful Dead), Derek Trucks (The Allman Brothers), Warren Haynes (The Allman Brothers) and Rob Barraco (The Zen Tricksters/Dark Star Orchestra). The shows were lovingly dubbed by the fans the "Steal Your Peach" shows.
SYPB's arrangements are experiments, as the band easily flows from the familiar to the obscure, moving from standards like "Jessica" into deep cuts like "Dark Star," or possibly "Not Fade Away" into "Back Where It All Began." The band always keeps it fresh with new and unexpected arrangements and improvisations, while engaging fans in the free-spirited party and colorful, close-knit community surrounding their shows.
With 2 drummers, 2 guitarists, bass, and keys, SYPB's line-up mirrors those of both the Dead and the Allmans. The band features Tor Krautter (Rev Tor, Last Waltz Live) on guitar and vocals, Dan Teichert (Arlo Guthrie & Xavier) on drums and vocals, Andrew Costa (Rev Tor, Last Waltz Live) on keys, Jeremy Walz (Soul Sky) on guitar and vocals, Andy Crawford (Rev Tor, Last Waltz Live) on drums, and Brian O'Connell (Uncle Sammy, Gordon Stone Band) on bass.
Members of SYPB have shared the stage with Willie Nelson, Pete Seeger, Arlo Guthrie, Little Feat, The Jerry Garcia Band, as well as members of The Grateful Dead, Allman Brothers Band, Phish, and MOE.
SYPB offers something for everyone who gets down to the Dead and ABB . At its core, SYPB aims to unite the jamband community through the power and love of music. The band's fresh spin on these legendary bands' extended grooves will excite jamband fans, whether new, middle-of-the-road, or dieheart.
The mix of nostalgia for the Dead and ABB, combined with the members' fresh take on their songs, is a experience not to be missed.
Band Website: www.stealyourpeach.com