October 30, 2021 9:00 pm - October 31, 2021 12:30 am
Putnam Place, 63a Putnam Street, Saratoga Springs, NY 12866
Doors: 8:00pm
Show: 9:00pm
Ages: 18+
Tickets: $20
** Click Here to Purchase Tickets **
If David Byrne is one of the geniuses of modern times, then Start Making Sense is a tribute to genius. The musicians in this 6 to 7-piece Talking Heads Tribute take pride in faithfully recreating the music of Talking Heads entire career. Together they bring much of the Heads unique live show to the stage, with front man Jon Braun as a spot-on David Byrne, giving you a "once in a lifetime" experience. Prepare yourself for a rockin', funkin', danceable celebration of the new-wave art punk you loved from the 80's !!!
Band Website: www.startmakingsenseband.com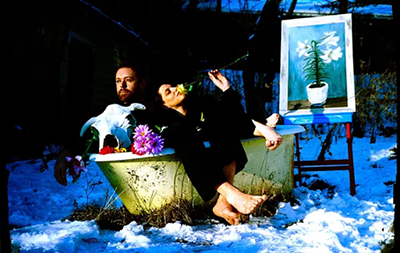 Muddy Ruckus is a duo of "darkly inventive americana" according to the New York Music Daily. Guitarist Ryan Flaherty and drummer Erika Stahl of Portland, Maine play a grungy style of railroad indie punk blues. This stripped-down power-duo blends rootsy guitar and edgy percussion on a suitcase drum kit, and is known for a full rock band sound.