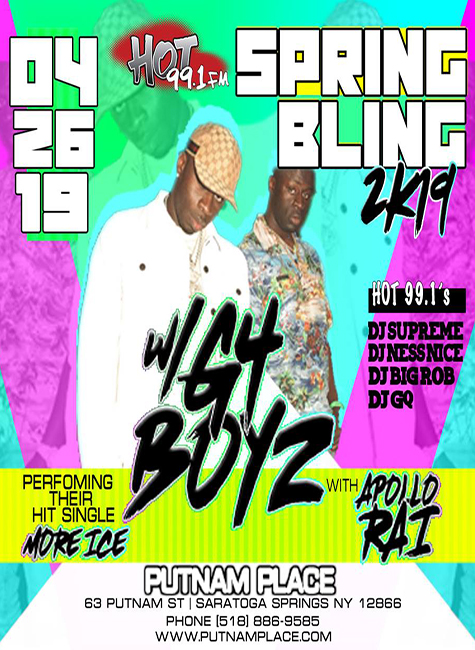 April 26, 2019 10:00 pm - 4:00 am
Putnam Place, 63a Putnam Street, Saratoga Springs, NY 12866
Doors: 9:00pm
Show: 10:00pm
Ages: 21+
Tickets: $20 at Door
Come join us for Spring Bling 2K19 featuring live performances by G4 Boyz and Apollo Rai.  Hot 99.1 FM's DJ Supreme, DJ Ness Nice, DJ Big Rob and DJ GQ will be spinning the beats all night.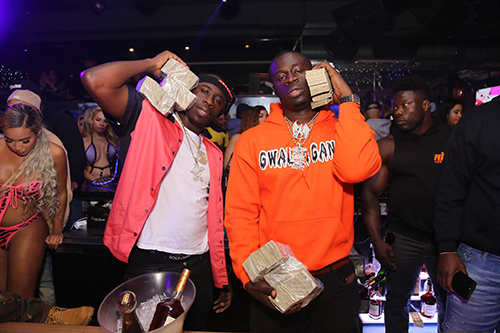 The G4Boyz consist of brothers Ice Baby & Buggy who were born in the Park Hill section of Staten Island, New York. Their flashy unique style and sound combined is influenced by their cultural background being born of Nigerian and Ghanaian descent.
The charismatic duo has attracted a growing fan base as supporters that listen to their music are allured by their lavish, authentic and entertaining lifestyle. G4 Boyz have worked with major rap artists, such as Lil Wayne, Migos, Waka Flocka , Lil B to name a few. If you ask the duo who are their musical influences, their answer will be Gucci Mane, Young Jeezy, Akon, Dipset and G-unit.
The G4 Boyz is an independent group that has been featured on well recognized hip hop media outlets such as Fader, Complex, Karen Civil, XXL, Hotnewhiphop, The Source & WSHH to name a few. Currently, with the popularity of the brothers endearing image as well their latest singles "Alexander Wang" Featuring OG Maco & "On My Mama" Featuring Jose Guapo, the G4 Boyz have attracted the interest of many throughout the entertainment industry
Website: www.facebook.com/G4BOYZMUSIC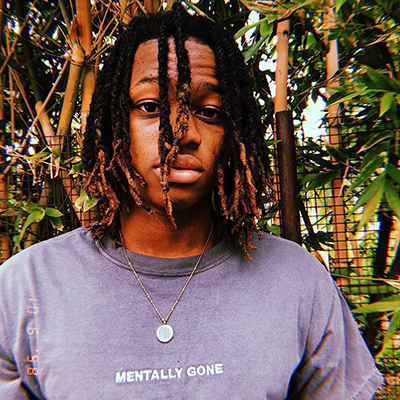 Up and coming artist Apollo Rai is making some serious noise in the 518 and Tri-state area.  What makes Apollo such a stand out artist and one to pay attention to is the fact that he is able to connect to the beat and really tap into his musical bag.  His unique sound and vocals puts a twist on whatever part Apollo is on whether it be the hook, verse or adlibs, the song is almost always a guaranteed banger.
Apollo and his team have been doing a lot of heavy promotion, promoting new music and songs that he's been working on, through social media, shows and radio.  Apollo has had 3 songs already in the Who's Hot Saturday night playlist "No Jersey", "Slyme" and recently "Water". All 3 are produced by DOC and are all really dope in there own way.  However, Slyme has been the most requested and the streets and fans are really rocking with that song heavy along with another banger " Trapstar" ft Kushie Sunoco.  Both tracks are catchy, raw and definitely a hit.  Apollo has stated that he will be dropping more music and videos on all major platforms real soon but for right now you can check out his SoundCloud and youtube Apollo Rai.
This man's work ethic is not slowing down anytime soon. He has made over 100 songs already but as we all know placement and timing is everything.  Expect Apollo to start ringing bells outside the Albany area very soon.
Website: www.facebook.com/Apollo4760