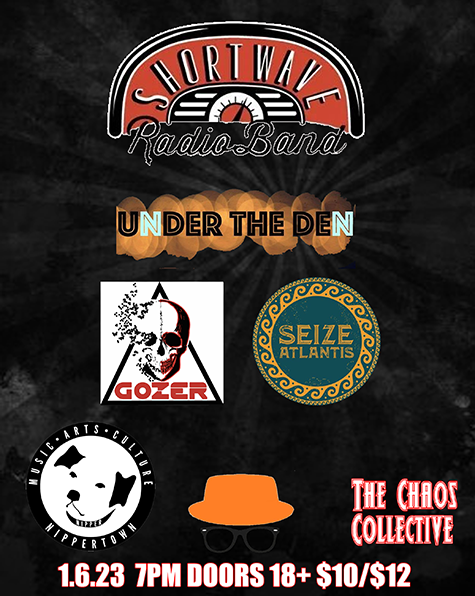 January 7, 2023 7:00 pm - 12:00 am
Putnam Place, 63a Putnam Street, Saratoga Springs, NY 12866
Doors: 7:00pm
Ages: 18+
Tickets: $10 Advance / $12 Day of Show
** Click Here to Purchase Tickets **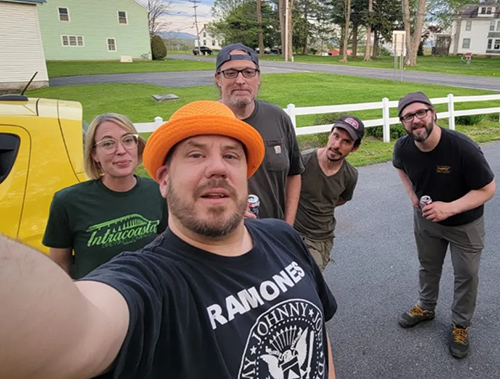 ShortWave RadioBand started in 2018 as an acoustic duo with Lonny Eaton and Andy Scullin. After 2 years of doing that, they decided to add drummer John Woods. They played cover songs as a power-trio for a year, before deciding to write original songs. 
They released "Don't Care" in October of 2021, which received considerable attention from local radio stations as well as multiple streaming stations in the UK, cracking the Top 20 countdown for 3 weeks on Prospect Radio. Their next single "SomeDay" did even better. This time it received dozens of plays on WEXT and WEQX and made it to number 5 on the UK's Prospect Radio, They quickly realized that to replicate the full sound of their singles, they needed a couple more members. 
So they added Abby Stone on trumpet and Ryan Shaw on rhythm guitar and thus ShortWave RadioBand were complete. They played extensively around the 518 for all of 2022. They were in the final four of Nippertowns March Music Madness and for that they got to play the WAMC Performing Arts Studio: The Linda. They recorded a live EP at Jive Hive Live that they released in July, with an accompanying video. They work tirelessly to put on the best show that they can. Whether it is a ShortWave show, or they are a supporting act, you can guarantee that they will be giving it their all! 
Website: www.facebook.com/shortwaveradioband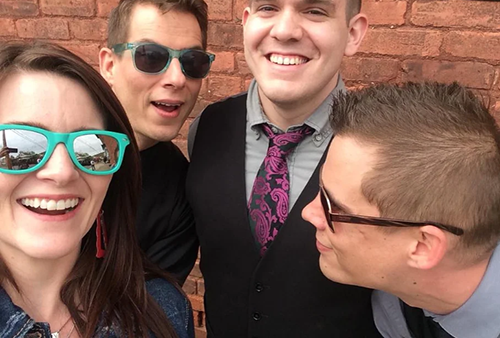 Under The Den formed in the autumn of 2017 as a collaborative effort of four people trying to make good music in Upstate New York . Madison Lewis, the group's lead vocalist, hails from Orange County, CA. A voice all her own, she pours her soul into live performances. Benjamin "Ideas" Zoleski plays guitar and keys. A music major from Berklee, Ben brings a great range to the guitar and vocals along with an amazing positive energy and stage presence. His most recent outings as the Musical Director for Andrew Lloyd Webber's "School of Rock" (2018-2019) theatre production, as well as the guitarist for the European hologram tour of Buddy Holly and Roy Orbison (2019), have added new depths and experience to the bands style. The rhythm section is comprised of identical twin brothers John Nowak on bass, and drummer Jason Nowak. Both have a long musical history in the 518 and abroad, playing in successful bands on indie and major labels including Endicott (Equal Vision Records) and Young and Divine (RCA).
Website: www.undertheden.com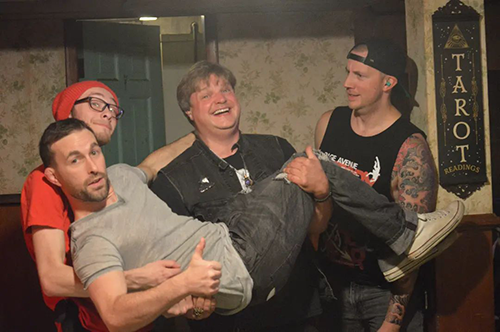 Formed in 2019, Gozer is a 4-piece rock band from Albany, NY fronted by vocalist Mykah Dillenger. Stylistically, Gozer combines classic Black Sabbath style riffs with contemporary rock vibes ala Queens of the Stone Age to offer a unique and accessible sound to listeners. All band members have experience gigging as far south as Nashville, TN and have played shows ranging from local bar to Alive @ 5/LarkFest tier gigs. In addition to writing original albums, Gozer spends their time writing original music for various podcasts including "Botched: A D&D Podcast", "FTH Beyond", and "Shadow Pack Squares". Two tracks off their debut EP were also featured in the Irish zombie film "Follow the Dead", which has won many awards on the international Indie film circuit.
Website: https://gozer4.bandcamp.com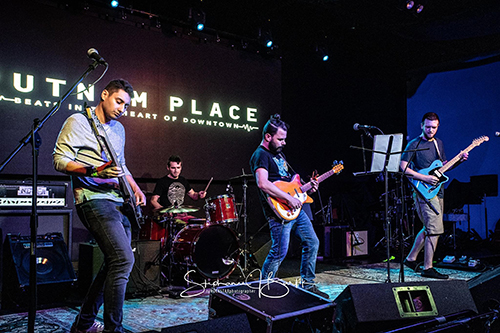 Founded in 2018, Seize Atlantis is 4 piece Alternative Rock band based out of upstate NY. Focused on playing original music, Seize Atlantis also plays covers ranging from the 1960s to 2020's music bringing a variety of genres, but focusing on rock genre. Each member brings their own unique style and experience to the table, which creates a nice blend of tone and sound diversity. All members were high-school friends and lived in the same area growing up in Queensbury/Glens Falls. Eventually realizing they all shared the same passion for music, the band formed Seize Atlantis and the search for the sound they were looking for was complete.
Band Website: www.sonicbids.com/seize-atlantis