September 22, 2018 9:00 pm - 1:00 am
Putnam Place, 63a Putnam Street, Saratoga Springs, NY 12866
Doors: 8:00pm
Show: 9:00pm
Ages: 18+ (note: there is a $5 surcharge for attendees under 21)
Tickets: $20 Day of Show
** The online presale period for this show has ended. All remaining tickets will be available at the door.
Ryan Montbleau returns to Saratoga for a special full-band performance at Putnam Place!
Ryan Montbleau has been an acclaimed singer, songwriter, and bandleader for more than a decade, but with his new album I WAS JUST LEAVING, the New England-based artist has truly arrived. Contemplative and richly emotive, the album offers a glimpse into the often-lonesome life of the relentlessly traveling troubadour, a strikingly single-minded existence too often clouded by the blur of constant motion. Recorded at New Orleans' Esplanade Studios over four days in January 2016 with producer Anders Osborne and engineer/mixer Mark Howard (known for his work with such icons as Bob Dylan, Tom Waits, Neil Young, and U2), the album marks Montbleau's first full length release in the wake of a series of seismic personal shifts. Songs like "Bright Side" and the touching title track reveal a uniquely blessed artist who has truly found his voice, his gift for melody and a remarkably open-armed approach.
"There's no part of this record that I am unsure of," Montbleau says. "All the juice of the last fifteen years is in there. My humanity and my heart are on this record."
Montbleau has been among America's finest songwriters and performers, earning national attention and a fervent fan following with songs like "75 and Sunny" and his breakthrough cover of Tracy Chapman's "Fast Car," the latter a Spotify smash with total streams now in excess of 14 million.
After twelve years on the road Montbleau found himself at a crossroads in 2016.  "Within a very short time, my world got flipped around. My partner was gone, my band of ten years was gone, my friends were all far away.  The one thing I had was a career, because it turns out that was all I had worked on. When the dust settled, I realized I didn't really have much of a home life."
"I thought all along that I had been building a home but it turned out I was just leaving.  That's where the title of the song and the record came from.  So many raw feelings were just aching through me at that point. Eventually they vibrated out through the guitar, through singing.  I had to sing these songs."
An artist's artist, Montbleau has collaborated with such diverse performers as Martin Sexton, Trombone Shorty, and Galactic. His association with Anders Osborne extends back to 2012 when the New Orleans-based singer/songwriter/guitarist played on Ryan's Ben Ellman-produced FOR HIGHER alongside such fellow Big Easy icons as Ivan Neville and The Meters' George Porter, Jr.  Two years later, Anders and Ryan reconnected on the road backstage at a festival.  The seeds were planted for a collaboration.
Montbleau's guitar playing and vocals are both front and center on I WAS JUST LEAVING, with Osborne accompanying on drums, percussion, bass, guitar, and harmonica, each used simply and sparsely for maximum effect. Osborne and Howard built upon that same goal, creating space and capturing rawness by utilizing as many early takes as possible.
"Bright Side," the album's first single, is perhaps the song most emblematic of Montbleau's growth as both a human being and artist. At once finely etched and strikingly direct, "Bright Side" is an ideal distillation of his approach to songwriting, balancing multiple shades of emotional nuance with a fearless, unfettered sentimentality that ultimately leads to a greater truth.
I WAS JUST LEAVING marks a singular milestone for Ryan Montbleau, the moment in which this exceptional singer, songwriter, and performer has blossomed into a fully matured artist.
"I've been planting these seeds for so long and it has all led up to this moment. It feels like finally the fruits of all my efforts are coming out. I'm still working hard but there's an ease to what's happening. I have a career that I've built, that I've earned. Now what's fun is putting out the best music I can and seeing what happens."
Band Website: www.ryanmontbleau.com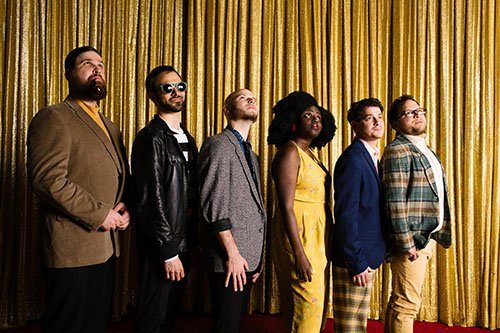 Since 2007, the New York six-piece The Big Takeover has been fulfilling the mission implied in their name: packing clubs in the city and upstate and building their brand and reputation on the road and in the studio. A far cry from the pop-punk of American ska, The Big Takeover take their cues from Desmond Dekker and the first wave of Jamaican pop music as well as from the soulful energy and sophistication of Motown.
At the center of this tight, grooving ensemble is the live-wire singing and deceptively subtle songwriting of the Jamaican-born NeeNee Rushie, a powerhouse performer who makes the audience feel like accomplices more than spectators. Traditional and experimental, The Big Takeover's global blend reveals deep fluency in reggae and world music, hints of soul, and a pop classicism that is their own thing entirely.
In New York's musically hopping Mid-Hudson Valley, they are only the band around that is welcomed and honored at all the major national-circuit rooms: the indie/experimental haven of BSP in Kingston, the jazz and blues gem that is the Falcon in Marlboro, the classic rock mecca of the Bearsville Theater in Woodstock. The Big Takeover packs them all. On the road, the band has played over 500 shows, sharing stages with The Original Wailers, Jefferson Starship, Eek-a-Mouse, the Slackers and more.
The band was selected to participate in a Converse Rubber Tracks Session in Brooklyn NY and toured around the US on their 4th studio record "Silly Girl", in August of 2017. In October 2017, "Silly Girl" was listed on Relix/Jambands.com charts at #13. They are currently working on an upcoming EP in their Beacon NY studio.
Band Website: www.bigtakeoverband.com