August 24, 2019 8:00 pm - 11:00 pm
Putnam Place, 63a Putnam Street, Saratoga Springs, NY 12866
Doors: 7:00pm (Patio Bar opens at 6:00pm)
Show: 8:00pm
Ages: 18+
Tickets: "Pay What You Want" / "$10 if under 21
Ramblers Home is a band that has grown from the seeds of traditional bluegrass music. Displaying their old-time roots proudly the band weaves together elements of blues, country, swing, soul, jazz and rock n roll. From the backyards of Austin, Texas to the streets of Saratoga Springs, the Ramblers have moved and grooved into many shapes and sizes. But despite their changing nature, what remains as a constant is a community of musicians who sure do know to play.
Ramblers Home provides their audience with perfect harmonies and mesmerizing improvisation that combines authenticity with the raw talent of traditional picking. The Ramblers play everything from original music to funk classics and old fiddle tunes and will get you smiling and dancing wherever they are playing. Ramblers Home is a part of the tight-knit musical community of the Capital Region. You'll recognize many of these musicians from bands such as Let's Be Leonard, Candy Ambulance, the North and South Dakotas and the Saratoga Strings Band.
Website: www.facebook.com/ramblershome8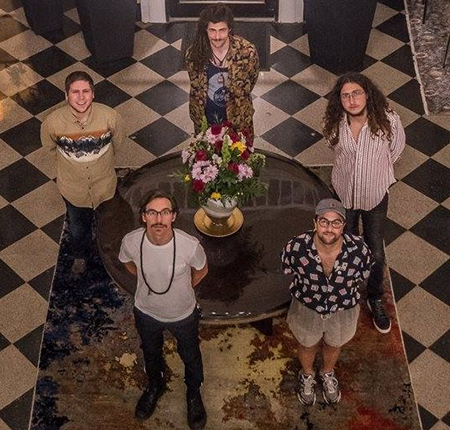 Let's Be Leonard is a rock 'n roll jazz explosion out of Upstate NY that bursts at the seams of tight, lyrical pop ballads with a daredevilish, looney jam band quality that'll hook you like a lil fish.  A full-­fledged caravan, all five band members quit their jobs, invested what money they had into equipment and a tour bus, and have been living together in a musiccentric collective lifestyle since early 2015.  They are the darlings of their hometown, Saratoga Springs, NY, where local radio stations WEQX 102.7 FM, and WEXT 97.7 h​ave kept the singles from their debut album "C​OW.", Kindergarden Blues and Frisbee, on steady rotation, and where their renowned barn parties have been known to draw crowds of just over six hundred.  
Band Website: www.letsbeleonard.com