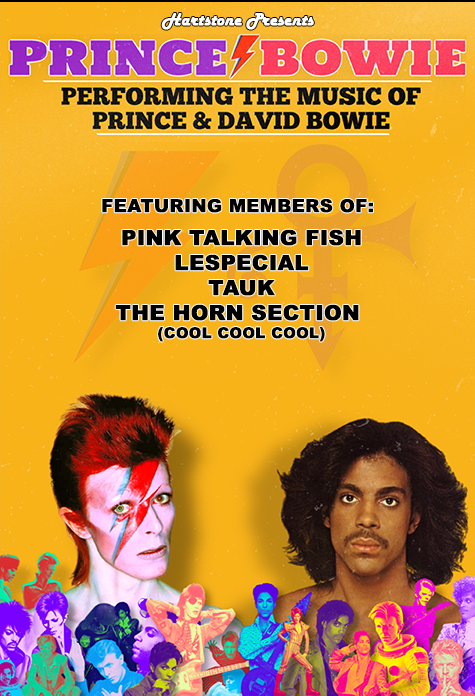 May 20, 2023 9:00 pm - 12:30 am
Putnam Place, 63a Putnam Street, Saratoga Springs, NY 12866
Doors; 8:00pm
Show: 9:00pm
Ages: 18+
Tickets: $25 Advance / $28 Day of Show
** Click Here to Purchase Tickets **
Prince/Bowie is a tribute fusion band that combines the music of Prince and David Bowie into a high energy live show. It features a rotating Allstar cast of characters from various national acts including Pink Talking Fish, Twiddle, Snarky Puppy, Trey Anastasio Band, Lotus, TAUK and more.
This act started as a special extra performance at The Catskill Chill Music Festival in NY and it was a huge success. Since then, the band has performed with different lineups at theaters and festivals.
The mix of the Prince and David Bowie songbooks blend beautifully and an extra spice is added with master composer, Matt Wayne, creating unique horn arrangements that enhance the music in a special way.
Here is what a setlist of Prince/Bowie can look like:Let's Dance > 1999, Fame > I Wanna Be You Lover, Under Pressure, Kiss, Space Oddity > D.M.S.R., Moonage Daydream > Purple Rain
Lineup

Eric Gould (Bass) – Pink Talking Fish
Cal Kehoe (Guitar) – Pink Talking Fish
AC Carter (Keys) – TAUK
Rory Dolan (Drums) – lespecial
Chris Brouwers (Trumpet) – The Horn Section / Cool Cool Cool
Greg Sanderson (Tenor Saxophone) – The Horn Section / Cool Cool Cool
Josh Schwartz (Bariton Saxophone) – The Horn Section / Cool Cool Cool
Matt Wayne (Alto Saxophone) – Bobby Deitch Band
Website: www.facebook.com/PrinceBowieBand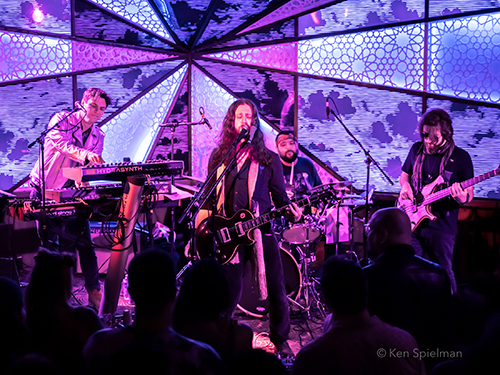 Escaper is a New York City band known for their sci fi dance parties that mingle with progressive psych-rock. Defined as "one who breaks free from confinement," Escaper's lush and complex music knows no bounds. The quartet builds intricate tracks using layer upon layer of harmonious soundscapes, transporting the listeners on an auditory journey. Their live performances are equally stunning, as they deliver dazzling improvisation alongside moving lyrics.
Escaper is known for the synergy between Will Hanza (guitar, vocals) and Phil Kadet (keys). After a brief hiatus during the initial months of the pandemic, they were joined by drummer Sam Crespo (Space Bacon) and bassist Luke Bemand (lespecial).
The band has shared stages with the likes of Jon Fishman (Phish), Karl Denson, JEDI (ft. Aron Magner and Marc Brownstein of the Disco Biscuits), Spafford and many more.
Website: www.escapermusic.com