December 2, 2021 8:30 pm - December 3, 2021 12:00 am
Putnam Place, 63a Putnam Street, Saratoga Springs, NY 12866
Doors: 7:30pm
Show: 8:30pm
Ages: 18+
Tickets: $18.50 Advance / $22 Day of Show
** Click Here to Purchase Tickets **
Note: All attendees must provide proof of COVID-19 vaccine or results of a negative test taken within 72hrs of event.
"I'm realizing more and more every day that you can make anything happen for yourself if you really want to," says Moon Hooch horn player Mike Wilbur. "You can change your existence by just going out and doing it, by taking simple actions every day."
If any band is a poster child for turning the power of positive thoughts and intentions into reality, it's the explosive horn-and-percussion trio Moon Hooch. In just a few short years, the group— Wilbur and fellow horn player Wenzl McGowen—have gone from playing on New York City subway platforms to touring with the likes of Beats Antique, They Might Be Giants, and Lotus, as well as selling out their own headline shows in major venues around the country.
Though the band—whose members initially met as students at the New School—turned heads in the music industry as relative unknowns with a charismatic, unconventional sound (they play with unique tonguing techniques and utilize found objects like traffic cones attached to the bells of their horns to manipulate tone, for instance), they were already a familiar and beloved sight to strangers in New York, who would react with such joy and fervor to their impromptu subway platform sets that the NYPD had to ban them from locations that couldn't handle the crowds. NY Mag once referred to their sound as "Jay Gatsby on ecstasy," while the NY Post fell for their "catchy melodic hooks and funky rhythms," saying they had "the power to make you secretly wish that the short [subway] wait becomes an indefinite delay."
While the band's busking days are behind them now, the lessons they learned from all those platform parties helped guide their approach to recording 'Life on Other Planets.'
"What we discovered playing in the subway," McGowen explains, "is that the more focus and the more energy you put into the music, and the more you listen to everything around you and integrate everything around you into your expression, the more the music becomes this captivating force for people."
The band followed up 'Red Sky' by releasing the 'Light It Up' EP in 2018. Recorded in bucolic Williston, Vermont and co-produced by Tonio Sagan (grandson of famed astronomer Carl Sagan), this collection of three songs was a foray into a more electronic and studio-produced sound. Full of horn textures, big drops, and throbbing bass lines, these tracks extend the possibilities of their subway instrumentation. Between 'Red Sky' and the 'Light It Up' EP, the band uses an evolving arsenal of electroacoustic techniques to utterly demolish any and every possible barrier that could stand between your ass and the dance floor.
"When we were playing in the subways, we were playing entirely acoustic," explains Wilbur. "It was just two saxes and a drum set. Then Wenzl acquired a baritone sax and we all started getting into music production and incorporating electronic music into our live shows." At their performances, the band now plays through what they call a Reverse DJ setup, in which the live sound from their horns runs through Ableton software on their laptops to process recorded effects onto the output. In addition, to flesh out their sound on the road, the band began utilizing Moog synthesizers, an EWI (an electronic wind instrument that responds to breath in addition to touch), and other exotic woodwinds like the contrabass clarinet and bass saxophone. Wilbur has even added vocals to his repertoire on some tracks (something the subway never allowed him to do).
The band members all speak reverently of meditation and consciousness and the role it plays in their music (McGowen believes his introduction to it, spurred on in part by Wilbur and former member James Muschler, saved his life), but equally close to their hearts are the environmental causes they champion. Moon Hooch tries to live up to their green ideals while traveling as much as possible, playing benefit shows, organizing action days to support local farmers and co-ops, participating in river cleanups, planting trees, filming informative videos for their fans, and more.
For the members of Moon Hooch, commitments to consciousness, environmentalism, veganism, philosophy, and peace aren't separate from their commitment to music, but actually integral parts of it. It's all tied into that same core approach that led to their discovery on the subway platform: try, even if it's just a little bit every day, even if it's just with the power of your mind, to make the world less like it is and more like you wish it could be.
"I'd say all of our songs express the essence of that kind of energy," concludes McGowen, "because before you can even think any thoughts, there exists the energy that drives those thoughts, and that energy is intention. I feel like we're putting the intention of positive change constantly into our music. While we're playing, I often see the future emerging: skyscrapers getting covered in plants, frowns turning into smiles, fistfights into hugs. I can see the energy of love and collaboration and trust replace the energy of fear, hatred and violence." It's an ambitious vision, to be sure, but considering the band's track record at turning their thoughts and dreams into action and reality, perhaps it's only a matter of time.
Band Website:www.moonhooch.com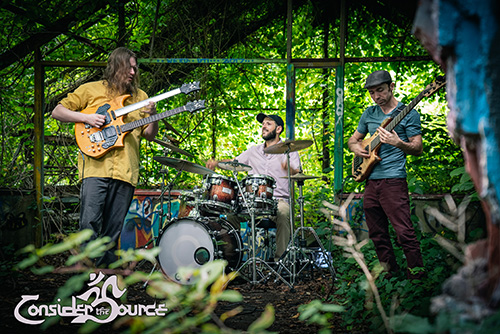 Sci-fi fusion trio Consider the Source defy easy categorization. If intergalactic energy beings, upon their initiation into an order of whirling dervishes, built a pan-dimensional booty-shaking engine powered by psychedelic math…it would sound like a cut-rate CTS cover band. With their blend of progressive rock and improvisatory jazz, soaked in Indian and Middle Eastern styles, CTS blends disparate elements into an utterly original whole. A relentless touring schedule has earned them a fervent following around the world, with fans ranging from jam-band hippies to corpse-painted headbangers.
Their latest album, You Are Literally a Metaphor, is the culmination of a fifteen-year musical journey. Packed with the same fury and dazzling virtuosity of their previous work, Metaphor is also a portrait of three musicians reaching new levels of maturity.
From the bluesy swing of "When You've Loved and Lost Like Frankie Has" to the ethereal electro-synths of "Sketches From a Blind Man", CTS's minimalist pop instincts stand shoulder-to-shoulder with progressive metal and freewheeling improvisation in a true expression of their omnivorous musicality. Three of Metaphor's nine songs are Eastern European traditionals, but could easily be mistaken for the band's original tunes, so singular has their sound become. CTS retain their signature fiery maximalism while pushing the hooky, anthemic songwriting to the forefront. Bassist John Ferrara's new Taurus bass pedals and guitarist Gabriel Marin's new custom Vigier double-neck guitar add new dimensions to the band's already diverse sound.
This is an album born of comfort and growth. In the five years since World War Trio, the band has toured extensively, Marin and Ferrara have released side projects, and drummer/percussionist Jeff Mann has gone from a relative newcomer to a road-hardened veteran. After all this time, CTS knows how to create space for each other, how to finish each other's musical thoughts and sentences, how to think as three individuals but speak with one voice. You Are Literally a Metaphor is a statement of confidence, an assertion of identity from a band with no reservations and nothing to prove.
CTS have performed in a half-dozen countries across three continents. They have shared the stage with a wide variety of artists, including: Victor Wooten, King Crimson Projekt, Wyclef Jean, Ozric Tentacles, Soulive, The Disco Biscuits, Papadosio, Turkuaz, Pigeons Playing Ping Pong, Wayne Krantz and many others. They have performed at festivals and events including: Electric Forest, Peach Fest, Gathering of the Vibes, Resonance, Summercamp, Shakori Hills, ProgDay, and Progtober. You Are Literally a Metaphor is available at considerthesourcemusic.bandcamp.com
Band Website: www.considerthesourcemusic.com