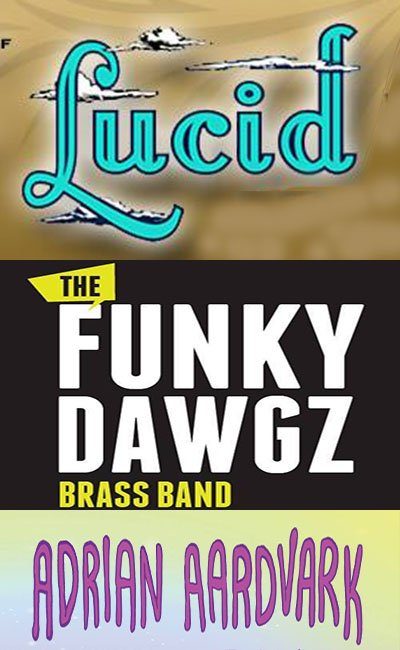 May 4, 2018 9:00 pm - 1:00 am
Putnam Place, 63a Putnam Street, Saratoga Springs, NY 12866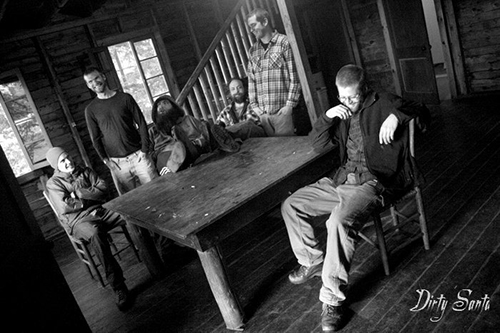 Doors: 8:00pm
Show: 9:00pm
Ages: 18+ (note: there is a $5 surcharge for attendees under 21)
Tickets: $20 at Door
Lucid reunites for a special show at Putnam Place, presented by N.Y.S. Music.  Joining Lucid for their big return will be The Funky Dawgz Brass Band, who you may remember played Chowder Fest a few years back and Adrian Aardvark. 
Barreling out of the northern woods like a grizzled bear on speed, Lucid, the hardest working band in the North Country (Upstate NY and VT), careens across the musical spectrum as a V8 blend of genres emerge- from jazz to rock, honky-tonk blues to reggae.
"Our sound is catchy yet eclectic. The songs get stuck in your head, and there is a very distinct tone," said Deller. "The influences and the styles we play are wide ranging. But always at the center of it all is a thick thread of rock tying everything together. Our music has a little something for everybody. Audiences all over are very appreciative. We get applause, we get hooting and hollering, and sometimes nakedness. They're always dancing."
Roaming the nation on their graffiti-doused, Neal Cassady-esque psychedelic bus, "Lucy", the rock bandits roll joyously along the road towards musical stardom, taking no prisoners, and always having fun in a sometimes-unforgiving industry.
"We just want people to go away thinking 'that was a good time'," Deller said. "And maybe for the next week or two they can't get that one song out of their heads, but it's a good thing. It's like burping four hours after a meal, and saying, 'oh yeah, that lasagna was good'."
"Living in a ski town, one constantly hears the adage, 'if you like it now, you should have been here 10 years ago, before all these people showed up'," said Garret K. Woodward (Roving Festival Writer/State of Mind Music Magazine). "The funny thing is, in 10 years, I'll probably be saying the same thing about Lucid and the unforgettable presence they create onstage and out of your speakers."
Band Website: www.rulucid.com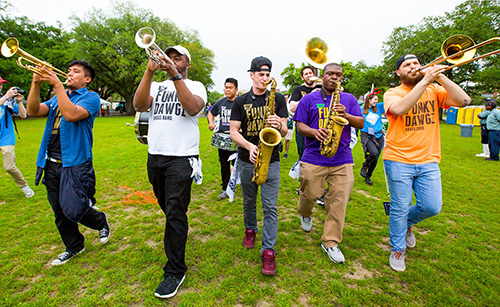 The Funky Dawgz Brass Band are one of the premier touring acts on the live music scene today. Emerging from Connecticut, these young men have engulfed the spirit and traditions of New Orleans as well as earned the respect from local musicians who grew up and reside in the city. It is impossible not to enjoy yourself during a show as they play a contagious upbeat mix of traditional New Orleans R&B, original music, hip hop, funk, and today's top hits with a brass twist.
They have toured nationally from coast to coast, as well as internationally and have been featured in all corners of the live music scene. From playing sold out shows at Madison Square Garden as the horn section for Dispatch, to Camp Bisco, to closing out The Peach Music Festival, their performances flow seamlessly from EDM festivals to jam band festivals to traditional New Orleans second line parades. They were also recently featured multiple times on national televised programming on ESPN (house band for March Madness Tournament Challenge, opening segment of First Take).
There is a reason they were featured as one of Live For Live Music's Brass Bands You Need To Know. The Funky Dawgz are dropping jaws. These high energy horns have been featured on bills with Dispatch, Trombone Shorty & Orleans Avenue, We The Kings, Snarky Puppy, The Soul Rebels, Lettuce, The Motet, Preservation Hall Jazz Band, Rebirth Brass Band, Twiddle, Turkuaz, Kung Fu, Bernard Purdie, Sister Sparrow & The Dirty Birds, Big Sam's Funky Nation, and the list continues.
When the band is not playing shows they are giving back to the community. The Funky Dawgz aim to connect, engage, inspire and rejuvenate music education in inner city schools across the country. The band frequently gives performances and master classes to young musicians in elementary, middle, and high schools across the region.
Band Website: www.funkydawgzbrassband.com
Adrian Aardvark offers a unique brand of rock and roll that is highly energetic, completed with theatrics, introspective lyrics, and solid grooves. The Plattsburgh, New York 4-piece is fronted by songwriter Christopher Jay Stott-Rigsbee and accompanied by Shannon Stott-Rigsbee on violin, Catherine Harrison-Wurster on upright bass, and Christopher Lee Shacklett on drums.
Adrian Aardvark's forthcoming album Dying Optimistically embraces unequivocal passion in an ongoing search for good in the human condition. In the sprightly backdrop of Adrian Aardvark's songscape, the group strives to atone with the world at large. Imagine the chaotic energy of The Cramps counterbalanced by the emotive fragility of Daniel Johnston — battles against anxiety, depression, and sexual identity are contrasted by explorations of romantic love and acceptance of the self, amplified in a wall of energy. The album was produced by Brendon Massei of Viking Moses in Baltimore, Maryland. Lush string arrangements, enticing drumming, and anthemic vocals showcase the collaborators' creative dynamism.
Band Website: www.adrianaardvark.com