May 2, 2020 9:00 pm - May 3, 2020 1:00 am
Putnam Place, 63a Putnam Street, Saratoga Springs, NY 12866
Doors: 8:00pm
Show: 9:00pm
Ages: 18+ (note: there is a $5 surcharge for attendees under 21)
Tickets: $12 Advance / $15 Day of Show
This show has been postponed due to the ongoing COVID-19 pandemic and government mandate. We are currently working on rescheduling the show and should have details on a new date posted shortly. All tickets purchased for this show will be honored on the rescheduled date. Once the new date has been announced, if you are unable to attend and wish to have your tickets refunded, please submit your request through Ticketbud and we will be happy to accommodate. We apologize for the inconvenience.
lespecial carve their own sonic path in modern music, creating their signature blend of "heavy future groove". The power trio's fresh synthesis of varied and divergent influences doesn't underestimate the listener, reflecting a post-modern cultural climate in which fans have space on their aural palette for J Dilla, Radiohead, King Crimson and Fela Kuti. Veering from hip-hop to metal, prog to house, pensive indie-rock to apocalyptic dub, leaving room for head banging and hip swaying alike, while still presenting a unified sound and vision.
These three childhood friends from Connecticut play off of a lifetime of shared experience in their writing and performance. In a power trio, it's essential that each of the players can utterly captivate you at any given time. Each individual has a lot of weight to carry and is only as strong as the weakest link. In the studio, as on stage, it seems at first blush that Jon Grusauskas—delivering lyrics that call for your attention and seamlessly moving from guitar to keys to samples—is handling the entire upper end of the spectrum… until you consider how broad the melodic embrace of rhythmatist Rory Dolan and low end wizard Luke Bemand: injecting splashes of color and wicked chops into their heavy groove foundations or driving assaults, this dynamic battery simultaneously eases and propels lespecial through fractious changes of mood and tempo. Additionally, whether at the forefront or scattered throughout the mix, all of them use live looping or triggered samples that contribute to a sound that is far greater than that generally created by three people as they seek to tap into a primitive past, distorted through the lens of contemporary technology. 
Band Website: www.lespecial.net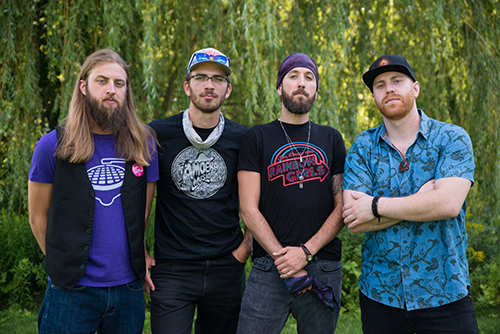 Boston-born, New England based quartet Strange Machines have been steadily making a name for themselves in the East Coast jam scene. A true melting pot of musical fusion, with sounds catering to rock, funk,  reggae, jamtronica and a multitude of other genre's, all while stringing them together seamlessly to create a fluid and captivating live performance. Their original songs are nuanced by creative composition, practiced precision, and a looseness that allows them to truly explore the music they create.
They have shared the stage with national-touring acts such as The Disco Biscuits, Twiddle, Dopapod, EOTO, The Motet, Pigeons Playing Ping Pong, Turkuaz, Kung Fu, TAUK, Deep Banana Blackout and more. Strange Machines have carved out their own niche in the east coast music scene and beyond and show no signs of slowing down.
Band Website: www.strangemachinesband.com