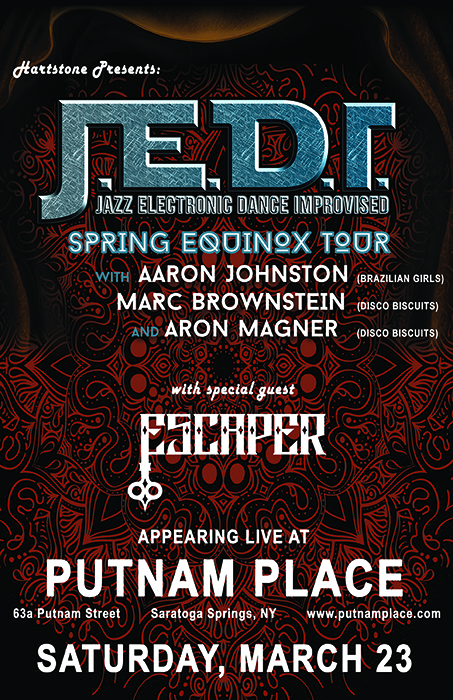 March 23, 2019 9:30 pm - 1:00 am
Putnam Place, 63a Putnam Street, Saratoga Springs, NY 12866
Doors: 8:30pm
Show: 9:30pm
Ages: 18+ (note: $5 surcharge for attendees under 21)
Tickets: $20
* The online presale period for this show has ended.  All remaining tickets will be sold at the door.
Aaron Johnston, drummer of Brazilian Girls, is taking his J.E.D.I. (Jazz Electronic Dance Improvised) project on the road this Spring. The project has seen a rotating cast of musicians such as Michael Kang (The String Cheese Incident), Borahm Lee (Pretty Lights / Break Science), Dominic Lalli (Big Gigantic), Ryan Zoidis (Lettuce), Eddie Roberts (The New Mastersounds), Nate Edgar (The Nth Power), and more join the accomplished musician over the course of the past two years, since J.E.D.I. made its initial debut.
For the upcoming Spring Equinox Tour, both bassist Marc Brownstein and keyboardist Aron Magner of The Disco Biscuits will join Johnston on the four night run. The trio recently got together for a late-night throwdown post-Biscuits in Albany this past November, and have decided hit the road for a 4-night run. The group will blend a myriad of musical elements from a diverse range of genres including jazz, afrobeat, dub, funk, dance and more to create a "live music abstraction" each night of the tour. 
The Brazilian Girls co-founder and drummer and Grammy Award nominee, who was a member of the wildly successful David Byrne tour last year, has a long list of friends to call upon for the project, which has been been a long-time dream coming into fruition. When asked about J.E.D.I., Johnston explained, "It's for us and the crowd. An opportunity for us to connect on stage with our friends—who we are fortunate enough to have some of the top musicians around today—and play the music we want to play and experiment with and hopefully really connect with the crowd."
Band Website: www.facebook.com/thejediproject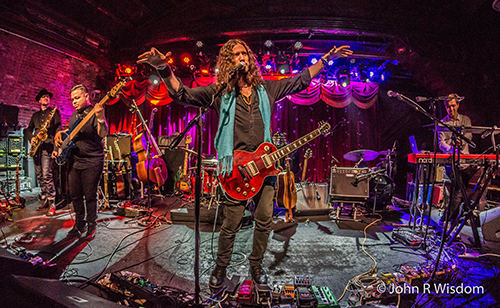 The literal definition of Escaper is "one who escapes confinement". Named "On the Verge" by Relix Magazine, this Brooklyn based space rock band strive for a sound without limits while keeping the dance party going.
They have shared bills with Jon Fishman (Phish), Karl Denson, Aqueous, Electric Beethoven, Strange Machines, The DAB Sessions feat Aron Magner and The Ghost of Paul Revere to name a few and have been seen this Summer at festivals such as Disc Jam (joined by members of Turkuaz), Grateful for Spring (as a headliner, joined by members of Cabinet), Elements:Lakewood, Bear's Picnic, Mazzstock and more. Prior to joining Escaper, members of the band came from various other groups including Sister Sparrow & the Dirty Birds and The Funk Ark.
The band released their first album, "Skeleton Key" with Ropeadope Records in May 2017 to critical acclaim including being named one of three "Release Day Picks" by JamBase. Live for Live Music said, "Their sound is a reckoning force of funky fusion music…there's no telling how high this band can climb." The 2nd album, "Edge Detection" was released in February 2018. As with the first album, it was recorded at The Bunker Studio in Brooklyn, with all five band members playing together simultaneously, while in isolated rooms. Recording this way helped capture the great live synergy between the players which you can witness during their performances. Their live sets tend to be open with many in-the-moment improvisational aspects, and this essence was not lost during the studio recordings. Bandleader and guitarist, Will Hanza, expresses, "The term 'jam' can be a loaded one, but the idea of having some concrete ideas, while still allowing the music to be open to take advantage of the moment is really important to us."