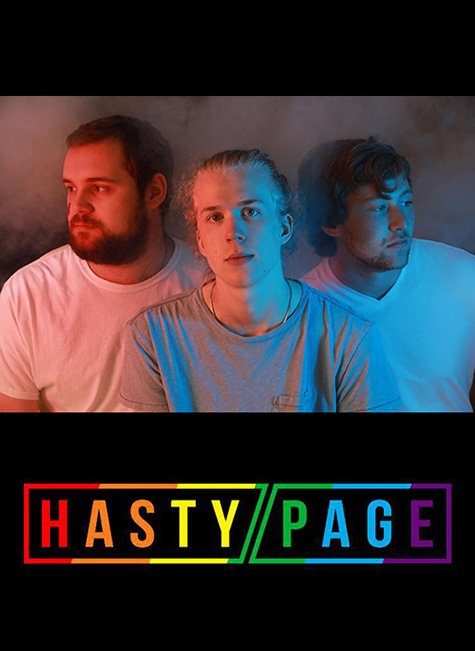 June 14, 2019 9:00 pm - June 15, 2019 12:00 am
Putnam Place, 63a Putnam Street, Saratoga Springs, NY 12866
Doors: 8:30pm
Show: 9:00pm
Ages: 18+
Tickets: "Pay What You Want" / $10 if under 21
Hasty Page is an alt/indie rock power trio from Albany, NY comprised of Josh Morris, Zane Agnew, and James Paolano. Since late 2015, these three young musicians have used their band as an outlet to channel creative energy and mold it however they see fit. The sound in which they've pioneered is without any boundaries. Crossing genres, taking risks, and simply writing how they feel is what this group is all about. While being enrolled in rigorous music programs at both Berklee College of Music in Boston, MA and The College of Saint Rose in Albany, NY, the boys have performed alongside national touring acts such as Ripe, Mt. Joy, Colony House, Magic Giant, and Smash Mouth. The have performed at multiple proclaimed music festivals such as Albany Tulip Festival, Schenectady Summer Night, and Celebrate Fairfax in VA. Wherever HP ends up, they are prepared for the big time.
"The Coming of Age – EP" marked their debut release in March, 2016. This album combined elements of indie pop, rock, and blues to create the first sneak peak into what HP was capable of as young high school students.
Following the EP was the release of "Distance" in December, 2016. This full length album allowed the band to explore the more aggressive and rock driven side of their songwriting. While still staying true to their initial motto of writing honest music, they have shown that they aren't afraid to try new things.
Lastly, their two newest singles "Body Shots" and "Vices" are preparing us for their new album titled, "Things to Do Before I Die".
The album drops June 21st, 2019. Stay tuned, stay hasty.

Band Website: www.facebook.com/hastypage