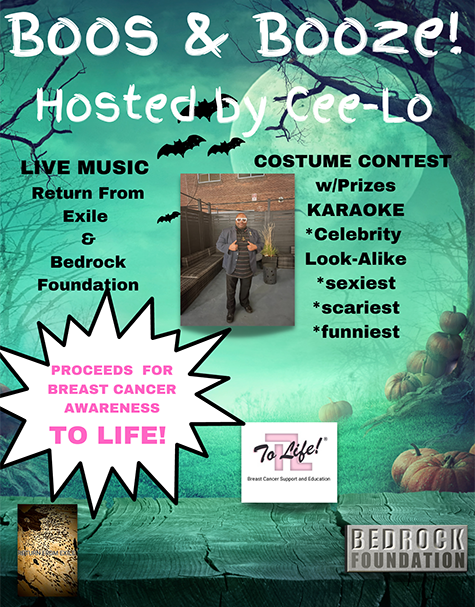 October 27, 2023 7:00 pm - 11:00 pm
Putnam Place, 63a Putnam Street, Saratoga Springs, NY 12866
Doors: 6:00pm
Show: 7:00pm
Ages: 21+
Tickets: $10
** Click to Purchase Tickets **
Come join us for Boos & Booze, hosted by our very own Steve "Cee-Lo" Callander.  The evening will feature live performances by Return from Exile & Bedrock Foundation, as well as karaoke, drink specials and a costume contest with prizes.  Categories are Celebrity Look-alike, Sexiest, Funniest & Scariest.
Proceeds from this event will go to TO LIFE, a breast cancer support and awareness organization.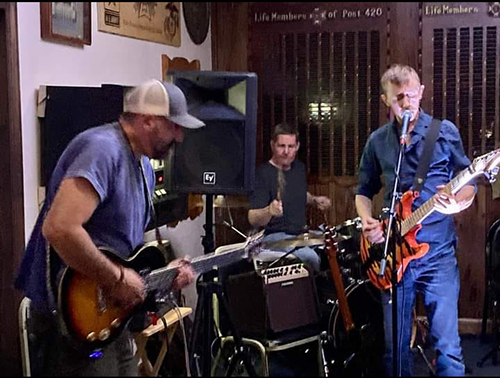 Return From Exile is an American band dedicated to giving the crowd what they want, a great time. The band is known for playing songs from the 70s 80s 90s and 2000s and being energetic. You'll likely hear some blues, country, jam, rock and a few original songs. Their onstage presence makes it easy to see the men are all friends and have great chemistry. The setlists are always changing and evolving. The quartet formed in early 2023. Some of the members have played together in other projects over the years as well. Return From Exile has quickly become one of the hardest working bands is the greater Saratoga region.
Website: Visit Return to Exile on Facebook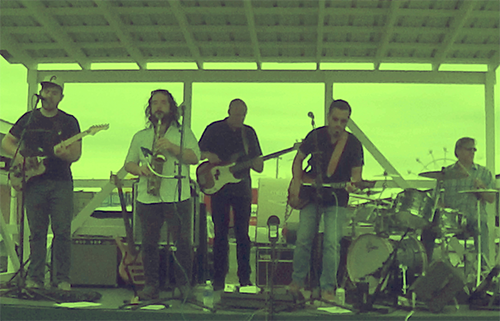 The Bedrock Foundation is a sax-forward rock and roll band steeped in funk and soul. We play a unique selection of songs from artists like Stevie Wonder, The Talking Heads, and The Rolling Stones. Our motto is "A Good Time, Every Time" and our goal is to help our audiences have as much fun as possible, so dancing and singing along are always strongly encouraged!
Website: www.facebook.com/TheBedrockFoundation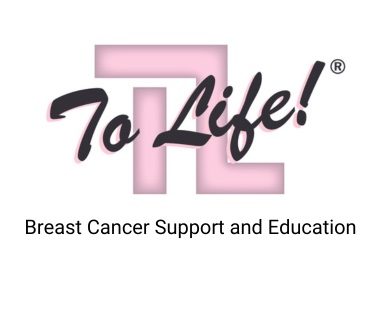 To Life! serves women and their families in the greater Capital Region, including Albany, Schenectady, Rensselaer, Saratoga, Columbia, Greene, Montgomery, Fulton, Warren, and Washington counties.
To Life! was founded in October 1998 as a not-for-profit organization after its founder, Mara Ginsberg, was diagnosed with breast cancer. As she progressed through consultations about treatment and therapy alternatives, she realized that services to breast cancer patients were limited, fractured, and difficult to locate.  As she met other women in the same boat, she learned that many, like she, were occasionally overwhelmed by the gravity of their diagnoses, unsure of what questions to ask the doctors, sometimes embarrassed to ask certain questions, put off by the busy-ness and sterility of medical offices, uncomfortable shopping for prostheses and wigs in medical supply houses, and aching for a competent and sympathetic source of information, guidance, and non-medical services.
Mara created To Life! to serve as a welcoming setting in which women can obtain information necessary to make informed medical decisions, learn how to explain things to their families, and thereby enlist their support and assistance and go for support and ancillary services such as wig and prostheses fittings and makeup.  And, because early detection is half the battle against breast cancer, To Life! aggressively reaches out to the community with breast self-examination training.