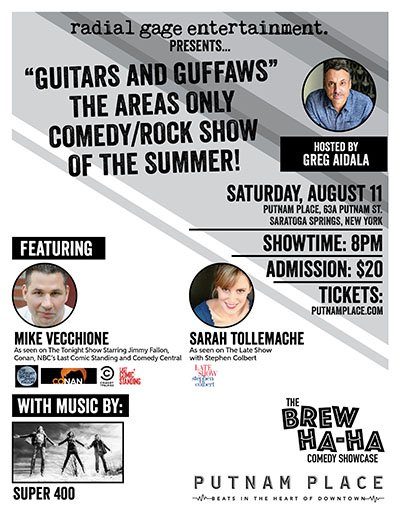 August 11, 2018 8:00 pm - 11:00 pm
Putnam Place, 63a Putnam Street, Saratoga Springs, NY 12866
Doors: 7:00pm
Show: 8:00pm
Ages: 18+ (note: there is a $5 surcharge for attendees under 21)
Tickets: $20
Radial Gage Entertainment presents: "Guitars & Guffaws" – The area's only comedy / rock show of the summer!  The evening, hosted by Greg Aidala, will feature stand-up performances by Mike Vecchione and Sarah Tollemache, as well as a music performance by Super 400.
Mike Vecchione has appeared on Comedy Centrals Live at Gotham, Comedy Centrals Fresh Face Debates, and Russell Simmons Presents: Stand Up at the El Rey Theatre. Mike also had a guest appearance on the IFC hit show Z Rock.
In 2010, Mike won the People's Choice Award for the New York Comedy Festival, was a semi-finalist on NBC's Last Comic Standing, and was selected to perform at the prestigious Montreal Comedy Festival (New Faces). Later that year, Mike went on to perform on the Tonight Show starring Jay Leno and shot his own Half Hour Special for Comedy Central.
In 2014, Mike appeared on Comedy Underground with Dave Attell on Comedy Central, was again a semi-finalist on NBC's Last Comic Standing and Comics Unleashed with Byron Allen.  Since then Mike has appeared on Conan, Inside Amy Schumer and The Tonight show staring Jimmy Fallon.  
Website: www.mikevecchione.com
Described as dry, quirky and hilarious, Sarah Tollemache has been a professional comedian for over a decade. Starting in Houston, Texas, Sarah quickly made a name for herself when she was named 'Best Local Comedian' by the Houston Press and later was the winner of the prestigious Houston's Funniest Contest. After being featured on consecutive seasons of NBC's 'Last Comic Standing' Sarah took her talents to New York City. Since moving to New York, Sarah has been named one of the top 20 female comics to follow on twitter by the Huffington Post. In addition to performing stand-up comedy nightly in many of New York's top clubs and alternative venues, Sarah can also be seen regularly performing at the Upright Citizen Brigade Theater where she is a writer and performing with her sketch group 'Absolutely'.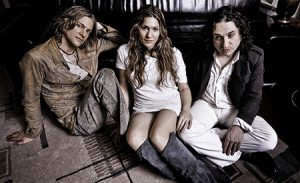 Kenny Hohman and Joe Daley went to the same school as kids; they met when Joe ran sound for a gig that Kenny's band was playing in the elementary school auditorium. After high school, they moved to New York City to form a band but never landed on the right combination of personalities and style. Soon after moving back Upstate, they met Lori at an open mic jam – she saw the pair play and asked Kenny for his number, maybe they could get together and play sometime. She was given an initial brush-off, but the guys contacted her a month later after a mutual friend convinced them to give her a try. The three got together in a Troy warehouse to plug in. They played for about an hour, then Kenny and Joe asked Lori to join Super 400. When they talk about it now though, they all agree that the question never needed asking, they were a band from the first note.
The three friends began long jam sessions that lasted for days. In the band's first year, Geoff Travis of Trade 2 Records brought them over to London, and they were signed by Island Records. Island planned to herald the return of Rock and Roll with Super 400 as a flagship force in the new millennium. The young band had their first album in the chamber, ready to take on the world. In a twist of fate that would foreshadow an unstable music biz, Polygram Co was soon bought out, folding the hierarchy at Island. Release plans collapsed and the Super 400 album was shelved. Shortly afterward, the band's management decided to call it quits. The band kept on; they began writing the second album, and learned how to book their own tours up and down the East Coast. Slowly, fans began to surface; first in the States, then Europe. Encouraged, Super 400 released their next two albums on their own, gaining momentum through word of mouth and countless live bootleg trades. The buzz earned them a slot on the Azkena Music Festival in Spain, the response from which brought them back to tour packed houses in Europe.
Their reputation as top notch players has put them in demand as session musicians, both in the States and in the UK. They have toured as the band for British pop star Jaime Benson and American superstar vocalist Mike Farris; Kenny has performed on Saturday Night Live as a member of Lenny Kravitz's band, and the three have made friendships and shared stages with several heroes who they are now proud to call friends. In 2009, Super 400 recorded their latest album, 'Sweet Fist', at the legendary Ardent Studios in Memphis, TN. It was released by Response Records worldwide, with cover art by Klaus Voormann, the renowned creator of the Beatles' 'Revolver' album cover. A double vinyl LP package is also available. Super 400 is currently completing demos for their next release, to coincide with the dawn of their 3rd decade year as a band.
It's been five records, three vans, 20 years, and thousands of miles since that first day in Troy, NY, and the band remains true to the city that has stuck with them through it all. They align their home town shows with local charities, and arranged the first video for 'Sweet Fist ' to be shot entirely in the city. In 2006, the mayor of Troy gave Super 400 their own official holiday, 'Super 400 Day', to recognize the band's musical achievements as well as the love and support the city has shown for them.
Band Website: www.super400.com