December 6, 2018 8:30 pm - 11:30 pm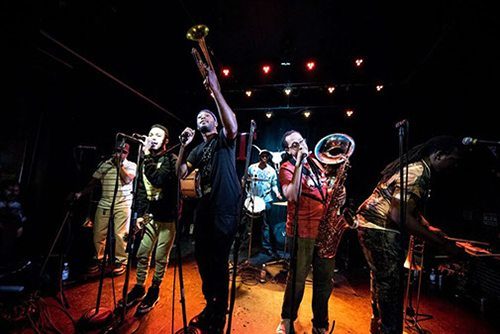 Doors: 7:30pm
Show: 8:30pm
Ages: 18+ (note: there is a $5 surcharge for attendees under 21)
Tickets: $25 Advance / $28 Day of Show
* The online presale period for this show has ended.  All remaining tickets will be available at the door
The Grammy Award-winning Rebirth Brass Band brings the music of New Orleans to Saratoga as part of the band's 35-year anniversary tour.
Whether seen on HBO's Treme or at their legendary Tuesday night gig at The Maple Leaf, the Rebirth Brass Band is a true New Orleans institution.  Formed by the Frazier brothers in 1983, the band has long since graduated from the streets of the French Quarter to theaters and festivals all over the world.  In addition to their commitment to uphold the tradition of brass bands, Rebirth's music also extends into the the more modern realms of funk and hip​hop to create their own signature, soul moving sound.   This has placed them among the world's top brass bands and they are the hands-down favorite among the younger generation. In reference to the sometimes-stringent competition amongst brass bands, Offbeat magazine remarked, "…it's clear that Rebirth, which boasts 10 albums and has traveled the world, is the band to beat (July 2001).
Rebirth Brass Band have continued their innovative, contemporary approach to New Orleans music following up 2012's Grammy
Award​-winning album ​Rebirth of New Orleans​ with 2014's ​Move Your Body​ which was released on Basin Street Records.  Since its release, the record hit #1 and has been at the top of both the CMJ & Jazz Week Radio charts.
Over their 35-year career, Rebirth has not only won over several generations of music lovers, their music has become the soundtrack to an entire city.
*​ Rebirth Brass Band's album "Rebirth of New Orleans" earned them the title of the first brass band​ ​ever​ ​to win a Grammy
* "Rebirth of New Orleans" reached #9 on the Billboard Jazz Chart and #1 on the CMJ Jazz Charts.​
* Rebirth has several cameos on the hit HBO series ​Treme​ as well as many soundtrack contributions.
Rebirth Brass Band has shared the stage with ​Red Hot Chili Peppers, The Grateful Dead, The Meters, The P​Funk All​Stars, Maceo
Parker, Dr. John, The Ohio Players, Ani DiFranco and more.
Band Website: www.rebirthbrassband.com
** Get the full New Orleans experience by heading over to Hattie's Restaurant for an amazing meal before the show.  A Saratoga staple since 1938, Hattie's friend chicken has been regularly ranked among the best in the country and even beat out Bobby Flay in a fried chicken throwdown on his Food Network Television Show!
** One With Life Organic Tequila will be in the house doing a tequila tasting so make sure you say hello and try their delicious tequila!
The Piggly Wigglies are a swing band from Albany, NY, that are dedicated to jazz and dance music from the 1920s-1940s. Bryan Brundige and His Piggly Wigglies always uplift their audience whilst getting their feets movin' and groovin!