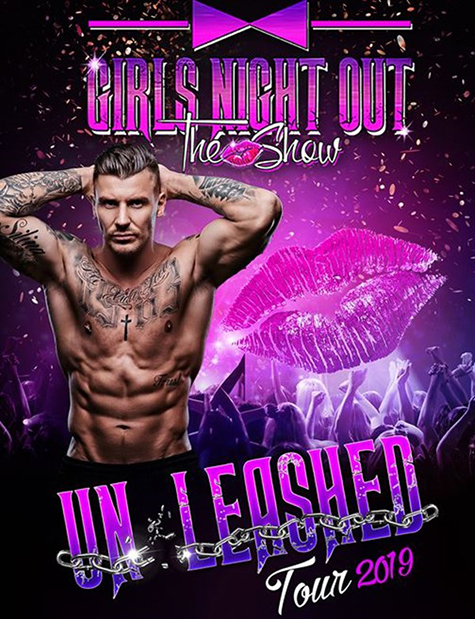 July 24, 2019 8:00 pm - 10:00 pm
Putnam Place, 63a Putnam Street, Saratoga Springs, NY 12866
Doors: 7:00pm
Show: 8:00pm
Ages: 18+ (note: there is a $5 surcharge if under 21)
Tickets: $22 General Admission / $30 GA Plus / $40 VIP
** Click Here to Purchase Tickets **
All tickets that were purchased for the May 1 show that was postponed will be honored for this show.
Las Vegas HOTTEST Export – GIRLS NIGHT OUT THE SHOW – Heats Up the Stage and brings down the house Seven Nights a Week on the 2019 Unleashed Tour!
Along With Having The BEST GIRLS NIGHT EVER… Here's a few more details about what you can look forward to at GNO The Show: 120 sexy minutes of getting extremely hot watching the sexiest Male performers in the country; each number is electrifying as the guys drive you wild; they entice and tantalize; they tease you ..Showing off their Chiseled Bodies, Seductive dance routines, cheeky humor and Boy-Next-Door Charm that you won't be able to resist!
Each of our Sexy performers embodies a different female fantasy and brings it to life on stage before your eyes, turning your wildest dreams into reality. Whether it's a Cowboy, Fireman or Knight in Shining Armor the show has something that will appeal to everyone.  All of this and more happens as you experience the best live Male Revue shows in the Country. Throughout the amazing dances and ripped ab goodness, there are also interactive games & audience Participation. Girls Night Out isn't the type of show you sit back in watch – GNO is a fully interactive experience! The Show features contemporary backdrops, state-of-the-art lighting, sound design, theatrics, an amazing wardrobe & Next Generation Special Effects for an immersive experience like you've never seen before!
Oh, yes Girls! And there's drinks! Delicious, alcoholic, adult-beverages to be had by you and your friends. Come have fun and get rambunctious and a little wild. Your party's not going to plan itself, you know, so let's get you started! Get your tickets now!
Website: www.girlsnightouttheshow.com