October 27, 2022 8:00 pm - 11:00 pm
Putnam Place, 63a Putnam Street, Saratoga Springs, NY 12866
Doors: 7:00pm
Show: 8:00pm
Ages: 18+
Tickets: $15 Advance / $17 Day of Show
** Click Here to Purchase Tickets **
Freekbass, to the core, is an accomplished bass player with a particular passion for Funk. Yet beyond the instrument, he is also a producer, a songwriter, a teacher, a host, a superhero-geek, and a showman. His unique musical style, a blend of 70's funkadelic, 80's synth, electronic dance, and some old-school James Brown flavor, has become a vehicle for Freekbass to spread positivity, while also embracing his funk roots.
Freekbass put together a live band, "Freekbass & The Bump Assembly" and toured relentlessly, expanding his circles and reaching cities, coast to coast. His high-energy live-shows led him to the festival scene, and he simultaneously did dates with the supergroup, Headtronics.
The current touring line-up for Freekbass & The Bump Assembly is a 6-piece wonder-team that includes Freekbass on bass and vocals, drummer Dione Howard, Sky White on keys (Foxy Shazam), Sammi Garett (previouly Turkuaz), and Reilly Comisar on vocals, Nate Lewis on guitar. The friendships and wealth of collaborative musicianship in this group is apparent on stage, where infectious grooves meet nonstop-energetic performances.
Website: www.freekbass.com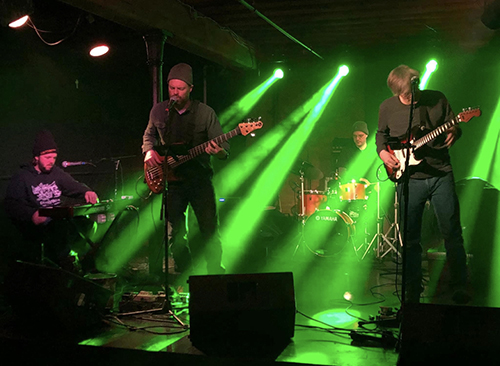 Jamming on anything they want and especially Jerry Garcia Band, the Groovebeats are members of The Deadbeats and local funk trio Groovestick and they are here to please while also bringing the improv and jam sections to the absolute maximum…come join the energy!
Groovebeats are:
Mike Johnson- guitar/vocal
Dan Gerken- bass/vocal
Chris Carballeira- keys/vocal
Dave Berger- drums