December 12, 2022 7:00 pm - 11:00 pm
Putnam Place, 63a Putnam Street, Saratoga Springs, NY 12866
Doors: 6:30pm
Show: 7:00pm
Ages: 21+
Admission: FREE SHOW!
Come join Family Tree on Monday nights from 7pm – 9pm.  Family Tree features Steve Candlen, Kenny Hohman, Lori Friday, Chris Carey and Chad Ploss.  They will be joined each week by various guests from the regional music scene.
Sly Fox's Open Mic Jam
Open Mic is back with Sly Fox's Open Mic Jam immediately following Family Tree on Monday nights.  We have a sound engineer and full backline including drums, bass rig and guitar amp, so whether you have an electric band, an acoustic duo or just want to perform a couple tunes on your own, come on down and show us what you got. 
Sign up starts at 8:00pm and all performers will get a BOGO drink.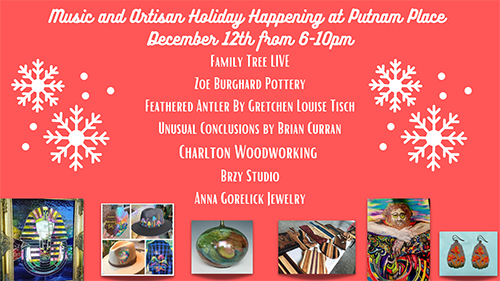 Join us on Monday December 12th from 6pm-10pm for a night of music, drinks and shopping! There will be local artisans set up during our Family Tree Monday night festivities for everyone to come shop for their loved ones during this holiday season! There will be jewelry, stained glass art, pottery, woodcrafts, and more! We have some of the most creative local artists that you all know and love…Zoe Burghard Pottery, Feathered Antler by Gretchen Louise Tisch, Unusual Conclusions by Brian Curran, Charlton Woodworking, BRZY Studio, & Anna Gorelick Jewelry!
Stop in, have some cocktails, get your holiday shopping done while listening to great tunes from Family Tree and Sly Fox's Open Mic Jam!