July 30, 2021 9:00 pm - 11:45 pm
Putnam Place, 63a Putnam Street, Saratoga Springs, NY 12866
Doors: 8:00pm
Show: 9:00pm
Ages: 21+
Tickets: $7 Advance / $10 Day of Show
** Click Here to Purchase Tickets **
El Modernist delivers a new take on the world of indie rock. With pulsating hooks and lush melodic waves of psychedelia, the band combines upbeat, catchy garage-rock with a modern alternative hip-hop sound. (Which is a fancy way of saying they sing and play guitars and sometimes raps happen and it's fun).
El Modernist brings an energy to the stage that resonates with fans of all ages! All members come from diverse musical backgrounds and find great joy in blending various influences, creating something entirely their own. Featuring a concoction of acoustic and electronic drums with screaming guitar riffs, every El Modernist show is a party that you do not want to miss.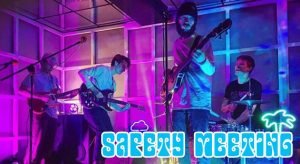 Totally, absolutely, one of the most fun bands around. Their reverb soaked instrumentation brings back that classic vibe with a current twist.