November 6, 2021 9:00 pm - November 7, 2021 1:00 am
Doors: 8:00pm
Show: 9:00pm
Ages: 18+
Tickets: $15
** Click Here to Purchase Tickets **
Dogs in a Pile is the culmination of a love of music born from the deepest American roots of psychedelia, jazz, fusion, funk, traditional, and rock & roll. Sprung from the rich Asbury Park music scene in New Jersey, their serendipitous convergence has made for the kind of kindred intuition its members had only once dreamed of. Described as "listening to a single moving organism," the sum of its five parts represents an original journey into the peaks and valleys of psychedelic improvisation, all while remaining reminiscent of so much we love of life and music.
The final iteration of "the Dogs" began with University of the Arts Philadelphia student and Asbury Park veteran Jimmy Law along with his long-time friend Joe Babick, a 4 year veteran of the gifted young musician's program at the nationally renowned Count Basie Theater in Red Bank, NJ. Lightning struck when they were introduced to Berklee School of Music student and bass player Sam Lucid, who immediately suggested fellow Berklee student and multi-instrumentalist Jeremy Kaplan. The addition of fellow Berklee student and collaborator Brian Murray in 2019 made for the quintessential final piece in the Dogs' puzzle. Their commonality and love for improvisation by way of bands like the Grateful Dead and Phish, as well as a fervent inclination for the study of jazz, fusion and classical music has helped shape the free-flowing style that is the Dogs. Their unique synergy and joy in creating "music as an atmosphere" equates simply to, as the band would say, "spreading good music and good energy to good people."
Band Website: www.dogsinapileofficial.com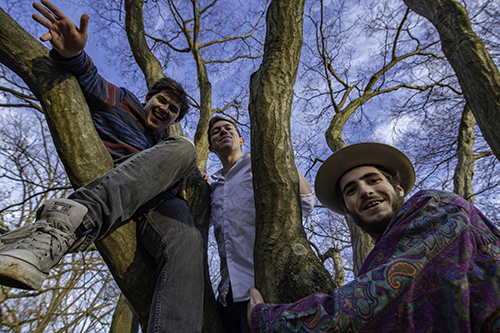 Voted a finalist for New York State's top up and coming rock band, Baked Shrimp has established a name for themselves across the eastern half of the United States. In just four years the high-energy rock trio has performed multiple extensive tours, released three albums, and is a name well-known in the festival circuit. Baked Shrimp has billed with artists such as Dweezil Zappa, Lotus, Spafford, moe., Ghost-Note, Twiddle, Kung Fu, Mark Letteri, Aqueous, Mungion, and more on festivals such as Great South Bay Music Festival (NY), Karnival of the Arts (PA), Adirondack Independence Music Festival (NY), and more. The band has featured sit-ins by Mihali Savoulidis and Ryan Dempsey (Twiddle), Rob Compa (Dopapod), Mike Gantzer (Aqueous), and Brandon "Taz" Niederauer. Baked Shrimp is rapidly making new fans outside of their home-base of New York on their tours which land them as north as Maine, as west as Indiana, and as south as Alabama. The trio keeps it fresh from night to night with a catalogue of over one-hundred songs of original material. They are consistently asked back by venues and fans across the country.
In November of 2020, the band was struck with tragedy upon hearing the news their most loyal supporter and ambassador, Lon Gellman had suddenly passed away. Baked Shrimp made it their band goal to honor his legacy in all the ways they could think of. The first thing the band did in 2021 was put together a virtual music festival live stream called "Live for Lon" which featured a live Baked Shrimp set in addition to performances submitted by Mihali Savoulidis and Ryan Dempsey from Twiddle, Brandon "Taz" Niederauer, Andy Frasco, and more. The event raised $2,700 for White Light Foundation. During the stream, Baked Shrimp announced the plans for their first ever music festival which was called "LonCon," and took place over the course of two days at legendary Arrowhead Ranch in August of 2021. The festival was a great success and the band plans to make it an annual tradition.
On March 26th, 2021, Baked Shrimp released their second studio album, Conscious. The ten-track album brought the band's sound to a whole new level with added layers of horns, synthesizers, and strings. Conscious received quick praise by major media outlets such as LiveForLiveMusic, Grateful Web, The Sound Podcast with Ira Haberman, and more. Following the release of Conscious, the trio teamed up with PR Manager Greg Knight, who in the same role for Goose followed their epochal rise to national acclaim.
Baked Shrimp is fresh off a nearly 40-date 2021 Summer Tour in which the band broke new ground and added an overwhelming surge to their increase in popularity. With little time off, the trio heads back to the road for a Fall Tour which includes a milestone performance at New York City's legendary Brooklyn Bowl.
Band Website: bakedshrimpmusic.com