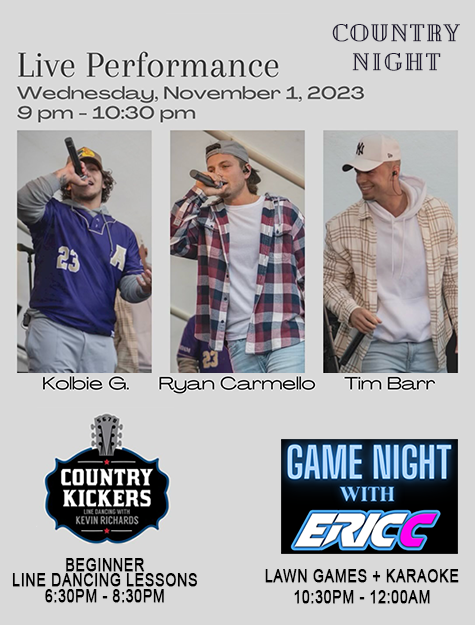 November 1, 2023 6:30 pm - 12:00 am
Putnam Place, 63a Putnam Street, Saratoga Springs, NY 12866
Doors: 6:00pm
Dance Lessons: 6:30pm – 8:30pm
Live Music: 9:00pm – 10:30pm
Game Night: 8:30pm – Midnight
Ages: 21+
Admission: Dance Lessons – $10 at Door / Live Music & Game Night – FREE!
Come on down for Country Night at Putnam Place, featuring beginner line dancing lessons with Kevin Richards & The Country Kickers from 6:30pm – 8:30pm, followed by a special (free) LIVE performance by upcoming country artists Kolbie G, Ryan Carmello, & Tim Barr.  DJ Eric C (voted Times Union's "Best DJ" of 2023), will be hosting Game Night following the country show, featuring a variety of lawn games + karaoke. 
Beginner Line Dancing Lessons with Kevin Richards & The Country Kickers
Kevin Richards is a Country Radio Broadcaster and Country Music promoter most noted for winning a national CMA Award as Medium Market radio personality of the year in 2006. In all, the Northeast radio veteran has earned 7 national Country Music Association (CMA) Award nominations since 2000, and one nod from the Academy of Country Music (ACM) in 2014.
Richards' passion and credibility in Country Music led to an invitation from the CMA to host and produce the CMA Heritage Artist Panels at the CMA Music Festival in 2013. Richards worked with the CMA to book, host, and produce a groundbreaking reunion of CMA winners from the 70s, 80s and 90s on the CMA Close Up stage at Nashville's Music City Center- an event Richards cites as one of his greatest contributions to Country Music.
Kolbie G
Hailing from Amsterdam, NY, and now based in Rensselaer, NY, Kolbie G has evolved from a dynamic hip-hop artist into a captivating country-pop sensation. With a genuine passion for songwriting, Kolbie G crafts heartfelt melodies that transport listeners into the very core of each moment.
Originating from the vibrant hip-hop scene, Kolbie G's artistic journey took an unexpected turn towards country pop, where soulful storytelling meets catchy melodies. His music resonates with authenticity, reflecting his personal growth and musical exploration. As a skilled wordsmith, he weaves narratives that tug at heartstrings and create an emotional connection with his audience.
His music isn't just a sound; it's an experience. His songs have the remarkable ability to make you feel as though you're living within the lyrics, sharing in the emotions and experiences that inspired them. With a dedication to his craft, he meticulously crafts each track, ensuring that every note and word carries the weight of his artistic vision.
Kolbie G's musical journey is a testament to his dedication, passion, and willingness to embrace new horizons. His evolution from hip-hop to country pop showcases an artist unafraid of taking risks and following creative instincts.
As he continues to carve his path in the world of music, one thing is certain – Kolbie G's music is an invitation to experience life's moments through the power of song.
Ryan Carmello
Introducing Troy, New York's Melodic Maverick:
The rising Pop Country talent with a Northern twist.
Bypassing the boundaries of traditional Pop Country, Ryan Carmello emerges from Troy, New York, as a force to be reckoned with. Armed with infectious melodies and lyrics that celebrate love and partying, he's boasting with a fresh and vibrant energy.
With his upstate roots and a pen that knows no limits, Ryan Carmello crafts songs that capture the essence of pure joy and wild nights. Whether he's serenading his lady or igniting the dancefloor with his wild-night anthems, his music is a seamless blend of heartfelt storytelling and irresistible rhythm. Prepare to be captivated as Ryan Carmello takes you on a melodic journey that embraces the spirit of love, celebration, and the sweet chaos of life.
Tim Barr is a country pop musician from Albany, New York.
Tim fell in love with the art of making music since day one, he originally started making
Hip hop Music at the young age of 13.
Fast forward to his twenties and Tim found a deep passion making country pop music where he felt like Every melody could be a reflection of the chapters he's lived.
What makes Tim a unique artist is his true devotion to remaining as authentic as possible through his music. Whether hes singing about family bonds, the ups and downs of life's journey, or the magic of friendships, Tim prides himself on pouring his heart and soul into every note and continuing to use his musical platform to share his journey through life through country music.
Tim's goal is to continue to grow as an artist but let his roots from hip hop and country continue to give him a new sound that he feels hasn't been seen yet.