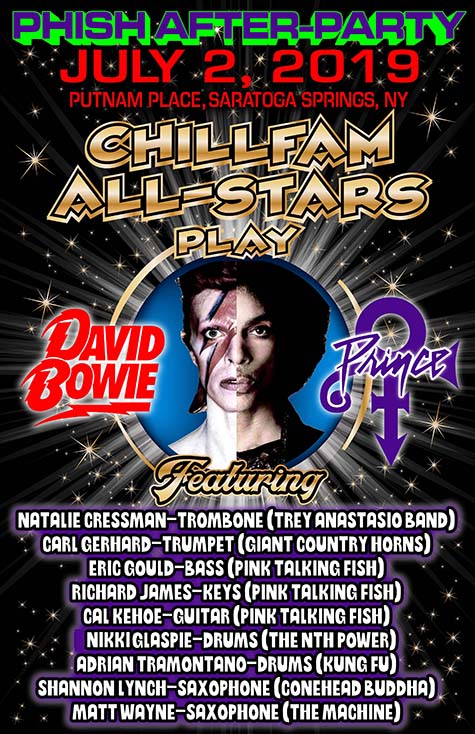 July 2, 2019 11:45 pm - July 3, 2019 3:30 am
Putnam Place, 63a Putnam Street, Saratoga Springs, NY 12866
Doors: 11:00pm
Show: Midnight
Ages: 21+
Tickets: $20
 * The Presale period for this show has ended.  All remaining tickets will be available at the door.
Come join us for a special Phish after-party with the ChillFam All-Stars, as they pay tribute to two musical legends: Prince & David Bowie.  The band will feature members of Trey Anastasio Band, Giant Country Horns, The Nth Power, Kung Fu, Conehead Buddha and the Machine and will be sure to keep the party going into the wee hours.
ChillFam Allstars was created by Pink Talking Fish bassist, Eric Gould.  It started at The Catskill Chill Music Festival with a tribute to Herbie Hancock and then Michael Jackson.  The Michael Jackson show continued post Catskill Chill Festival with annual Phish AfterParty performances in New York City.  Prince Bowie is the 3rd installment of ChillFam Allstars and this performance in Saratoga Springs is the debut.
ChillFam All-Stars Prince Bowie Lineup:
Natalie Cressman (Trey Anastasio Band) – Trombone
Carl Gerhard (Giant Country Horns) – Trumpet
Eric Gould (Pink Talking Fish) – Bass
Richard James (Pink Talking Fish) – Keys
Cal Kehoe (Pink Talking Fish) – Guitar
Nikki Glaspie (Nth Power) – Drums
Adrian Tramontano (Kung Fu) – Drums
Shannon Lynch (Conehead Buddha) – Saxophone
Matt Wayne (The Machine) – Saxophone